It has been a long journey to get to Quilchena elementary for Grade 7 student Abood Elaskary, says his principal Kirsten Wallace.
The young Palestinian, who has cerebral palsy, arrived in Canada last year from Saudi Arabia, a nation that does not have as much of a robust set of policies to assist those with disabilities as Canada does.
Now, the Quilchena Cyclone is tickling the twine.
But when Abood came to Richmond and enrolled at Quilchena, he was welcomed with open arms by his peers and teachers — not an uncommon theme at Richmond School District, which prides itself on accessibility to education and fun activities for all.
"Providing an inclusive education for students in the Richmond School District is an important factor when developing classrooms, programs and activities as we want to ensure that all students can learn and play together," says Eric Yung, chairperson, Richmond Board of Education.
Wallace recalls first speaking to Abood's father about the challenges the family faced before coming to Canada. For one, Abood had not attended school due to his disability. But the transition here, too, was difficult.
"We've been working hard to bring Abood to school.
"It's hard when you have a special needs son and you're in a new country. But the whole school's behind Abood. He loves interacting with everybody," said Wallace.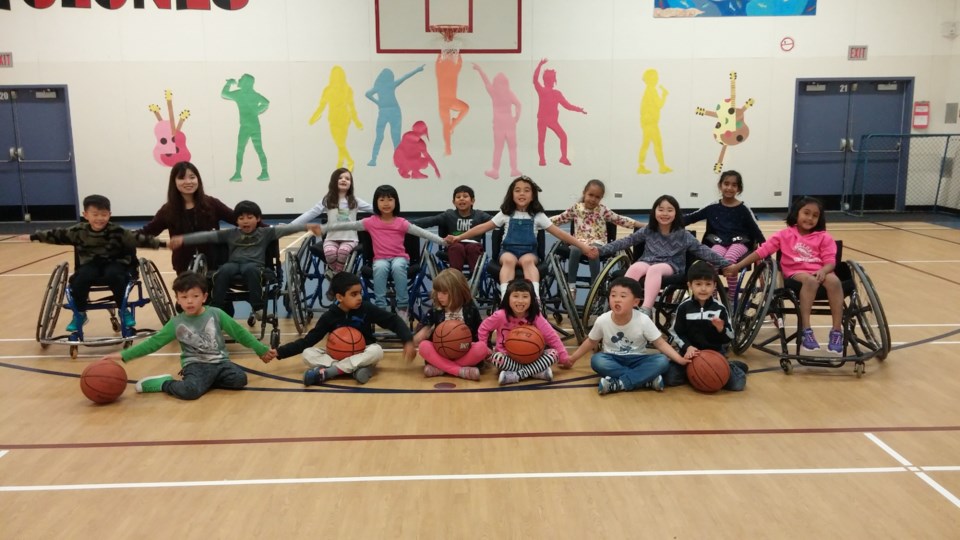 That ethos of acceptance culminated last month when the school welcomed BC Wheelchair Basketball Society to its gym to teach all students how to play basketball on two wheels. And for an entire week the society lent the school 10 wheelchairs to play in the gym.
"Every time Abood came into the gym he grinned; he was so amazed to see everyone playing," said Wallace.
Students of all grades were able to play against one another on teams during the week and what made the activity special, said Wallace, was that the wheelchairs evened the playing field for all students.
"It wasn't just one kid who was the tallest or who could dribble the ball," quipped Wallace.
But to get a head start on the others, Abood attended GF Strong rehabilitation centre in Vancouver to first learn how to control a sport wheelchair.  
"This is a great example of a student feeling welcomed by their neighbourhood school, being supported in his learning and being encouraged to contribute and engage in all aspects of the life of the school," said  Yung.
Abood plans to attend Quilchena one more year to catch up on his studies. Meanwhile, he and his family are looking at other programs to attend in Richmond, such as at the Richmond Olympic Oval.
And while the district embeds inclusivity into its code of conduct, the fact remains that older facilities were not as inclusive for children such as Abood. 
For instance, Quilchena's playground is older and Wallace has embarked on a multi-year fundraising drive for a new, all-inclusive playground.
Follow Quilchena's many events and activities on Twitter at @QuilchenaC.