If any department store had a trial by fire for employees, it was Woodward's. It came in the form of $1.49 Day.
The late great Western Canadian shopping destination helped give birth to Lansdowne Centre mall when it opened in 1977, and former employee Michele Adshead remembers the madness of Woodward's monthly $1.49 Day sale, where oodles of items were offered at one low price.
"You learned really quickly never to look past the third person in line so you didn't get overwhelmed. The days always flew by," said Adshead, who worked as a cashier at the Richmond store in the early 1980s. "I still remember the commercials on the radio and the jingle they always played."
The store was a fixture in Richmond until 1993, when financial troubles forced its sale to the Hudson's Bay Company. The Lansdowne space was taken over by Zellers and Safeway—neither of which lasted.
Adshead said she never lost the people skills and work ethic she developed at Woodward's.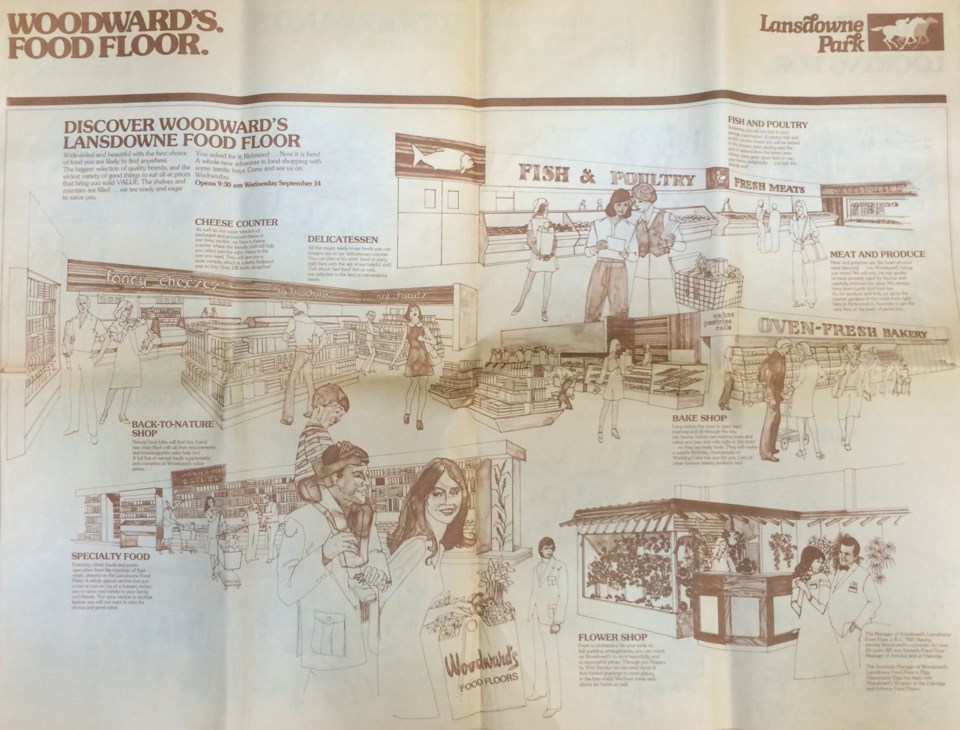 "I've run into quite a few people that I worked with during the Woodward›s days. Everyone had enjoyed working there and missed the store," she said. "It was a great place to work and I was always glad that I (had the opportunity)."
Charles Woodward opened his first store in 1892 in Downtown Vancouver, according to the Woodpens Club, a group of former employees. The brand grew in B.C. and Alberta, and expanded to Richmond in 1977.
It was Sept. 14 of that year when Lansdowne Park — as it was known then, a nod to the land's racetrack past—opened. Woodward's took its place on the mall's west side, as did its famous food floor. The mall also opened with the chain's discount outlet, known then as Woodward's Bargain Store.
"We've got a style for you, a smile for you and the most beautiful store filled with exciting new merchandise. Woodward's Lansdowne is a complete department store with everything you can think of for yourself, your family and your home," touted a 20-page newspaper supplement promoting the mall's opening.
Woodward's invited both "discriminating gentlemen and dudes" to its men's shop, according to the ad, while "fashion conscious" women were targets of its "ladies' shop."
The Woodward's Food Floor was a full-service grocery store that promised "a whole new adventure in food shopping with some terrific buys." Food could also be found within the department store's full-service restaurant, the Grandstand.
Bruce Beattie remembers working in sales at the Richmond store in the late '70s. He sold cameras — mostly Polaroid models in those days — in a department stationed at the bottom of an escalator.
"I rescued many a small child who would get their clothes stuck in the escalator. Hit emergency stop — instant hero," said Beattie.
Peter McIlwee was Lansdowne Woodward's store manager in the 1980s, overseeing more than 700 employees. The Lansdowne location was always successful, he said, and became one of the top producing stores in the 26-store chain.
McIlwee started his 38-year career with the retailer as a valet at the downtown store's parking garage. Soon he was working full-time in the paint department's stockroom, and later, the sales floor. He continued to climb the Woodward's employment ladder and in 1983 became manager at Lansdowne, where he stayed until he retired in 1990.
"The thing I most enjoyed about my career with Woodward's was the great team atmosphere that was prevalent in all locations and the great people that I had the pleasure to work with," he told the Richmond News. "Many lifelong friendships were made and still exist to this day."
Former customers also have fond memories. Employees had a role in that, according to McIlwee.
 "Woodward's was a family store managed by the Woodward family and provided the best possible working conditions and benefits that were second to none in the retail industry to all employees."
Fond memories might also have to do with that famous monthly sale and its catchy advertising jingle: "$1.49 Day, Woodward's. $1.49 Day, Tuesday."