The Richmond Christmas Fund came to the aid of a record number of local families last year and that figure is set to rise even further next month.
Around 2,400 people benefitted from the fund in 2018, up from 2,100 the previous year, with recipients getting the likes of toys for the kids and food to put on table at Christmas time.
However, the organization – run by non-profit Richmond Cares Richmond Gives (RCRG) – has teamed up with the City of Richmond, which will be rolling the 600 or so recipients from its Supporting Richmond Working Families Fund into the Christmas fund.
A number Richmond Christmas Fund drives and events kick off this weekend all over the city.
"For several years the city has operated its own fund and connected with families in need through their community centres and through the school district," said RCRG's CEO, Ed Gavsie.
"We've been talking to them for a little over a year now about how we can work together.
"The city is providing us with around 200 passes for their recreational facilities, including the likes of Watermania. And they have their staff drives for cash…that money will be going into the pot, so to speak."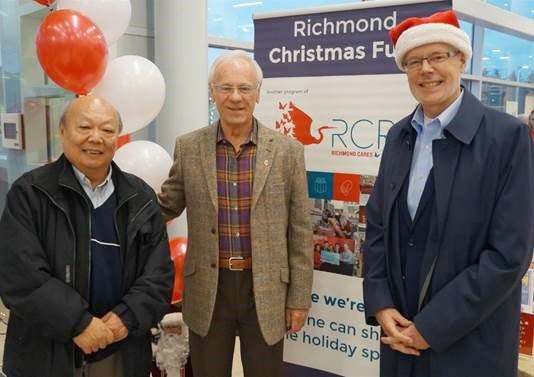 Whether the two funds combining will translate to around 3,000 families registering with the Christmas fund, only time will tell, added Gavsie, as "there may be a bit of duplication" in the people who used both funds in the past.
"Demand is going to go up due to this, but we will benefit from the fundraising by their staff and the passes from the city."
One of the Christmas fund co-chairs, Wayne Duzita, said they also have new partners on board this year, which he hopes will even out the higher volume of demand.
"We have Platinum Pro-Claim with 160 employees, MacDonald Dettwiler with 700 and the River Rock is having an internal drive of its own for the first time," added Duzita.
"That will create more toys for sure. It's all a bit of an unknown factor, but we're constantly evolving, as are the needs of our clients."
Asked how the Christmas fund deals with the stigma for families, perhaps having to swallow their pride to ask for help, Gavsie said they used to ask for proof of income.
"A few years ago, we changed the method of qualifying to be less intrusive," he said.
"We now rely a lot on our referring agencies. They know the families that are in need and if they contact us, saying this particular family needs help at Christmas, that's good enough for us."
And despite what some people think, the fund is not about helping homeless people.
"This could be your neighbour. Families on minimum wage, living paycheque to paycheque," explained Duzita.
"I've spoken to many people who come to the fund looking for help and I've never gotten so many hugs. They tell us that we're filling a huge gap for them. There's a lot of hidden poverty in Richmond."
Two of the biggest events in November are the RCMP's "stuff the cruiser" toy drive and pancake breakfast on Saturday, Nov. 16 at Ironwood Plaza from 8 a.m. to noon and the second annual A Not So Silent Night, at Jaguar Land Rover's showroom at the Richmond Auto Mall, on Wednesday, Nov. 27, from 5:30 to 8 p.m.
Full list of events:
Richmond Auto Mall's Windows of Hope, Wednesday, Nov. 20, 3 to 8 p.m.;
Steveston Girls' Night Out at Splash Toy Shop, Thursday, Nov. 21, 5 to 9 p.m.;
Christmas Classic Car Cruise, Sunday, Dec. 1, 12:15 to 2:30 p.m. in Steveston Village;
Richmond Christmas Fund Drive-Thru Event, Tuesday, Dec. 3, from 7 to 10 a.m. at Brighouse Fire Hall No. 1;
Christmas Fund Gift Wrap, Dec. 1 to 24, 12:30 to 6 p.m. at Lansdowne Centre.
If you can't attend any of the Richmond Christmas Fund events, you can still support it with an online donation.
If you'd like to run your own toy drive or want a donation box, contact Gavsie at 604-279-7029 or egavsie@rcrg.org.