With a bright lime-green wall as a backdrop and an encouraging artist at your back, anything is possible in the Media Lab at the Richmond Cultural Centre.
At a welcoming space inside the centre, on any given day a visitor can find youth (aged 13 to 24) making and editing music, shooting their own film shorts, building websites, participating in podcasts, or tooling around with other digital media art skills, such as animation, graphic design, smartphone cinematography and photobook making.
This week, athlete-turned-artist-turned-teacher Carling Jackson is particularly proud of the young men and women she is mentoring in the Richmond Youth Media Program. At the request of New Balance, the group has helped her design a pair of custom-painted running shoes to help kick off Pride Week in Metro Vancouver (July 31-Aug. 6).
Once stark white, the now-colourfully painted shoes bear the familiar rainbow hues that have become the symbol for the LGBTQ+ (lesbian, gay, bisexual, transgender and questioning) community. They also feature blue and pink sections to specifically recognize those on the trans journey, and a pair of eyes with different iris colours and skin tones to include people of all ethnicities.
The idea for the project was pitched by Alex Harvey, co-owner of the New Balance Vancouver store.
"We truly believe in equal rights for all and that everybody should be able to express themselves in any way they want," Harvey said.
The artistic concept is the result of a Richmond youth group brainstorming session, and the conduit is Jackson, 29 – a former soccer star who turned to art after being sidelined by a serious knee injury.
As an athlete in high school, Jackson received a full scholarship to the University of Louisiana. She transferred to Southern University and graduated with a bachelor's degree in history, specializing in black history. When the injury ended her athletic career, Jackson turned to the canvas.
"My only outlet was art because I couldn't go out on a field," she said. "Art let me escape."
It also allowed her to explore her vision of social activism, or as Jackson says, the ability to "paint the change I wish to see in the world."
A self-taught artist, Jackson has explored a variety of themes in her work, including inequality, discrimination and human suffering. She has worked with diverse groups, from Syrian refugees in Canada, to street kids in Brazil. She has also done extensive commission work for professional athletes in the NFL, CFL and NBA.
After earning her bachelor's of education degree at UBC, the blend was complete, and Jackson had all the tools she needed to showcase her passion for sport, art and youth.
As a Richmond youth service worker at the Richmond Media Lab, Jackson aims to unleash personal potential through creativity and is confident in the transformational power of art.
 "We need to involve and listen to our youth. I always find when youth lead the way, people follow," she says.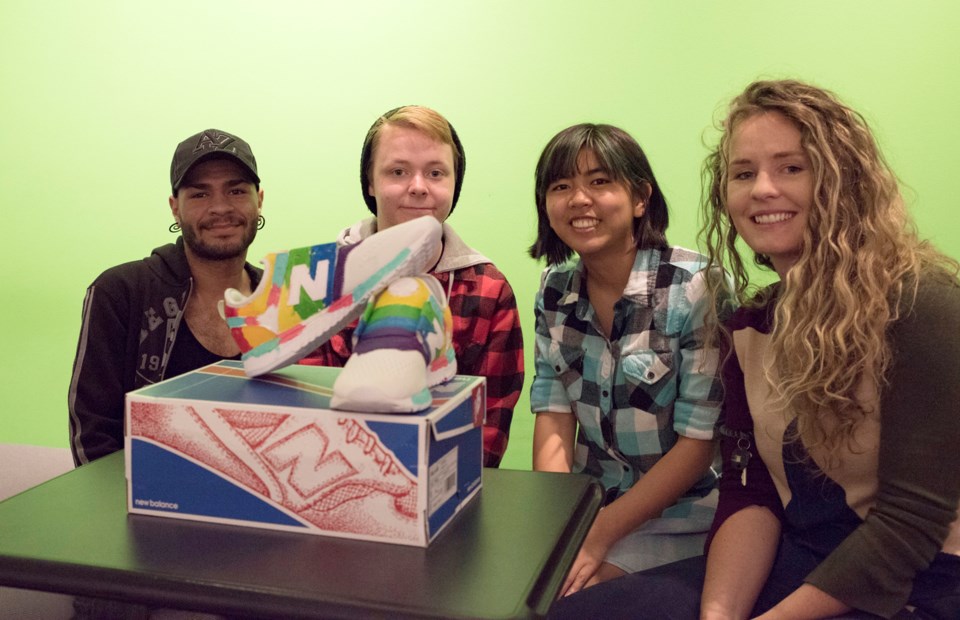 Kemo, 23, came to Canada from Egypt six years ago with his father. He's been involved with the Media Lab for about five years and calls Jackson his "second mom." He says he's found love, acceptance and friendship in Richmond.
"In Egypt, people are more close-minded," says Kemo, who works as a make-up artist. "Here, you have the freedom to be whatever you want to be."
Gabby, 21, has been sketching, digital painting and making music in the Media Lab for four years and said the welcoming atmosphere and diversity in the room keep her coming back.
"I get to dabble in all kinds of stuff," she says.
Cedar, 19, found out about the Media Lab through Richmond's Roving Leader Program. The budding filmmaker enjoys "being behind the camera," and has made several public service announcements on topics such as bullying, drug use, and youth aging out of foster care.
For Gabby, Cedar and Kemo, being true to yourself is an art, although one that is not always easy.
As Pride Week kicks off throughout the Metro Vancouver region, with parades and various awareness-raising LGBTQ+ activities taking place, the City of Richmond is "not great," says Cedar, "but getting better."
As a transgender person, Cedar would like to see safer spaces, such as gender-neutral washrooms, as well as more education around identity issues in schools.
"I've been bullied in bathrooms," Cedar says. "I've had to be resilient."
Kemo, too, has felt the wrath of judgement, with strangers commenting on his style of clothes, or asking: Are you a guy or a girl?
"Well, I'm me."
On Aug. 6, when Western Canada's largest Pride parade takes place in Vancouver, "this one day is always nice," Cedar says. "But all the other days? They're not so nice. I wish people would be more aware all year long."
Jackson and her students are doing their part, finding their feet with the New Balance shoe art and creating a rainbow chalk drawing outside the Richmond Cultural Centre on Thursday (July 27) during a "Rainbow Social."
They're also practising what they paint.
"Be happy with yourself and be kind to people," Cedar says. "That's the most important thing."
New Balance will be giving away the one-of-a-kind shoes created by Carling Jackson and Richmond youth. Follow @NewBalanceVancouver and @DailyHiveVancouver on Instagram during Pride Week for details.