Cute little fences and dainty furniture, mostly hand-made and signed with declarations about life and love, festoon a green strip of community garden plots.
The bees are buzzing, the birds chirping and the heady scent of home-grown flowers and herbs in full blossom fill the air.
It would have been a typical summer scene in the centre of Richmond – if not for the tranquility being ripped apart by the tearing down of make-shift greenhouses and shelters.
Those dismantling their home-made structures Monday morning at the city-owned community garden plots behind Rosewood Towers at Blundell and No. 2 roads are doing so in sufferance.
Among them is Megan Wells, one of around 40 or so residents who have, in the aftermath of a fire, been ordered by BC Housing and the City of Richmond to clear their plots of banned items, such as fences, wood and furniture.
As well as her wooden, raised garden beds, fencing and plastic furniture, Wells has until July 20 to tear down a wooden trellis, which is holding up her prized, 20-year-old grape vine.
She told the Richmond News she's "heartbroken" at the thought of having to get rid of the vine on her 15 feet by 40 feet plot she signed up for two years ago.
"I spent hundreds of hours out there sorting it out. I've very little money, so I collected bottles to raise money to maintain the garden," said Wells, who has health issues and is on disability.
"The garden is an escape for me, an escape from life. We're all on low incomes here and have to be very, very resourceful to make these gardens what they are. A lot of people are upset."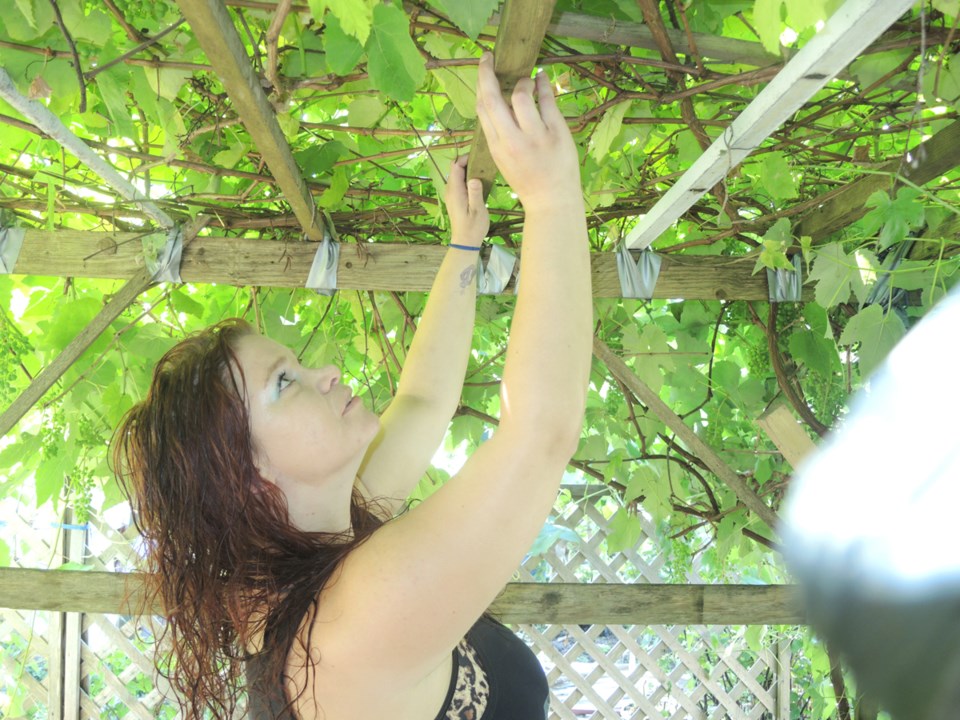 Wells, who also grows lettuce, tomatoes, beans and flowers on her plot, added that she "lives next to the boiler room and, especially at this time of year, I spend a lot of time down here to cool off."
A fire at a greenhouse on a nearby plot last month has led to BC Housing and the city taking a closer look at the structures on everyone else's garden at the site.
"I understand why they're doing this, but it's at the totally wrong time of the season; my grapes are just beginning to ripen," said Wells.
"They're telling us we are allowed to use bamboo, but that's very expensive for us and bamboo will not hold up my plants.
"I'd love for them to at least come up with some kind of compromise.
"And are these rules just for us, or for all community gardens in the city? I see wooden structures at many community garden plots; I hope they're not just singling us out?"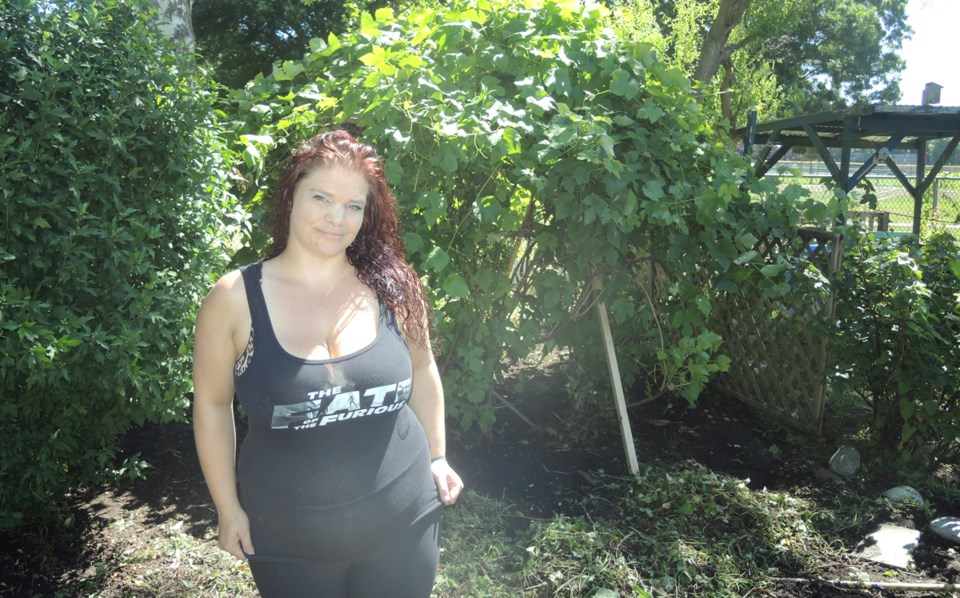 A spokesperson for BC Housing explained that the garden plots in question, although used by Rosewood Towers tenants, are on municipal property and, as such, the city's bylaws and regulations apply.
"The regulations note that community garden plots should not include the install of a structure, fence, railing, sign, seat, bench, post, pole, ornament or object of any kind.
"The City of Richmond recently informed BC Housing that these regulations would be implemented in full force."
Although the city gave BC Housing until Oct. 1 to bring the plots into compliance, BC Housing, in turn, gave the tenants a July 31 deadline.
Asked to explain why the tenants weren't given more time to prehaps allow their plants or crops to see out the summer season, BC Housingsaid it wanted "time to work with residents towards compliance and to ensure residents are properly supported by BC Housing's People, Plants & Home program in order to meet the city's deadline of Oct. 1.
"BC Housing's People, Plants and Homes staff will be meeting with each gardener between now and the end of July, to help assess which items are necessary to remain for the remainder of the summer, and will continue working with residents throughout rest of August and September to help them comply with the City of Richmond's bylaw."
Acknowledging there does appear to be similar structures at other city-owned, community garden plots, city spokesperson Ted Townsend told the News that structures at other sites have received approval from the site operator and are used "strictly to aid in growing whatever plants the gardeners have decided to grow."
These structures, added Townsend, still adhere to the rules and regulations outlined by the city, such as:
They are no taller than six feet from the soil level;
They are mostly temporary – any arbors will be removed after the growing season;
They do not contain any combustible or treated material;
They do not store any tools or other materials in or around these structures;
They are not meant for shelter.