Here are some of the thoughts being expressed in Richmond, regarding the transit tax plebiscite:
NO - EMPTY POCKETS
If anyone has a grasp of what Joe Public is saying, it's Iain MacKelworth, barber at Steveston Barbers.
"Yes, we need more trains, we need more buses; but we want to know our money is being spent properly. They (politicians) have been squeezing the lemon for so long. There's no more juice to give," said MacKelworth.
"In the last 10 years my customers have started hurting with increases in taxes, fees, you name it. The working class keeps getting it on the chin over and over again," he said.
He and customers question where all the money from development has gone and why city planners didn't consider the consequences of growth before the region came to this honking standstill.
"They've gone bat shit crazy in developing this place. Why wasn't this taken care of 15 years ago when that area (City Centre) was slated for (tens) of thousands of more people?" asked MacKelworth.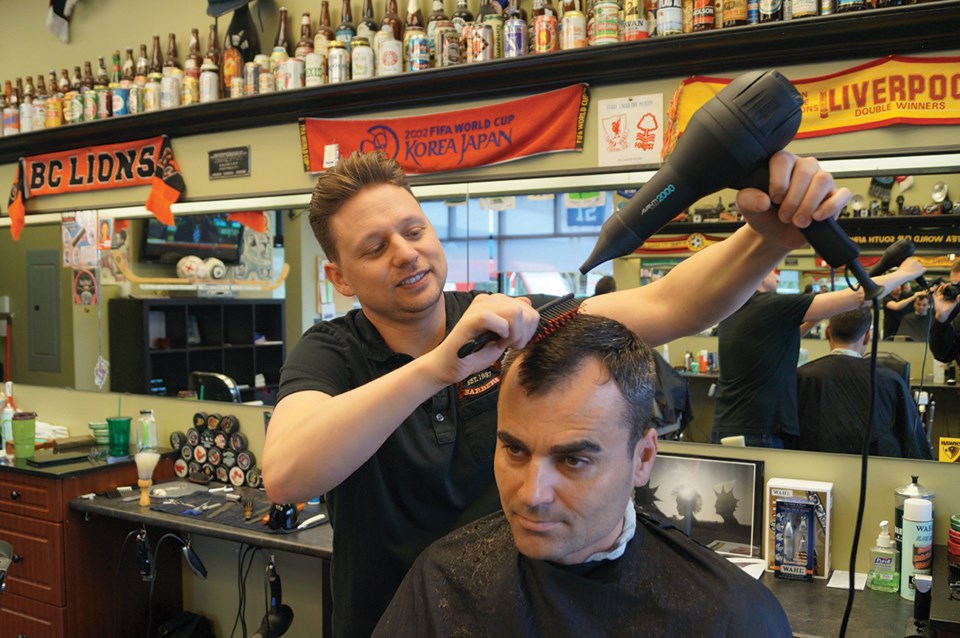 YES - HEALTH
Dr. James Lu, Richmond's chief public health officer, is willing to overlook the perceived negatives of the transit tax in favour of hastening more transit in the region. Lu says a population boom, and more cars, may override past gains the region has made in reducing pollutants by more than half since 1990.
Aside from clean air and less risk of respiratory illnesses, Lu said there are fringe benefits to taking transit.
NO - POLITICAL PROCESS
Teacher and local environmentalist Michael Wolfe is willing to postpone transportation improvements with a 'No' vote to have a better plan and process.
Wolfe states that the provincial government should control transit funding and that it has, to date, abdicated itself of responsibility on this matter. Furthermore the plebiscite process is problematic.
"I don't like being told how to vote on tax increases by people who are funded by our (municipal) tax dollars," said Wolfe.
He said public consultation should have taken place to list transit priorities, as well. For instance, Wolfe disagrees with the plan's inclusion of the planned bridge at the George Massey Tunnel, which he sees as a precursor to the further industrialization of the Fraser River. Although the tax raised from this plebiscite is not expected to go towards building the bridge, by virtue of including it in the transit plan, Wolfe feels the bridge is being endorsed.
Since the bridge was a unilateral decision by the province, it's another example of disconnect in the governance system. "We're hoping to see (the plan) will have physical health benefits because you have to walk a bit more to a bus or transit stop to get to where you need to go," he said.
YES - LOW-INCOME TRANSPORTATION
De Whalen, chair of the Richmond Poverty Response Committee, believes the benefits of increased transit options far outweigh the consequences of increasing a regressive tax, which affects low-income people more. 
"It is a regressive tax. Generally anti poverty groups are not in favour of that, however, a lot of things (food, children's clothing) are tax-free," she said.
The most important thing for Whalen is having reasonable transit options for low-income people, whose only choice is to ride the bus, cycle or walk to work and school.
An added benefit of the plan is increased Handy Dart service.
"If you look at the population that uses Handy Dart, it's seniors or the disabled. They're living on a fixed income or a disability pension," noted Whalen.
NO - TRANSLINK
Canadian Taxpayers' Federation spokesperson Jordan Bateman says the plebiscite comes down to TransLink's wasteful spending, from the organization's continuous delays of the Compass Card and fare gate system, administrative costs and wasteful projects.
"When we give them more money we're actually reinforcing wasteful behavior from an agency that requires a lot of work," said Bateman.
Furthermore, Bateman notes there is no guarantee that the tax will be reviewed or even that it will remain 0.5 per cent. He suggests development/growth should pay for future infrastructure.
YES - ENVIRONMENT
The David Suzuki Foundation states an additional one million people in the region may mean 600,000 more cars if transit funding remained status quo.
The plan aims to foster transit, cycling and walking options for commuters, including low- or zero-emission methods of transport such as B-Line buses, new light rail lines and Canada Line service expansion.
"Supporting public transit in Metro Vancouver will go a long way to helping B.C. reach greenhouse gas reduction targets and will support Vancouver's ambitions to be the world's greenest city," states the foundation.
NO - SLOW SALES
The Canadian Federation of Independent Business claims members believe the new tax may add administrative costs for small businesses. Furthermore there is concern that the extra tax will impact sales. (45 per cent of members surveyed by CFIB believed there would be a negative impact while 11 per cent believed there would be no impact.)
YES - ECONOMY
The Richmond Chamber of Commerce contends the plan will improve transportation logistics for the overarching regional economy. 
"When you talk about the long-term implications of the plan, people are much more open to accepting this," said spokesperson Matt Pitcairn.
The Chamber contends increased transportation options in and around Richmond are vital to the city's local economy that depends on being a logistical hub for the airport and marine ports.
NO - TAXES ARE BAD
While the Richmond News' informal online poll suggests 68 per cent are opposed to the tax, Victor Ho, editor in chief Sing Tao Daily, estimates 90 per cent of his readership opposes the tax.
"Generally, I can say our debate on transit tax is mostly negative because the concept of the so-called referendum is asking for more tax and, in the Chinese community, if you increase tax, it's no good for them. Usually they don't have the rationale or (understand) the public good or the reason for the public good," he said.
YES - CONGESTION = TIME AND MONEY
Mayor Malcolm Brodie suggests that the transit plan will ease congestion and allow for the region to grow. "Less time commuting means more time for your family," he said.
Brodie does note, however, to relieve future congestion, other mechanisms, such as road pricing, will likely need to be introduced.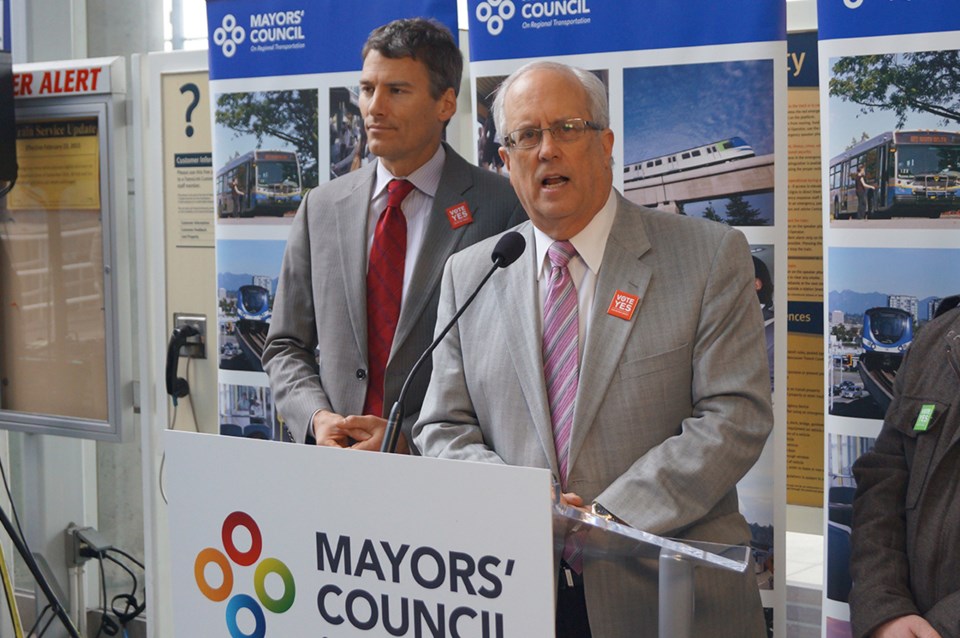 Plebiscite primer: Here's what you need to know
What is going on?
Voting in the Metro Vancouver transit plebiscite (a public vote) starts Monday. To participate, you must be a Canadian citizen, a B.C. resident as of Dec. 1, 2014 and a registered voter living in Metro Vancouver. If you are not registered, or have recently moved you may register online at Elections.BC.ca or call 1-800-661-8683 (with multilingual service) by May 15.
Mail-in ballots will be sent to homes starting March 16 and must be returned (postage is pre-paid) by May 26.
What is being asked of you?
The question on the ballot will be: "Do you support a new 0.5 per cent Metro Vancouver Congestion Improvement Tax, to be dedicated to the Mayors' Transportation and Transit Plan?" 
Some Basics:
- The 0.5 percentage point increase will be added to the Provincial Sales Tax — on applicable goods and services in Metro Vancouver only — to expand transit services announced in the 10-year Mayors' Council Plan. 
- The B.C. government approved the tax last December. The money collected will be put in a dedicated account for transportation. 
 - The account will be publicly audited annually and overseen by a voluntary committee. TransLink will administer the money.
-The Mayors' Council consists of Metro Vancouver's 21 mayors. It appoints TransLink's board of directors and approves the board's transportation plans.
- TransLink is Metro Vancouver's regional transportation authority. It operates buses, HandyDART, the SeaBus, the West Coast Express as well as maintains certain bridges, roads and bike paths. It's unelected board hires TransLink's CEO, who manages day-to-day operations. 
- TransLink must factor in provincial government transportation and economic policies when developing its own long-term strategies. For instance, the province has decided to build a bridge at the George Massey Tunnel, but TransLink will be responsible for overall transportation planning adjacent to it. 
- Over 10 years, the tax should raise $2.5 billion. The Mayors' Plan needs $7.5 billion and hinges on provincial and federal matching contributions, which have not been confirmed.
- The tax will cost you depending on how much you spend on applicable items. A $30,000 car will cost you an extra $150, whereas a $10 meal will cost a nickel more. The Mayors' Council contends the average cost per household will be $125 per year while critics, such as the B.C. Canadian Taxpayers' Federation contends it will be more like $258. 
- Major improvements proposed in the plan include a light rail system in Surrey, a Broadway subway line in Vancouver and a new Pattullo Bridge.
What's in it for Richmond?
More trains on the Canada Line planned if 'yes' side wins transit referendum
Richmond's Canada Line stands to be the big winner in Richmond if the 0.5 per cent sales tax dedicated to transit passes a plebiscite in Metro Vancouver. Current average daily ridership on the line is 122,000 passengers on weekdays and 85,000 passengers on weekends. Current capacity stands at 6,100 passengers per hour per direction. By 2045 ridership is expected to grow by about 80 per cent from current levels, according to the Mayors' Council.
The Mayors' Council plan calls for three station platform expansions in Downtown Vancouver, as well as 10 new, two-car trains over the next 10 years to increase train departures from Brighouse at peak hours from every six minutes and 40 seconds to five minutes.
That would increase capacity to 8,100 passengers per hour per day.
The increased frequency would be staged over time, "as needed," according to TransLink, with 2030 as the target for five-minute departures.
With the tax, TransLink would have 12 new cars (six trains) by 2019 and an additional eight by 2024.
Along with the platform expansions, the capital investment would cost $52 million, with average annual operational costs of $16 million.
Under the current service agreement with InTransit BC, 16 trains are used during peak service.
However it's notable that any further upgrades, beyond 2024, will be costly, as a result of cost-cutting measures approved by TransLink and the City of Richmond when the line was approved in 2004. A single rail track from Lansdowne to Brighouse station and short platforms designed to save money, at the time, will need to be addressed in subsequent decades to expand capacity.
The line has 11 stations, including eight elevated stations, that require platform extensions from 40 metres to 50 to accommodate planned 54-metre two-and-a-half car trains.
The plan includes limited funds to explore this option after 10 years, according to TransLink.
The regional transportation authority states that it is "not exploring double-tracking the Brighouse segment of the line" and notes it would be "a significant and costly endeavour."
When, or if, double tracking is eventually done, trains could depart every four minutes from Brighouse. 
Other Richmond upgrades:
New B-Line bus to Metrotown - Costing $3.1 million to start up, a new rapid bus line can whisk shoppers and workers from Richmond Centre to Metrotown via the Knight Street Bridge. The annual operating cost would be $1.7 million (in 2015 dollars). The line would be introduced by 2019.
Expanded 401,402, 403, 407, 410 bus service - Frequent all-day service upgrades would mean buses at least every 15 minutes from 6 a.m. until 9 p.m. Specific costs per bus route and detailed schedules are not included in the plan.
More HandyDART service - Disabled people will benefit with 30 per cent more HandyDART service. Regionally the plan will invest $20 million for capital upgrades and another $16 million in annual operating costs.
Bike lane upgrades - There are no specific upgrades to Richmond other than better adjacent connections to the Canada Line cycling path. Richmond would be included in a 300-kilometre expansion of traffic-protected bikeways on major streets throughout the region at a capital cost of $131 million and annual operating costs of $1.5 million.