Tracey Stecher was at a loss for words Tuesday night, but not at a loss for her son's replica No. 51 jerseys, which she scooped from the retail racks at Rogers Arena, along with friends and family. 
"We cleared them out!" Tracey exclaimed to her son, Troy Stecher, just after he exited the Vancouver Canucks dressing room following the team's 3-0 loss to the Ottawa Senators.
"You shouldn't have done that, I'm changing my number," replied the 22-year-old, who became the first born-and-raised Richmondite to suit up for the hometown National Hockey League team.
"Well then, they'll be collector's items," mom quipped back.
"I can just buy more," she added.
With a slight roll of his eyes, Troy gathered around his family for hugs and high-praise for his NHL debut, in which he deservedly was named the game's third star, after nearly logging the most ice time on the team.
But despite his impressive start to a budding professional hockey career, Troy didn't appear happy — after all, he had just lost.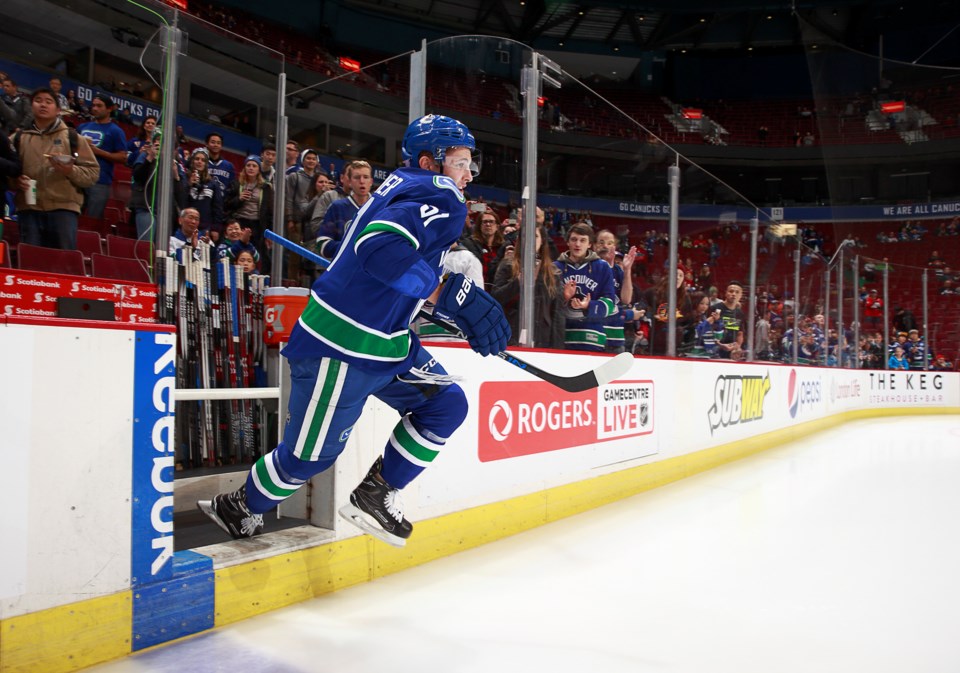 Mom described her son as an "easy-levelled kid," who is "always focused, self-driven" and "never wanting to do wrong."
However, "he was also very serious. When he was very young and they would lose a game, he would say to me, 'The other kids, they don't care, they just want to play mini-sticks.' He was disturbed when he lost, he took it very seriously," said Tracey.
After being signed by the Canucks this summer as an undrafted player, Troy is now fresh out of his third season with the University of North Dakota, where he won back-to-back NCAA Division 1 championships, as a defenceman.
The smooth-skating, powerplay specialist hopes to bring that winning ethos to the Canucks.
"Obviously, the goal is to win the Stanley Cup. I'm taking it one day at a time. If I'm here, I'm here, if not, I'm back in Utica trying to win the Calder Cup. Winning becomes addictive; winning just feels special; I always want to win," said Troy, who plans to soon finish his communications degree online, either in Vancouver or Utica, New York with the Canucks' affiliate farm team, the Comets.
Tuesday night came unexpectedly, as the Canucks suffered injuries to their blueline, thus allowing Troy to pounce on an opportunity to play with veteran Alex Edler, one of many Canucks he grew up watching in the stands with his father Peter Stecher, a long-time season ticket holder.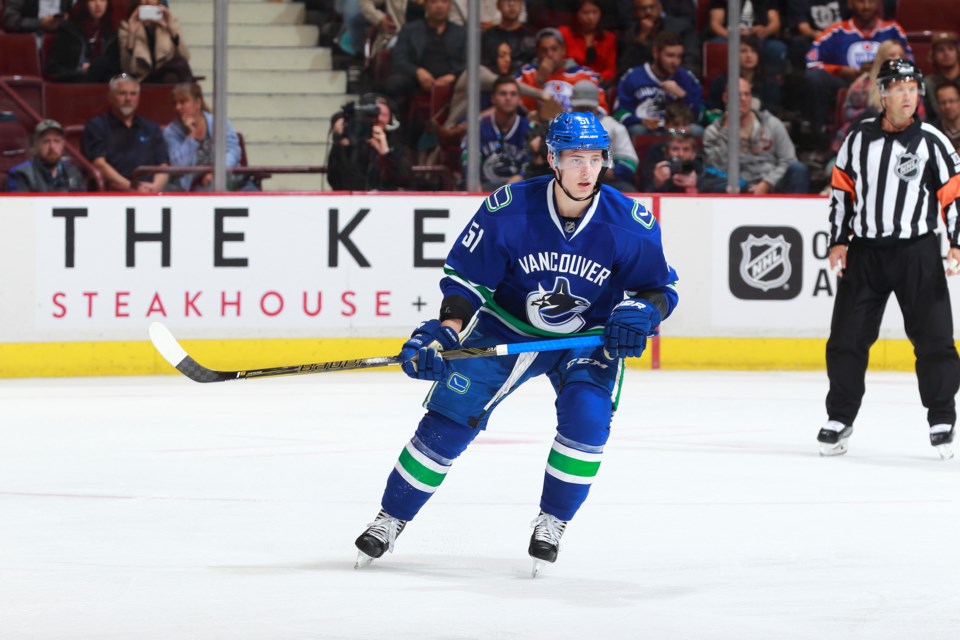 While known for being able to remember each shift with vivid detail, this was not the case for his first in the NHL.
"I blacked out my first shift. That was the moment I realized I made it to this level. After that, the nerves were set aside, and the adrenaline kicked in, it was just another game," said Troy.
A Dixon (elementary school) Dragon, who started playing hockey with the Richmond Minor Hockey Association (RMHA) at the age of six, Troy told the Richmond News that, aside from hockey, his life was fairly routine growing up with an older sister and brother, living in the Blundell neighbourhood while playing lacrosse in the summers.
"He just kept getting better all the time," said Peter, who once veered his son away from wanting to be a goalie.
"He was a rock star at six," interjected family friend Paul Eviston.
Troy said it was while playing bantam (Grades 8 and 9) that he knew he was good at hockey, since he started competing against other prodigies who were making news headlines — such as now Edmonton Oilers star Ryan Nugent-Hopkins.
He said he loved playing at the Richmond Olympic Oval every Tuesday night.
"It was big ice and I'm a small guy, so there was more room to skate there," he said. Size had been a factor for the once diminutive player, who is now 5'10" tall and 190 lbs.
But Troy had a head on him, explained Cam Gardner, his former RMHA assistant coach in bantam.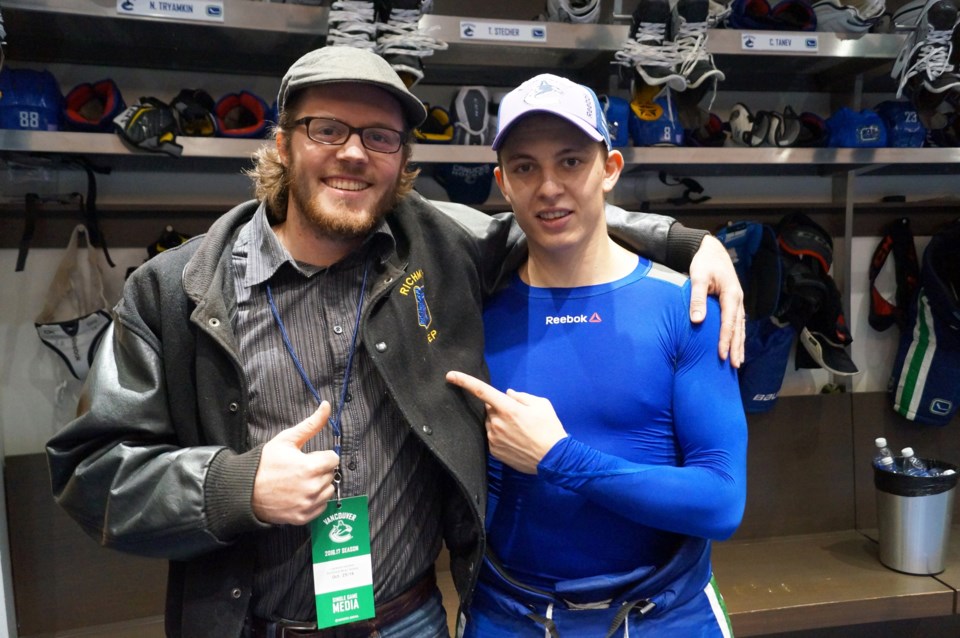 "He was almost impossible to hit on the forecheck. And to see a small guy almost never get hit and make such great decisions with the puck and play a cerebral, intelligent game at such a young age was incredible to watch. You knew right away that he was a special talent," said Gardner.
"More than anything, the thing that stood out about Troy was how much he liked hockey and how much he enjoyed coming to the rink. His attitude was infectious," he added.
Come Grade 8, Troy left Richmond to attend South Delta secondary school's hockey academy to complement his play at RMHA. By Grade 11, he was off to Penticton to play in the Junior A BC Hockey League, where he would win the Fred Page Cup in 2012 and be named the league's best defenseman in 2013.
Peter said, due to his typical teenage frame, Troy benefited from a gradual lead up to the NCAA, despite being drafted by the Western Hockey League's Portland Winterhawks.
"The WHL would have killed him. The WHL is a big man's game. (Penticton) gave him time to mature, grow into his body and learn how to workout properly," said Peter.
As dad keenly watched Troy on the ice, mom had other thoughts when her "baby" left for Penticton, to play for the Vees.
"I felt horrific to have him leave home so young; but so proud of him," she said.
"When he went to Penticton his coach, I think, was kind of pissed off at me because I asked if there was French immersion. He was like, 'What? French Immersion?' He didn't care. I thought it was important.
"That was something I really wanted."
And so Troy finished the French immersion program he had started at Dixon and by age 19 was off to college.
Gardner said Troy's bantam teams were special and even competed in the provincial finals.
He explained why it's nearly unheard of for a kid to play minor hockey in Richmond all the way to Grade 9 and then make it to the NHL.
In the Lower Mainland, "it's rare for any (minor hockey association) to compete with the winter clubs. They can take players. So, you have those top-level defections," said Gardner.
The only other Richmond-born player to play for the Canucks was Brandon McMillan, in 2014. However, McMillan grew up in Delta.