On Gibbons Drive, near Terra Nova, resident Paul Dylla figures about six to eight newly built homes sit unoccupied. But Dylla is equally concerned about the form of housing taking shape in his neighbourhood.
Dylla contends large, gated homes are gobbling up green space and deteriorating neighbourly interactions, two matters that run contrary to livablity goals set forth by the City of Richmond.
Next month, city council will embark on a public consultation for a set of building bylaw amendments that will pit property rights against broader community values, such as tree preservation and communal space. While last year city council dealt with the structural size of mega homes, this round of proposals deals with their footprint, in an effort to bring about better conformity between new and old homes. 
The stakes are high for homeowners, neighbours and developers as Richmond is in a building boom. To date, 481 homes were demolished this year. A record 512 homes were taken down in 2015. 
City planners are proposing a set of amendments that could increase green space, put restrictions on three-car garages, expand the space (setbacks) required between homes and decrease a home's footprint — in effect reducing the maximum allowable size of new homes. The proposals may be altered, depending on public feedback from homeowners, home builders and developers.
One of the proposals includes placing further restrictions on gates and front-yard fencing and walls.
"The city's vision is to make this the most livable community. They use the word community. Community implies people have relationships with their neighbours and so on. The moment you start building walls around your property you're sending a message that you're not welcome," said Dylla.
When asked why a homeowner shouldn't be able to build a wall around their home, Dylla says broader community values need to be factored in.
"We talk about the good old times, when people knew one another . . . We had a sense of people watching out for their kids and their property. We've become a society that congregates in places other than our neighbourhood. We build restaurants, we have community centres. And so a home is becoming more of a commodity we buy and sell.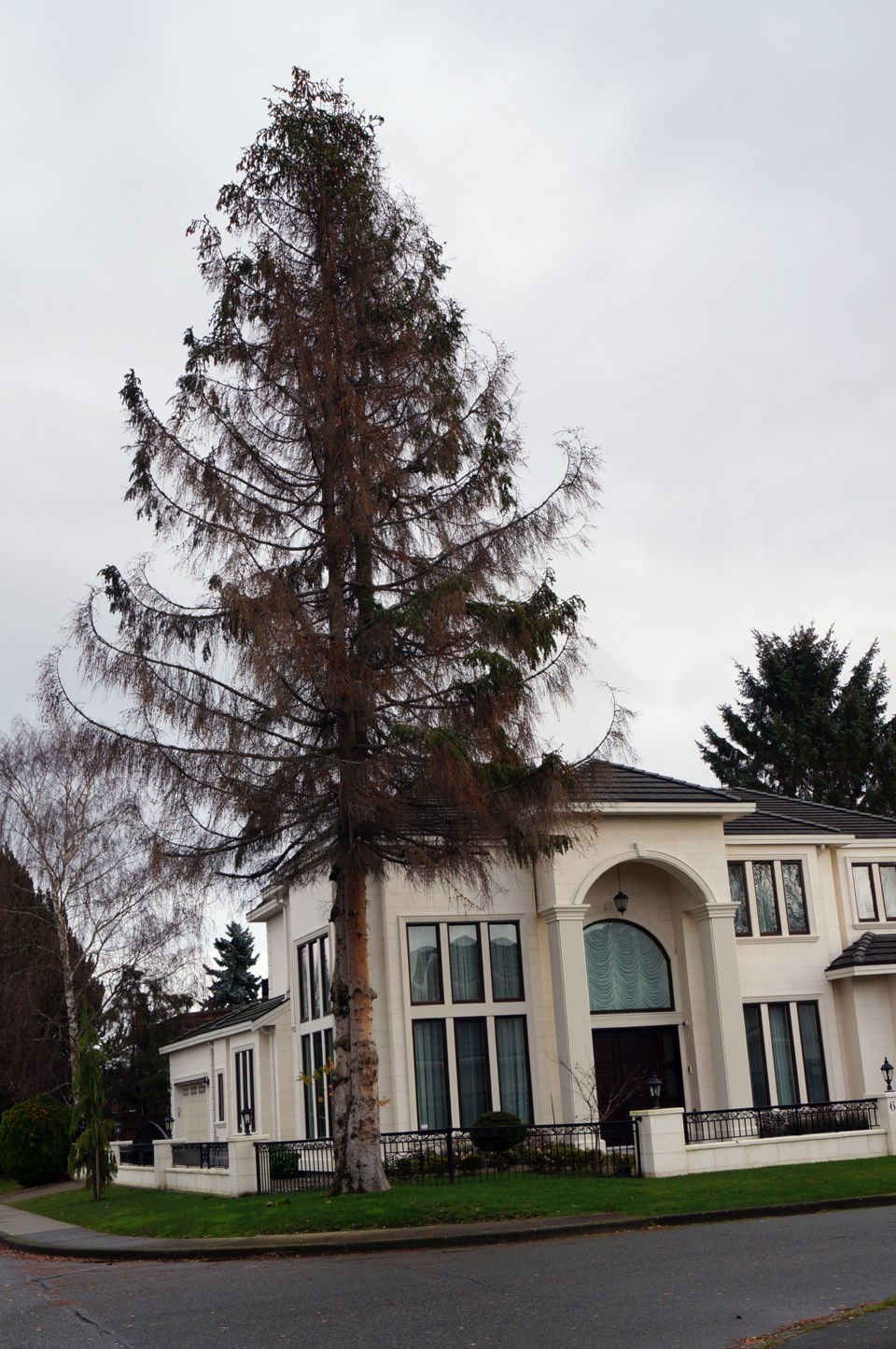 "Since the big houses have come in, we've seen a significant loss of pedestrian traffic," said Dylla.
A proposal by planners indicates gates may not be prohibited by law. However, they may be set back further from the property line to prevent cars from stalling on roads as they wait for gates to open.
Other bylaw proposals include increases to green space and tree planting.
Dylla takes issue with the lack of green space surrounding new homes.
"The present landscaping doesn't help with sustainability goals of the city. You'd hope the city would want to plant deciduous or coniferous trees, but here we see palm trees. They do little to clean the air and provide birds a place to nest," said Dylla, standing in front of a $5.4 million gated home with California-inspired landscaping.
Much like last year, when city council enacted changes to limit the bulkiness of homes and put an end to three-storey homes, homebuilders will be a pivotal stakeholder in the consultation process.
Realtor and developer/builder Raman Kooner spoke to council Monday to express concerns from the development community, as well as many homeowners who are his clients.
Kooner said he believes the proposals, if acted upon fully, would lead to a devaluation of residential properties.
"When you revert to a lower density, it will have an impact on the value of the property," said Kooner.
He asked councillors to expand consultation come January. He said it may be imperative to hold conversations on a neighbourhood level. Whereas one neighbourhood may want to shrink new home footprints, others may not (suggesting smaller homes may not fit well in a neighbourhood with big homes, such as Broadmoor).
"I think it's imperative the city delve deep into this scenario and look at the pockets in Richmond." 
Also at issue is equality, according to builder Gursher Randhawa, who said last year's process left builders dejected.
"These are people who are just as important as the residents who are complaining about this kind of stuff . . . Builders' opinions have taken a back seat to residents," said Randhawa, noting house construction is often delayed due to complaints by neighbours.
"I don't think the rights of a neighbour should supersede the rights of a home owner," he said.
Bylaw proposals
Here are some of the changes being proposed to Richmond homes. The examples are the most extreme measures being proposed. Proposals may change following public consultation.
Maximum length of house
Instead of allowing for a six-metre setback from the front and back property lines, establish a limit to the maximum length of a house to 50 per cent of the total lot length. 
Rear- and side-yard setbacks
The city is proposing a variable rear-yard setback. Smaller lots will have a six-metre setback whereas larger lots will have up to a 10.7-metre setback. The city is also proposing to eliminate projections toward the side property line. 
Decks
Second storey decks would be pushed 1.5 metres back from the minimum rear-yard setback, to improve privacy amongst neighbours.
Lot coverage
As it stands, a new house can cover 45 per cent of a property. This could be reduced to 40 per cent.
Green space
The city presently requires a minimum of 20/25/30 per cent of green space on a new home build, depending on the property. This could change to 30/35/40 per cent.
Front-yard landscaping
Planners propose requiring up to 50 per cent of the front yard setback be green space. This could impact a builder's ability to pave expansive driveways.
Tree planting
Presently, there are no tree planting requirements when a home is demolished and rebuilt (only when properties are rezoned). A proposal by planners would see tree planting required as part of the building permit process.
Gates
The city states it cannot ban front entrance gates and fences. It can and does restrict the height to 1.2 metres (although no permit is required to build these structures and it's on an honour system). The city is proposing to set the gates back six metres from the property line, citing traffic concerns.
Garages
The most extreme proposal would see garages that project outward effectively limited to a two-car capacity by allowing for a maximum 6.6-metre projection.