It was Sept. 9, 1939 — six days after Great Britain had declared war with Germany — and 21-year-old Tommy Wong was already plotting a route from his hometown of Victoria to Vancouver.
Buoyed by the news that his country had officially joined the Second World War, Canadian-born Wong sailed across the Strait of Georgia and marched straight into the Royal Canadian Air Force recruiting office in Downtown Vancouver.
There was, however, one major obstacle standing in the way of plane-loving Wong serving the nation he loved — his Chinese ethnicity.
"I wanted to join, but they said no; even though I had training (as a teacher)," said Wong, who was in the building trade at the time.
"It was the law; no Chinese allowed. They said I was more than qualified, but I was Chinese, so…"
Disappointed, but not completely surprised — in those days, Chinese people weren't allowed to participate in sports and were restricted at public places, such as the cinema and swimming pool — Wong took the ferry back to his native Victoria and his job as a building contractor.
Other divisions of the Canadian armed forces, such as the army, had allowed citizens of Chinese ethnicity, but not the air force, which is where Wong's heart lay.
However, more than two years later, on the fateful day of Dec. 7, 1941, when the Japanese decided to attack Pearl Harbor, his life was about to change forever.
A couple of months after the attack, Wong received a letter from the very same recruiting office which had snubbed his offer of help, requesting his presence in Vancouver as soon as possible.
"(The RCAF), all of a sudden, wanted me," smiled Wong, who will turn 99 next week, as he sat at the very back of Richmond Public Library, bedecked in a blazer with all his medals.
"I was in — and way before they were officially accepting Chinese (June 1942); I was the first (of Chinese ethnicity) to be accepted into the RCAF."
Wong, who has called Richmond home for most of his life, recalled feeling "real good," at the time, despite being sent packing earlier due to his Asian heritage.
"They asked if I wanted to be air crew or ground crew. My heart was strictly in flying and also, this would be a chance to help bomb the Japanese; so I was well motivated," he said, when asked how he felt about only being called up due to the attack on Pearl Harbor.
"They accepted me immediately and sent me to Edmonton for training."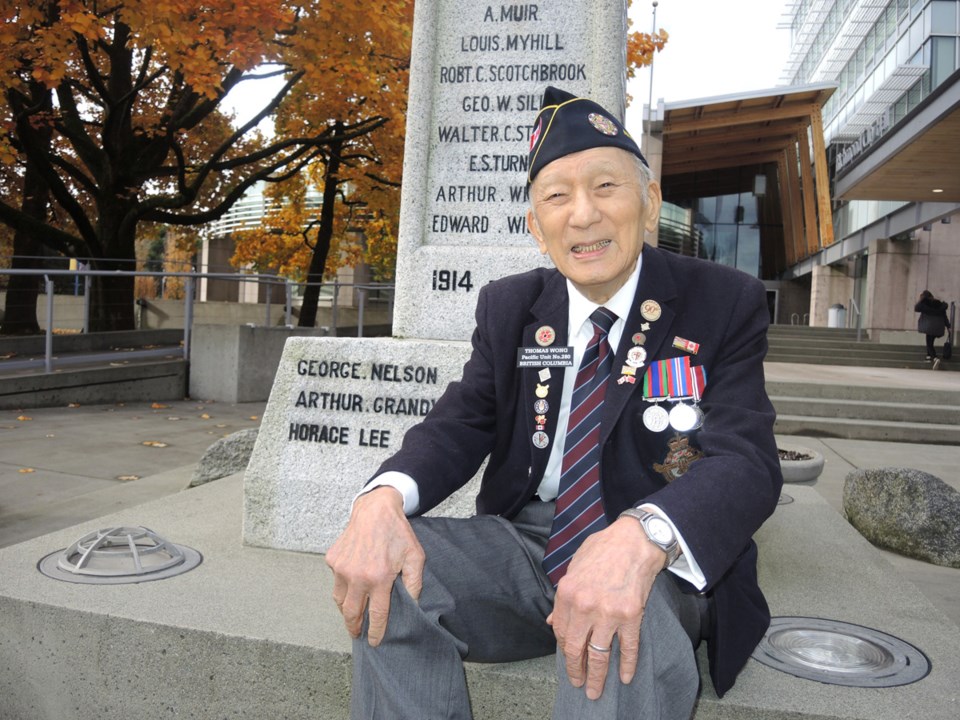 Too disciplined to discriminate
After three months training as an aircraft mechanic, Wong was sent to St. Thomas, Ont., — where there was an air force school — for more advanced training.
The reaction through the ranks to seeing a Chinese-Canadian in the RCAF for the first time was surprisingly uneventful, as far as Wong can recall.
"When you enter a disciplined school, your mind has to be focused on the training, especially in the services," said Wong, momentarily replacing his requisite smile with a stern grimace.
"No matter what you are ordered to do, you don't talk back. There was no disagreeing with anyone.
"You go there, they close the door and everyone does what they're told; no matter how they felt about (seeing a Chinese-Canadian). I felt I was accepted straight away."
Wong said he remembered feeling "very happy" during his early training and doesn't recall any discrimination.
"That was a new feeling, to get treated the same as everyone else," he said.
"It's different from when I was in Victoria, where I was discriminated against; only being allowed to do certain things and all that."
Wong graduated first class and was then sent me to an air base in Calgary, where he spent a further year learning his new trade and quickly rose through the ranks to sergeant and then to an inspector in the Aeronautical Inspection Detachment (AID).
"There was only one of us in the base; it was very highly regarded."
While training as an aircraft inspector, Wong made sure the likes of Kittyhawk and Spitfire fighter planes and Lancaster bombers were 100 per cent ready to fly.
"When I graduated, with very high marks, they asked me where I wanted to be posted; so I said Vancouver. I was posted to Jericho Beach and Sea Island," said Wong.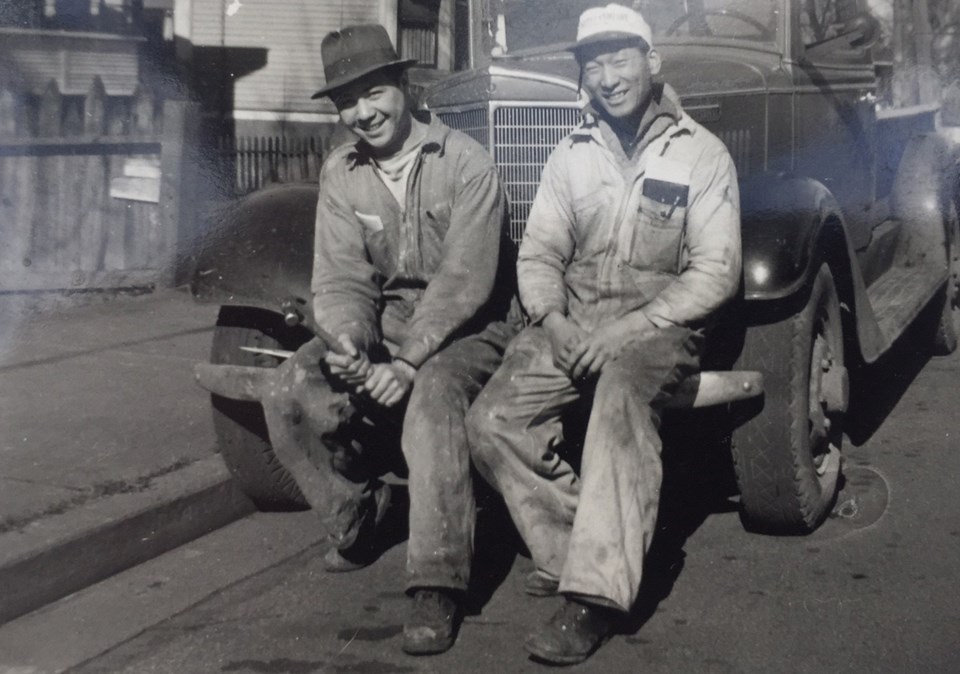 Wartime Vancouver calling
Jericho had all the seaplanes, he recalled, while Sea Island had the Kittyhawks.
"Sea Island was a very important place; there was talk of the Japanese attacking the west coast of Canada."
Wong spent the rest of the war stationed in Vancouver and eventually married his now late wife, Juney Lim, before opening a woodwork shop inside a theatre in Vancouver's Chinatown. Looking back at what people thought of him making a little bit of history in being the first Chinese-Canadian to bear the RCAF wings, Wong waved his hand and laughed.
"People's reactions can be funny; but most are impressed. People didn't really talk to me too much until I got my (inspector job)," said Wong.
"A lot of them were highly educated, but they were used to the local laws of not respecting Chinese-Canadians and were used to us being cooks or garbage collectors."
Asked what he thinks of conflict across the globe right now, the light faded a little from Wong's face.
"I feel the world is just as bad, if not worse. I think we're still waiting for the war to end all wars."
Wong, who lives with his second wife in a condo on Minoru Boulevard, will be attending the main Remembrance Day ceremony at Victory Square in Vancouver before heading over to a service for Chinese-Canadians at the cenotaph on Keefer and Columbia streets, where there is a Chinese war memorial.
Chinese-Canadian vets are a special unit
Once a month, two Richmondites — 84-year-old George Ing and 98-year-old Tommy Wong — escape the confines of Lulu Island and head north, over the bridge into Vancouver to meet a very special crew.
Ing and Wong, both veterans of the Royal Canadian Air Force, are two members of a still thriving Pacific Unit 280, made up of Chinese-Canadian veterans; 14 of which, including Wong (who's the oldest), are survivors of the Second World War.
Pacific Unit 280, which meets in the same Vancouver restaurant every month, was, and still is, the only legion of its kind in Canada.
All of the vets from the 1939-45 conflict are, of course, well into their 90s; but their numbers dwindle every year.
"After the Second World War, many Chinese-Canadians returned and still didn't have full citizen rights, but they wanted to form their own unit and legion," said Ing, a retired telecommunications Lt. Col. with 32 years of service, who has called Richmond home since 1987 and lives in a Steveston condo overlooking Britannia Heritage Shipyards.
"They went to ANAF (Army, Navy & Air Force), which accepted them and they set up their own Pacific Unit 280; still the only one of its kind in Canada.
"Fourteen are vets (of the Second World War), but, obviously, we keep losing them; all of them are over 90."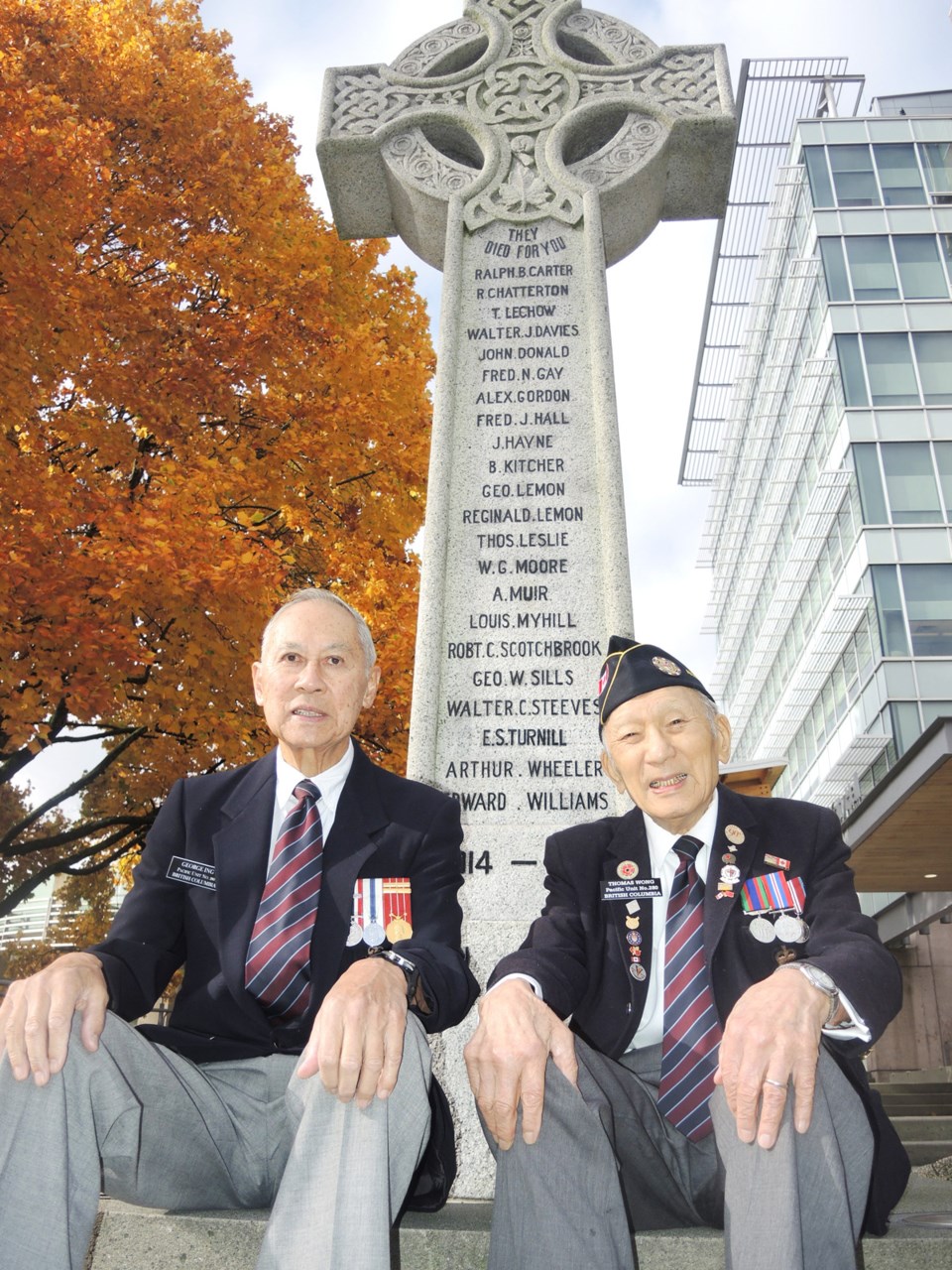 As well as being members of Pacific Unit 280, the group also helps run the Vancouver-based Chinese Canadian Military Museum Society, which has a hallway and small room inside the Chinese Cultural Centre in Chinatown.
"We combine the monthly museum meeting with our lunch," said Victoria-born Ing, who's the director of the society.
"The thought (in setting up the society in 1998) was to preserve the artifacts from the Chinese-Canadian contributions through the wars.
"The vets are passing away with every year, so it's important to preserve their stories as much as we can. We're trying to get their relations to participate as much as possible, as it's them we will be relying upon very soon.
"When I speak to groups of Chinese immigrants, they have no idea of the contributions made by Chinese-Canadian people during the wars; this museum tells those stories.
"We had losses in Germany and France; we had many Chinese losses in the RCAF, taking part in bombing raids; there are some amazing stories here."
As a result of their sacrifice in the Second World War, Chinese-Canadians were finally able to claim the opportunities and rights afforded other Canadians. They were offered citizenship and the right to vote. Those privileges led, in turn, to membership in professional societies such as law, engineering and medicine — important careers previously closed to Asians.