Sixty-eight cats, 77 rabbits, 25 small creatures, four farmyard dwellers and 122 dogs, 106 of which currently reside in foster homes across Richmond.
As the News and members of the public petted their way around the Richmond Animal Protection Society's shelter (RAPS), it's clear the animals come in many shapes and sizes; some young, some old, some who'll eventually find a new home; many who won't.
They all have one vital component in common, however — they're alive and kicking and in good health, thanks to RAPS' strict no-kill policy.
No-kill is RAPS' code of honour.
It's in the very DNA of the charity contracted by the City of Richmond eight years ago to house lost, abandoned and surrendered animals.
Fourteen staff, eight full-time and six part-time, and almost 200 volunteers keep RAPS' shelter at the foot of No.5 Road ticking over.
And if you asked all of them why they believe so deeply in the organization, it's a good bet most would reference the charity's rule of law of keeping an animal alive if it's in good shape or can be nursed back to health.
"(No-kill) is probably the most important thing here and it will never change," said Kara Frederick, RAPS' manager for the last four years.
"There's a lot of animals here; but we'd never put an animals' welfare in jeopardy and we'd never house them in a way that would be to their detriment and we never turn animals away."
By her own admission, Frederick, who used to work in the film industry before turning to her love of animals, said you have to be a "little bit insane" to operate in the environment she's in.
"You really do have to have a passion for it; this is not a 9-5 job," she added.
"We (operate a no-kill policy) because we don't want to think about what it would be like if we were not here. We're saving animals lives; one at a time."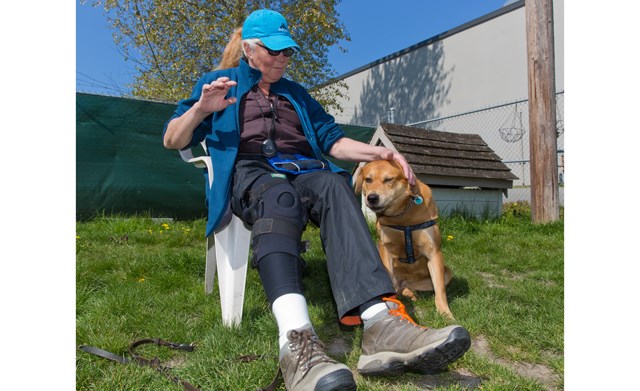 It's the same compelling policy that drew in volunteer Carole Schellenberg, a retired nurse, to RAPS in 2009.
Schellenberg, despite having a torn meniscus, donates her time at RAPS every single day; walking about five different dogs for one hour each.
"I just love animals," she told the News as she prepared to walk her favourite RAPS resident, Little Red, a former feral dog, who has been at the shelter on and off for two years and who Schellenberg calls "her baby."
"Once this became a no-kill shelter, I knew where I needed to be.
"I know there are times when (euthanasia) is the only option, but that's the main reason I came here to help, because I know how much work keeping a no-kill shelter must be."
Price to pay
There's a price to pay for having a policy of keeping animals alive whenever possible.
The price is having 10 temporary structures, attached or adjacent to the current circa 1970s shelter, to house them and relying on 106 foster homes for the majority of the dogs in RAPS' care.
It's such an acute situation that it even made it onto the election discussion table of Mayor Malcolm Brodie last fall, with the mayor noting the inadequacy of the current shelter.
And earlier this year, the City of Richmond approved some temporary respite in the shape of a $136,000 portable that can accommodate 60-75 animals, although it's not yet in place.
Next month, RAPS is scheduled to make an official presentation to city council to state its case for a completely new facility.
"There's been a massive growth in the population here since the '70s," explained Frederick.
"The city has been great in helping us with temporary accommodation for the animals, but we've had to improvise all the time and build enclosures to keep up with the demand."
Little Red gives a courtesy roll around on the grass for a few seconds, more to please us than anything else it would seem.
It's a small gesture from this adorable, former feral dog, who lived rough, mostly starving, on a farm for the best part of her estimated five years until RAPS finally caught her a couple of years ago.
After five minutes or so of being stroked and played with while the camera snaps away, Little Red has lodged herself against the exit — a polite way of telling her walker, volunteer Carole Schellenberg, that she's ready for her daily stroll along the south dyke.
Nothing unusual about a dog knowing its routine, right?
"Volunteers taught her to walk on the leash and be OK around people," said Schellenberg.
"It took six to eight months for her to answer to her name but now we go out on the dyke; she has to stop for big trucks and sits down.
"When we get to the dyke, we will stop and she will sit on my lap and get a treat. She loves her daily routine."
Schellenberg said she helps make all the dogs she walks every day adoptable. "This is my retirement right here."
Mixed emotions
Andrea Summers' eyes begin to fill up when asked what it feels like to see a dog she's helped nurse back to health and rehabilitate adopted off to a new home with a loving family.
"There's a lot of excitement and joy and it can also be a little heart-breaking," said Summers, a kennel attendant, who has been at RAPS for just over a year.
"Once they're gone, I'll go back to my work and there might be a little cry.
"But when they come back to visit and you get updates on them; that's all the motivation I need right there."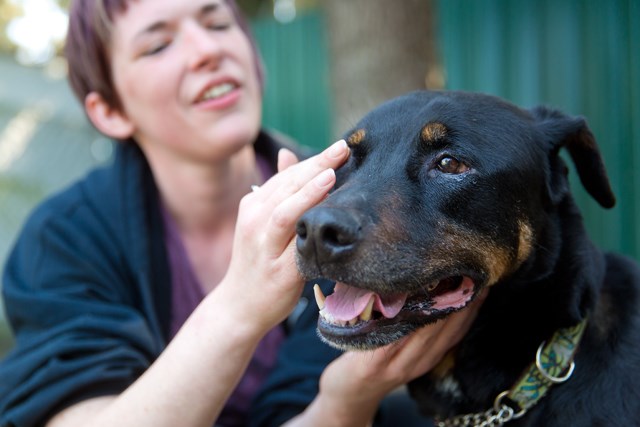 Summers said, as much as the dogs are well cared for and loved at RAPS, it's hard seeing them in the shelter every day.
"So, seeing them get good homes and getting well looked after…it's a good feeling."
Summers, who worked in a tax office prior to RAPS, but previously worked as an assistant dog trainer, spoke of the daily rewards the job are sometimes tempered by the awful conditions some dogs arrive in.
"They often come in from scrapyards and as former guard dogs," she said.
"They're usually 100 per cent perfectly good animals, but some people just don't take time to walk it or feed it or care for it properly.
"Working with them every day and seeing them progress; seeing them turn into real dogs again makes it all worth while.
"I help teach them to relax and become dogs again."
To donate towards RAPS or adopt one of their animals, go to www.rapsociety.com