Lifelong resident Kerry Starchuk isn't exactly thrilled she made $90,000 in 2014 for doing absolutely nothing.
Her 57 year-old family home was recently appraised at $32,000. It's a nice split-level home, recently painted with double-glazed windows. It helped raise five boys and could probably raise five more from a new family.
But, in all likelihood (and take this bet to Las Vegas) no one other than the Starchuks will occupy that home in the future.
While the home is worth less than a mid-priced SUV, it is the land beneath it, valued at $1.2 million, which is a magnet for bulldozers that will pave the way as part of a resurgence of megahome development in Richmond.
Starchuk stirred national headlines for wanting foreign languages eliminated from business and real estate signs.
Facebook campaign
Now, her latest cause celebre is a Facebook page campaign — Richmond's Changing Neighbourhoods — where she and others are documenting what they call a "bizarre," "unprecedented" and "out of control" real estate market that is eroding the fabric of Richmond's neighbourhoods.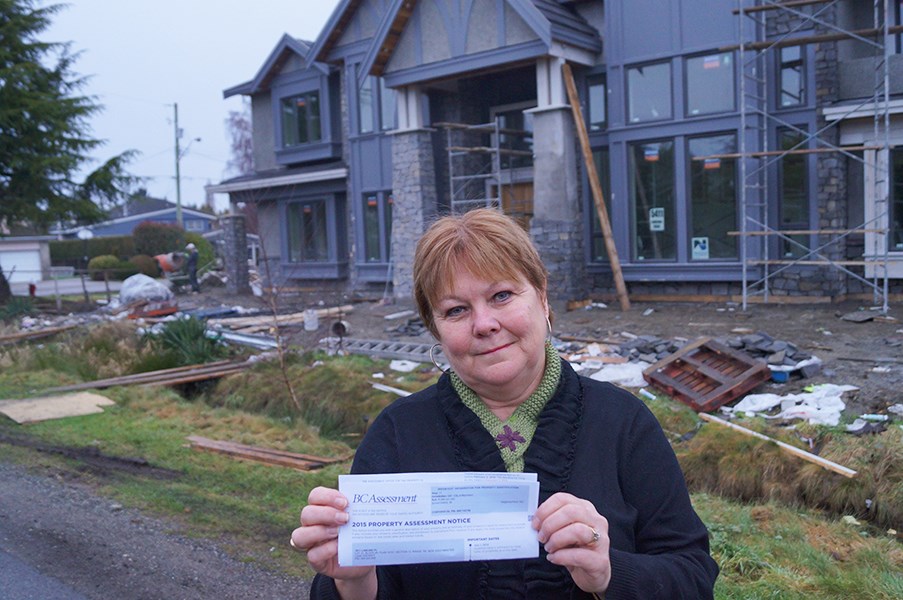 "Near my house I've had an illegal hotel, an empty lot, a house that's five-years-old that's always been empty, a gated home with mail bursting from the mailbox," says Starchuk pointing all around her Blundell neighbourhood.
"I don't think it's fair to compete for empty homes and I don't think it's fair for the next generation to be priced out of the market," says Starchuk.
She says some, including one local politician, have suggested she "cash out" and move elsewhere.
"You can flight or fight. I choose to fight," says Starchuk.
More rentals demolished
On Spires Road, one of the last bastions of "Old Richmond" is about to get a major makeover; Yamamoto Architecture Inc. has applied to develop seven market rental homes into 60 townhomes for purchase.
The densification of the City Centre neighbourhood (one quarter of a major city block) is planned under the city's Official Community Plan.
But with a rental crunch in Richmond, renter Don Watters, who has lived on Spires for 25 years, doesn't see the justification.
"Where can we go and it be affordable?"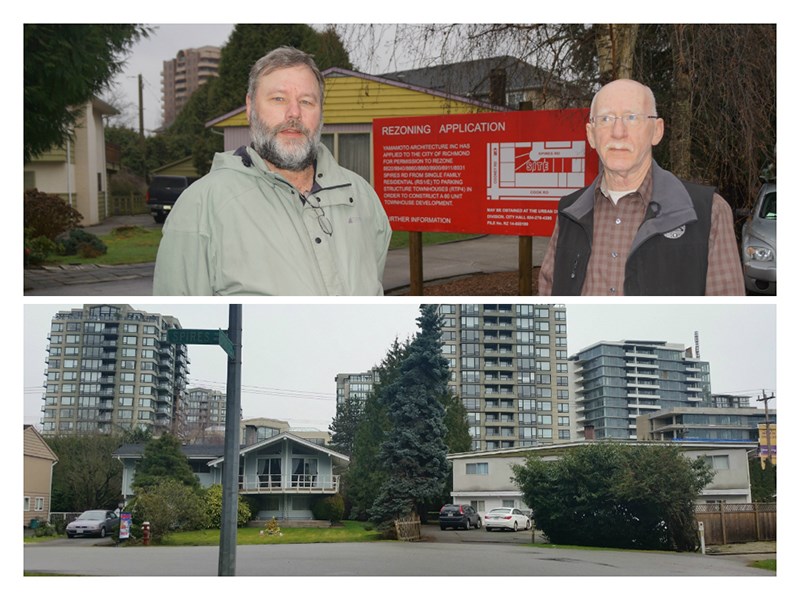 Watters says the landlords of the seven homes have left the place to rot. Last May he got his notice that he would need to leave the home this June.
Watters' friend, Roland Hoegler, 56, who grew up on Spires and whose father, 88, still lives next door to Watters, describes what Richmond is losing:
"You walked to school, kids played on the street, it was a beautiful place to grow up," says Hoegler of the ditch-lined street, one of Richmond's last.
"The question is, who is benefitting from this change?" asks Hoegler.
His answer? The developers and real estate agents, who have incessantly harassed his "holdout" father to sell his home.
"Seven down, 60 up, you do the math," he says.
"Who's benefitting? It's not the people like Don," says Hoegler, pointing to high rises looming over Spires he says are mostly empty.
Plans for 2041
Richmond's OCP states between 2011 and 2041 about 80,000 more people will move here.
"That number comes from an expectation of what portion of the projected growth of the region will go to Richmond," notes Peter Hall, associate professor of urban studies at Simon Fraser University.
The decision is inherently political, notes Hall, but Richmond has taken on about seven per cent of the 1.2 million more people projected by regional planners to live here.
New housing demand comes from three sources: in-region, out of province and out of country. Over the last 10 years, roughly nine out of 10 new residents (326,000) of Metro Vancouver were immigrants, according to population data.
Richmond plans to accommodate about 55,000 of its newcomers in the City Centre and preserve single-family neighbourhoods by building townhouses along arterial roads.
According to Gordon Price, director of the SFU City Program, densifying the City Centre is a "relief mechanism" for single-family neighbourhoods; by building up housing stock, it gives the market more options.
Speculation
On Williams Road (an arterial), across from South Arm Community Centre, Starchuk has photographed a 20 year-old megahome, the typical pink stucco mansion commonly built when Hong Kong immigration swept the shores of B.C. in the 1990s.
The home is now flanked by townhouses and slated for demolition despite an assessed building value of $320,000.
Price says when the home was built in 1994, the land wasn't rezoned for townhouses, so the large home in question was built. Now, despite being a relatively new home, Price says the value of the land is so great that developers can make money by tearing it down now that the OCP allows for densification.
Price and Hall say land speculation and demand are raising the value of land in Metro Vancouver.
So, essentially, it becomes a waiting game between the speculators/developers and the homeowner.
"One way or another that land is going to be redeveloped to reflect the value of it," says Hall.
Hall notes the slumlord mentality on Spires is a result of "planning blight."
"When land is not rezoned for how desirable it is, what sometimes happens is the landlord will say, "I'll wait out the municipal government and I'm not going to fix up this house. I'll let the municipality get so upset and frustrated until they allow me to rezone it," says Hall.
Starchuk notes many old homes are abandoned. The city has noted there are currently 36.
Megahomes: The sequel
A second wave of megahomes has hit non-City Centre neighbourhoods following the 1990s rush.
Near the old Steveston High school Starchuk has pointed out several three-storey megahomes being built next to existing older homes.
These new megahomes often maximize floor space on the lots, eating up the lawns and pushing up against other homes in their wake of construction.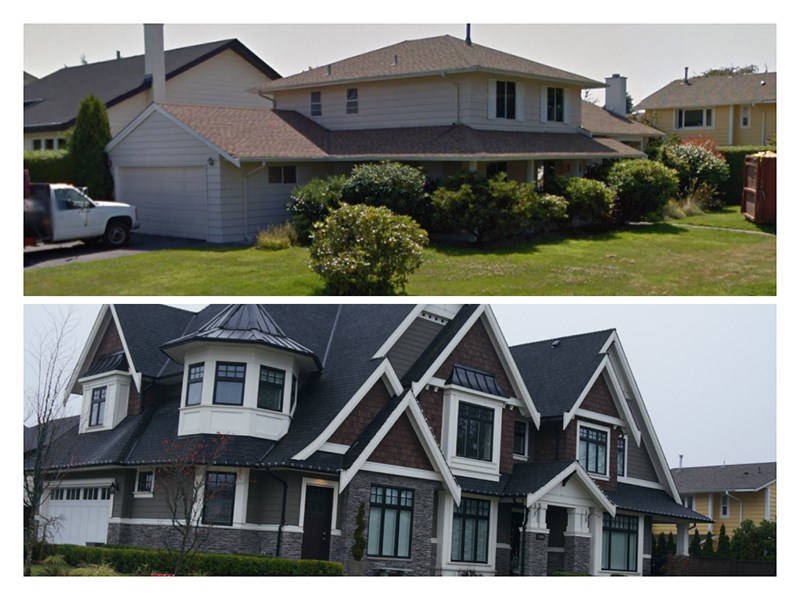 The older homes are assessed and sell for about $1 million while the new homes sell in the range of $2.5 million, on average.
Betty Deane owns and lives in a one-storey home on Goldsmith Drive and is now flanked by three-storey megahomes.
Her house is now shaded, resulting in higher heating bills, her garden is falling to pieces and she's lived with incessant noise for the past few years.
"I hate it. If I could move I would, but where can you go?" asks the retiree.
When asked how her concerns were addressed at city hall, she replied:
"They weren't. City Hall doesn't want to hear. I tried going," says Deane.
Starchuk and others say they no longer feel the desire to maintain their homes, considering they'll just be torn down.
The new homes on Goldsmith are some of an estimated 650 new residential house permits that have been approved in the city over the past two years, the vast majority believed to be for rebuilds.
Community eroding
The problem, Starchuk sees, is that not only is the land being heavily speculated on, many of the homes sit empty, resulting in the erosion of community.
There is no data to back up her assertions, however Price and Hall support the theory that foreign homeownership is a big part of it.
"There is no doubt huge amounts of land and apartment complexes are turning into safe deposit boxes," says Price.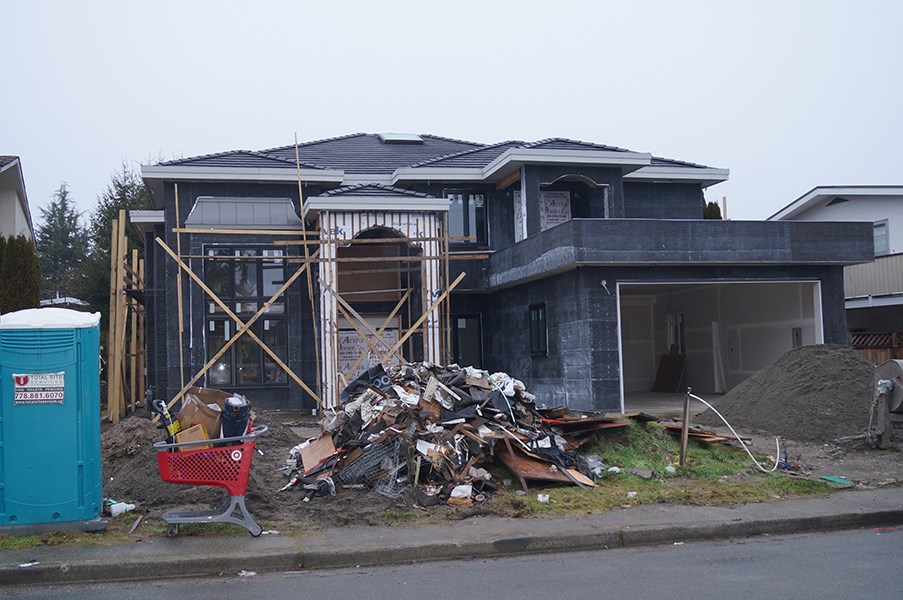 Like so many other problems in Richmond, Starchuk says a discussion on restricting foreign homeownership — an idea floated in recent civic elections and common in other G8 countries— has never taken place.
That discussion should include provincial and federal politicians, who form immigration laws and affordable housing strategies.
However, Price challenges the likes of Starchuk and Hoegler by asking: "Are these people willing to have their land values plummet if the governments intervene?
Starchuk says she would welcome an adjustment to the market.
"Money is not the whole answer and I think we're putting greed before need," says Starchuk.
Price also notes that the preservation of single-family neighbourhoods is "classist."
He says it's the lower income families who are relegated to the townhouses on the main arterials, buffering the elitists residing behind them from noise and air pollution.
Preserving single-family homes is "defensible code (for classism). It's the place to raise kids, the Canadian dream. It's what every society wants."
Price notes these homes are preserved under the current market conditions and zoning, Richmond may very well simply end up like West Vancouver — multi-million dollar homes side-by-side (although Richmond's won't have any lawns or trees, for that matter).
Noted Price: "Vancouver is splitting up into class according to housing value."
What can council do?
Coun. Bill McNulty has consistently pledged to maintain single-family home neighbourhoods outside of the City Centre.
McNulty disagrees with Price's "classist" argument, but he acknowledges there are problems with housing in the city.
He acknowledges the city has a rental crunch and that developers have not filled that void in decades.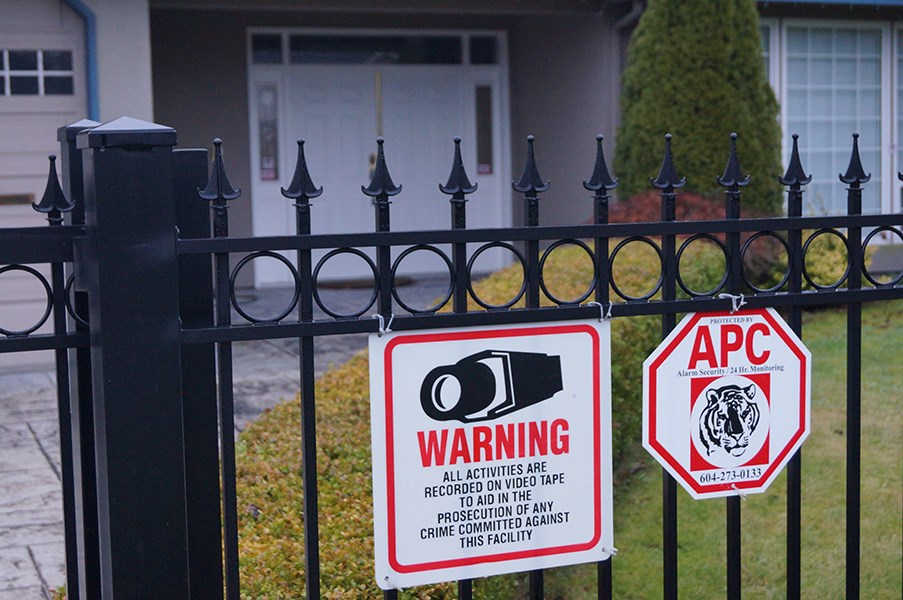 He is also aware of the way homes are being built and how it affects neighbourhoods.
He says provincial height restrictions via land-use contracts have allowed builders to build higher than what the city normally allows. He hopes to fix that.
He's also put in a referral to planners to look at banning gated driveways.
"It tells me you don't want me in, and you don't want to come out," says McNulty.
When asked if the city could postpone development in areas like Spires, where market rental units still exist, he said it's possible, even with the OCP.
Coun. Carol Day was recently elected on a platform of slowing the rate of development in the city, often criticizing McNulty and his partners' record over the past 20 years.
Day has proposed to work with developers to make rebuilds smaller (floor size) and perhaps allow for lots to be subdivided to discourage megahomes.
"Just because we have done this, doesn't mean we have to keep on doing it," Day said at a recent planning committee meeting where she's already become a lone voice of opposition to applications.
But as Price noted: "Restrict the square footage and that would result in a drop in land value. Ask (homeowners) how they would feel about that."
See ya later!
Retired trucker Bob Caramamoff is Deane's neighbor two doors down, and he's moving back to his hometown in Michigan after renting an older home from a foreign homeowner.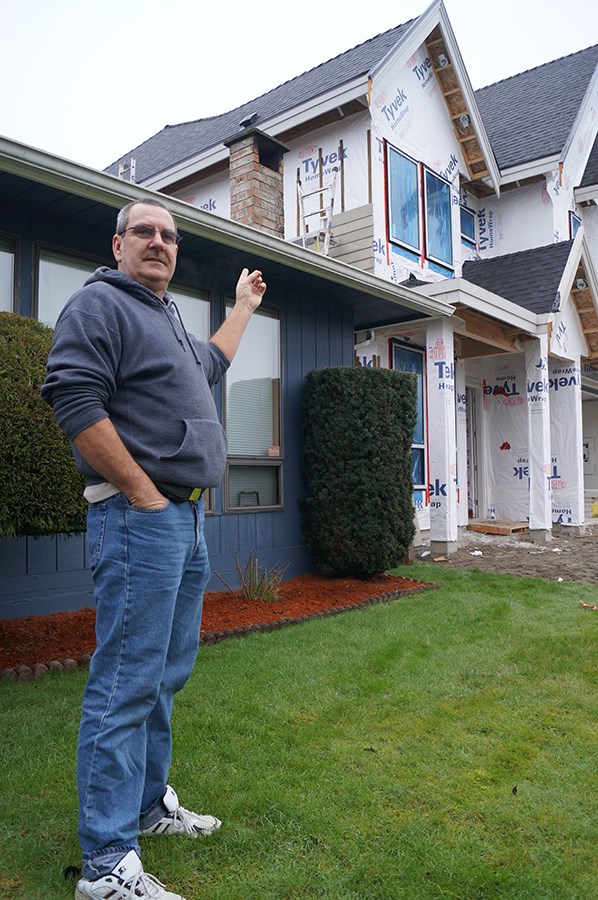 Caramamoff jokingly fears the next tenant won't be able to have a fire in the fireplace because the house's chimney is two feet away from the megahome's window. And he voices concern for the community he will soon leave.
"Back home we have lawn parties and BBQs, it's great. Here, I don't know what's going on," chuckled Caramamoff, "I love the people I know (here), but …boy do you know what I could get for $1 million in Michigan!"