Beets, broccoli, beans, cauliflower, chives, cucumbers, carrots, corn, lettuce, potatoes, squash, tomatoes, zucchini, herbs, cantaloupe, raspberries, strawberries, watermelon.
That was my bounty on my first shop at Richmond Country Farms Sunday evening for the Richmond Eats: A Local-Eating Challenge, a week-long fundraising event hosted by the Richmond Food Security Society (RFSS) whereby about 20 participants, including myself, were asked and subsequently obliged to eat produce grown or meat raised exclusively in Richmond.
By Sunday the society hopes to raise $10,000 to put toward community events, local food research and programs such as community gardens. 
Society members claim eating local food has a number of benefits: it's healthier because food is more fresh; it's better for the environment because food doesn't travel as far; it's good for the local economy; and it directly benefits local farmers who are the only people standing in the way of Richmondites being utterly dependent on drought-stricken California (60-70 per cent of our produce already comes from that state).
Furthermore, from my shopping experiences this week, I've found local produce to be cheaper in many instances.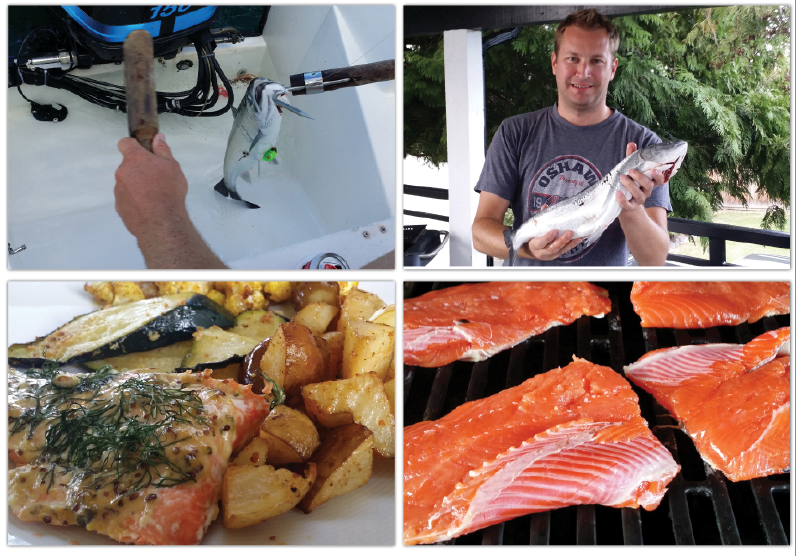 So, armed with fresh produce (I hate onions. Vile weed!), I went home and began the challenge early, gutting and beheading the poor Coho salmon I caught the day before off of Sooke (participants could purchase seafood caught by local fisherman at Steveston's Fisherman's Wharf, so surely being that local fisherman counts). 
The meal: BBQ dill salmon, grilled Parmesan zucchini and baked potatoes and cauliflower served with locally grown and produced blueberry wine purchased from Canada Berries on Sidaway Road. It was a veritable feast.
I went to sleep quite content with myself and woke the next day per usual. And therein lied my first challenge: Normally a quick riser who eats a piece of toast and downs a glass of milk, if that, I realized I had nothing prepared for the day ahead.
As such, my challenge would need to take a timeout. I needed to get to work without a breakfast or a packed lunch and, so, I settled for the old 10-inch special from Taco Luis in Lansdowne Mall to tide me over until the evening. That's sort of local, right? No? Fail!
It turns out I wasn't alone in my lack of preparedness. 
"Meals sneak up on me and I've had boiled eggs and cut carrots. …It's lots of effort and requires more prep time. But I'm starting to lay the groundwork for better meals," said RFSS director Stephanie Dunn Wednesday evening, after I checked up on the progress of some fellow participants.
Dunn also said she and others have found themselves hungry at times, just like myself.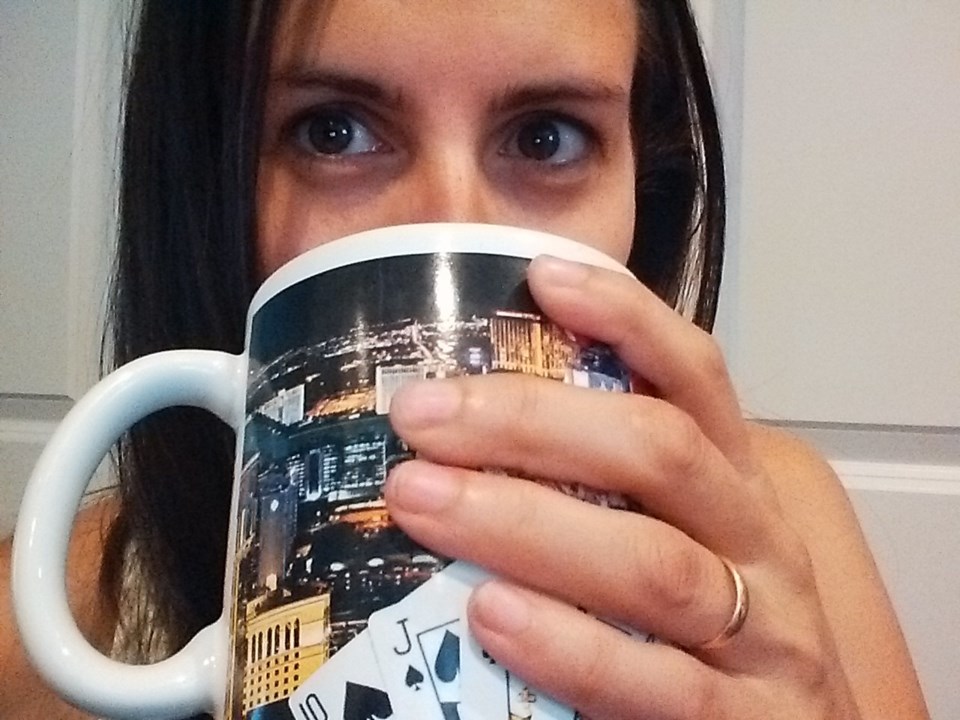 One of the goals of the challenge is to identify food gaps in the local food supply.
The challenge — which is still ongoing until Sunday — allows for three, non-local exceptions to supplement dietary needs or simple pleasures. For instance, salt would be an exception (or I could go out on a boat and scoop up some ocean water?).
As such, you needed to be very selective of choices, but as Dunn noted, the challenge isn't about the exceptions, but rather eating nearly entirely local food.
"It's up to your own local-eating conscience and how you interpret them. I would hope for exceptions that make it easier to eat the local food," she said, noting some exceptions are more acceptable than others.
So, for instance, I immediately found myself in a predicament with one of my exceptions: cheese.
Could I have any sort of cheese? By Sunday, I had already used Parmesan and at least planned to use cheddar. By Tuesday, I had used feta, so I suppose I made that decision on the fly.
Notably, this was my first challenge of its kind and, to be frank, it made the 100-mile diet look like a breeze.
"The challenge is largely symbolic; drawing a line around Richmond is a bit arbitrary given how integrated our food system is," said Dunn, who agreed with me over the phone, the challenge needed to be tackled several days, if not at least a week, ahead of time. She noted freezing and preserving some food would have been wise.
"We were still figuring it out the first few days and so we were sharing what we were making, and talking about what we underestimated," said Dunn.
Alas, after my Taco Luis scandal I went home and sliced up the other half of the salmon and ate it with a similar vegetable medley. For dessert, I had a bowl of berries and experienced my first social outcasting, as my wife and friends enjoyed their berries with whipped cream and sponge cake.
Sacrifices!
On Tuesday, I ate leftovers at work and returned home to my wife preparing a kale, feta, tomato and leek omelette with more roasted potatoes (the only local source of carbs) and a salad.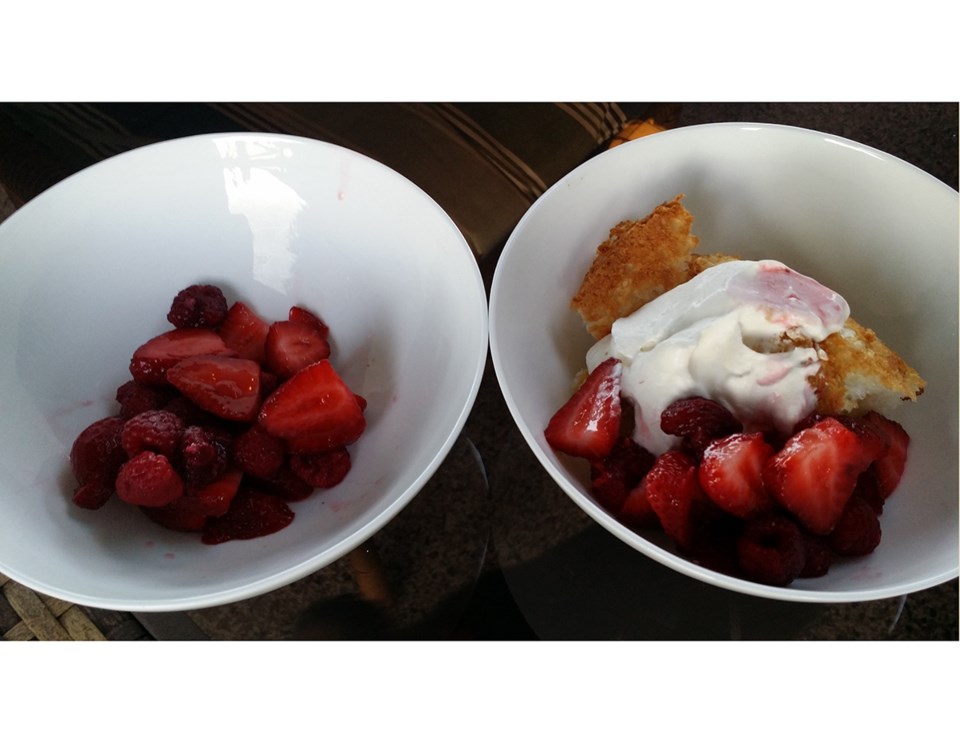 As for beverages, I knew the Coca-Cola and beer will beckon me on Monday. While Dunn told me she made iced, herb water, I used my water carbonator to make soda water and mixed it with pureed berries. I also made berry, kale and cucumber smoothies and froze them (I wish I had yogurt).
Now, speaking of dairy products, I found that Richmond has three dairy farms, however, none of them can produce their own milk as the B.C. Milk Marketing Board controls processing in the Fraser Valley.
According to the board, Richmond supplies approximately 4.5 million litres of milk to processors annually, or 85 cups of milk per year per Richmond resident.
If Richmond were to be self-sustaining, a local producer would have to be approved by the board and be fully licensed by the Canadian Food Inspection Agency.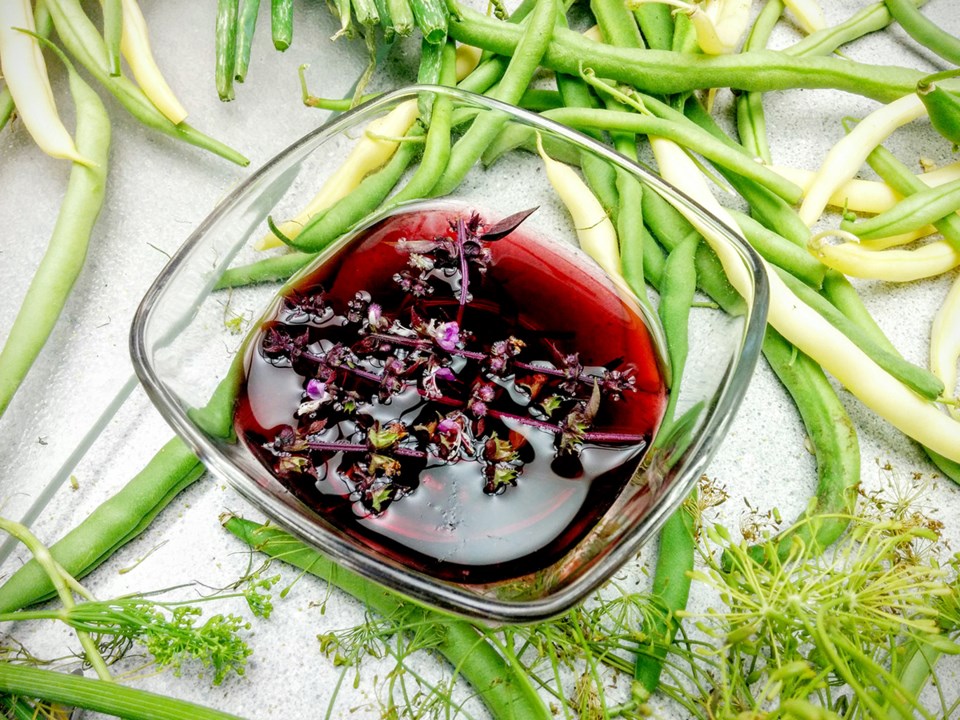 At A.R. Savage and Sons dairy, an employee named Kathy told me it's a matter of scale that explains not having a Richmond processing plant.
The question of whether this city of about 210,000 people can feed itself was posed to farmer Bill Zylmans, of W and A Farms on Westminster Highway.
"I think we could, at least 80 per cent of the time," said Zylmans, who produces the only locally-raised beef in Richmond — although it's actually slaughtered in Maple Ridge and portioned in Langley.
Food gaps
It's interesting to note that consumers cannot assure themselves that any given carton of milk — say, from Lucerne — is from Richmond as it is all pooled into the processing plant.
Another food gap/processing predicament may lie at the Que Pasa plant on No. 5 Road, where non-local corn is locally processed into tortilla chips. 
However, Zylmans said sustainable, local eating could only happen if society changed its approach to food.
Essentially, the problem with sustaining ourselves locally is the same problem that I encountered Monday morning. We are relatively oblivious to how much preparation goes into food, and "we're lazy," said Zylmans. 
Another issue is our insatiable appetites for exotic or imported food, said Zylmans. For instance, we could eat canned fruit in the winter but choose to eat California fruit instead. Meanwhile, Richmond's lack of rice production poses an obvious challenge for the booming Chinese community, he noted.
Zylmans also said we've lost the art of preserving food (this month, the City of Richmond hosted a sustainability workshop on preserving).
Immediately, I thought of my former home country of South Korea and its people's passion for kimchi, which was created to feed the masses through the harsh winters (while kimchi is still a staple, Koreans have recently moved toward a more global palate).
I have since thought that vinegar would have been a great "cheat" item (although it could be produced locally). Dunn said she should have prepared tomato sauce ahead of time.
Exploring the backroads
On Wednesday, I took some time to explore the back roads of Richmond to find different products.
Dunn noted, and I agreed, that it was "discouraging" to have to drive everywhere to find things. I suppose we have the Steveston Farm Market to amalgamate items, but it wasn't open last weekend. Even still, that market could use more local food vendors.
I found honey on No. 2 Road at Helen Kraczynski's home, as well as blueberry farmer Bob Fisher's home on No. 6 Road. I didn't have cash, so I couldn't buy any (tip: bring cash to all roadside stands, just in case).
There are local eggs to be had on No. 6 and No. 2 roads, as well as Steve Easterbrook's Rabbit River Farms on River Road.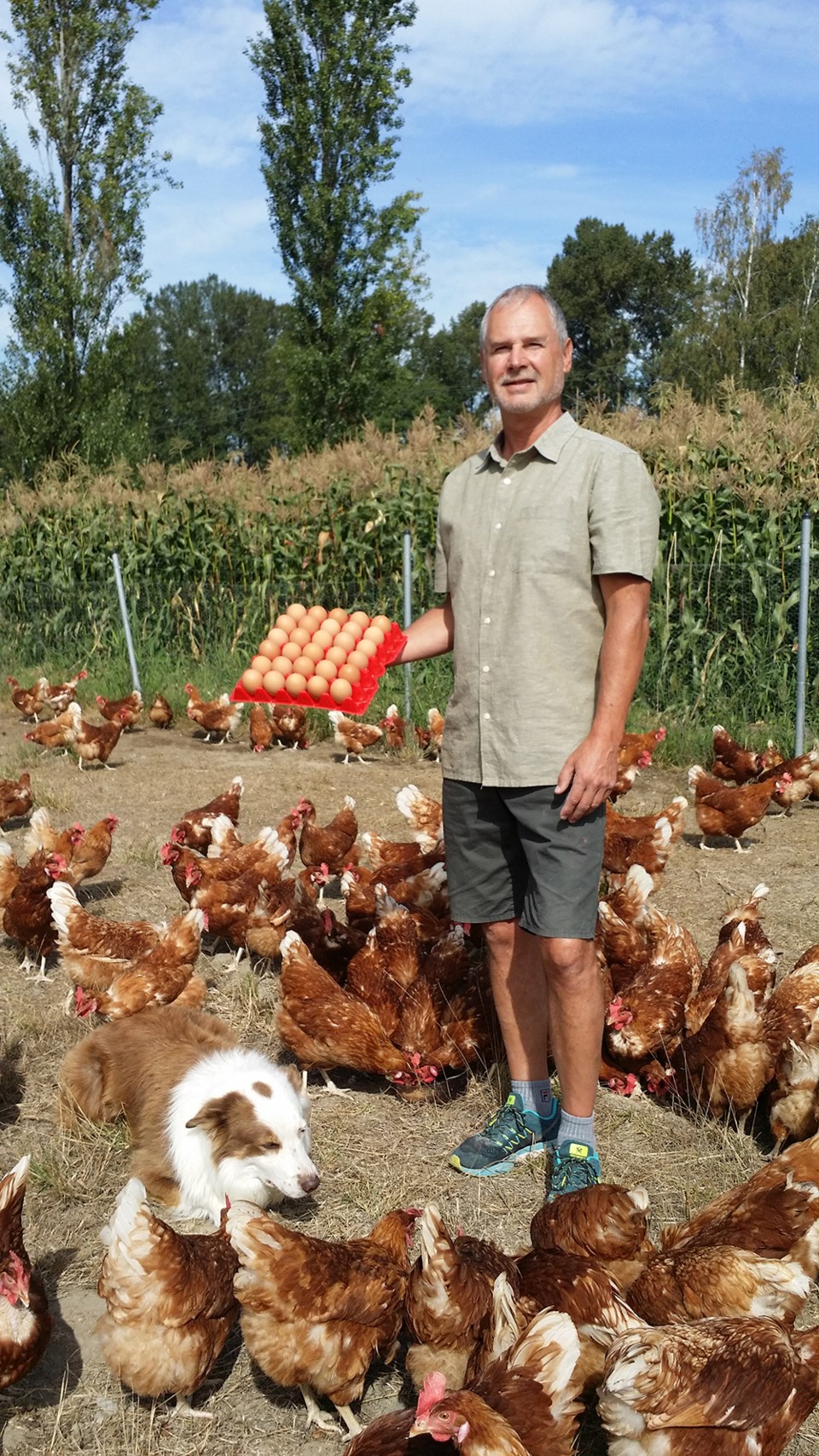 Easterbrook invites anyone from the public to look inside his certified organic feed barn, a welcome act for those wanting to learn more about local food, such as Dunn.  
"That's what's been a big experience for me; finding out about this food, and asking questions and meeting these people," she said.
This summer Easterbrook opened his roadside stand seven days a week. It now features organic produce, such as squash, beets, corn and carrots.
Easterbrook handles 6,000 chickens annually, which produce 1.9 million organic, free-range eggs each year. 
As for more protein, Richmond lacks soy crops, but it does have one chicken farm.
The Fowl Farmer is a family-run business that slaughters about 55,000 birds every two months. 
Owner Kelly May told me her birds are sent to outside processors, much like locally-produced milk.
Ever since the bird flu outbreak about 10 years ago, poultry is under tighter regulations. For instance, one used to be able to buy fresh turkeys at a farm on No. 6 Road, but that isn't the case anymore, according to the owner.
However, the Fowl Farmer nonetheless proves chicken farms are possible in Richmond.
On Thursday, I plan to roast a chicken and use the carcass to prepare stock, which can be used for a potato and leek soup. 
I would ideally need milk for the soup and have already technically used cheese, mayonnaise and oil as exceptions. It would have been great to clump milk and cheese under dairy, but I feel I'd be stretching the challenge, no?
At any rate, the key is to be creative, educate yourself and be healthy.
For more information on the challenge and fundraising opportunities, visit the society online at RichmondFoodSecurity.org.