Grade 12 McNair student and budding Aboriginal artist Atheana Picha is riding a growing wave of knowledge and understanding of Aboriginal history and culture within the Richmond School District.
A story such as hers would not likely have been possible 30, 20 or even, perhaps, 10 years ago. Spending much of her time in the school's art department, the ambitious Picha has a fast-growing resume of achievements and has high hopes this spring to obtain a renowned scholarship supported by Aboriginal artist Godfrey Stephens, one of her role models. 
Presently, Picha is working on a hallway mural and next week she'll unveil Kingswood elementary school's new logo — a Coast Salish design of an eagle. She's also becoming increasingly active and well-known in Richmond's arts community.
Her specialty is painting.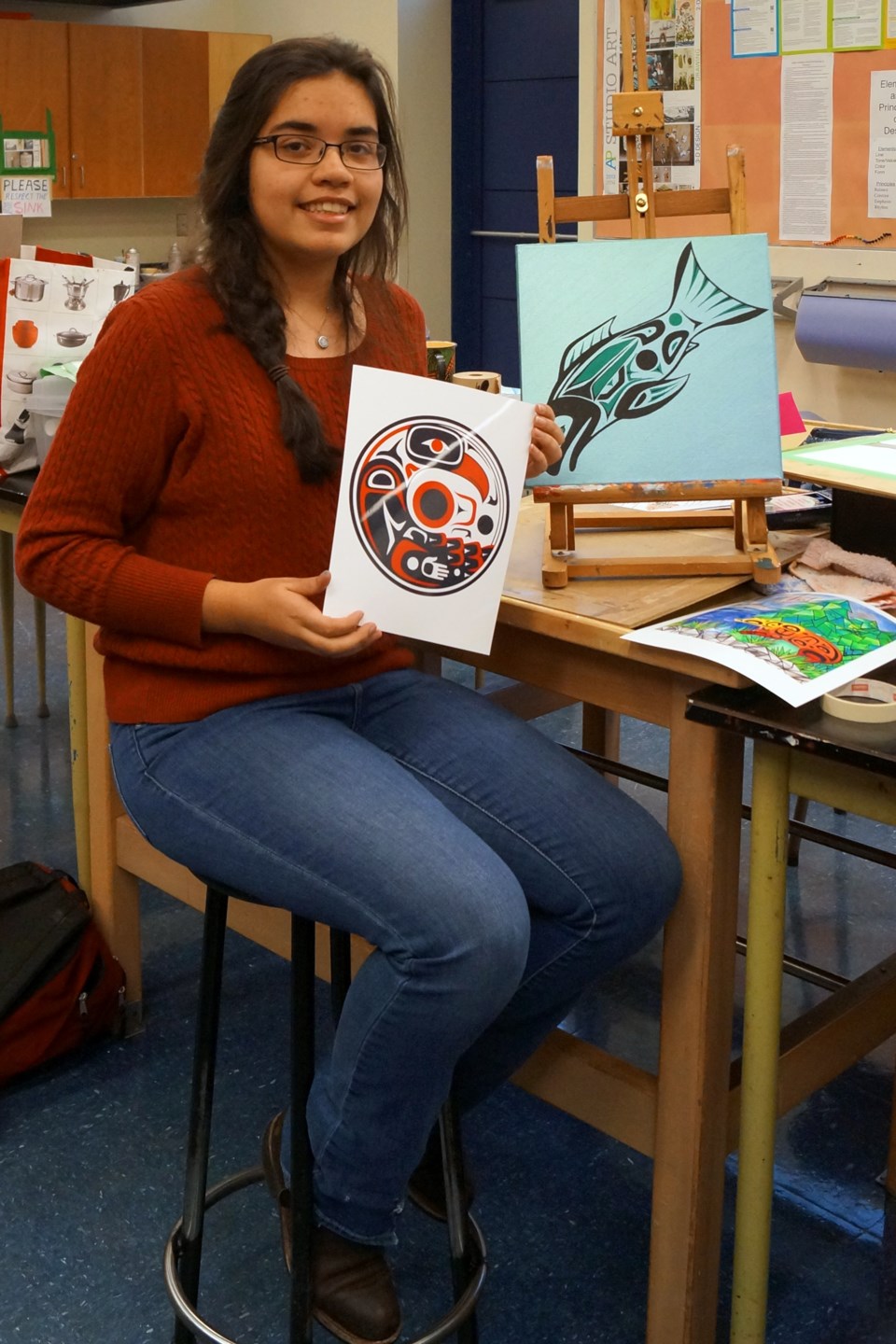 "Worse-case scenario, you paint over it," quipped Picha.
And while many brilliant, young artists have emerged out of Richmond schools over the years, it's her focus on Aboriginal art that makes her journey unique.
Such a journey is increasingly supported by the district, as most recently affirmed by the Feb. 7 signing of its second, five-year Aboriginal Enhancement Agreement, between First Nations community members, administrators, trustees, teachers, health professionals and students.
The first agreement was signed in 2011, under a mandate by the Ministry of Education. The new agreement is the sole work of the district and Aboriginal community. 
One main goal of the agreement — a blueprint for Aboriginal education — is to foster First Nations history into present-day curriculum. As well, the agreement should help improve the overall success of all Aboriginal students, who have lower graduation rates across the province — although such students in Richmond have historically done better, relative to provincial Aboriginal graduation rates.
"The Richmond School District recognizes the power of a shared responsibility for supporting Aboriginal learners, and endeavours to see all our Aboriginal learners graduate with dignity, purpose, and options. We believe that education that honours the histories, worldviews, and perspectives of First Peoples is good for all students in our district, and is key to a reconciled relationship with First Peoples in Canada," explained the district's communications manager, David Sadler.
Teacher consultant Leanne McColl worked hand-in-hand with Aboriginal elders to put the agreement together.
"Our hope is to make the agreement a bit more visible in schools and have teachers be more aware of it," said McColl.
The agreement will strive to increase a positive identity and sense of belonging for Aboriginal students. This is important, said McColl, as the district counts about 300 self-identifying Aboriginal students, although the actual number may be several hundred more, according to Pathways Aboriginal Centre. 
This is because, in the past, students have been pulled out of class to learn about their history and, thus, stigmatized.
"The movement has shifted. Rather than pulling out a student, now, a teacher will come to a class and work on a particular topic of importance. It becomes a class experience.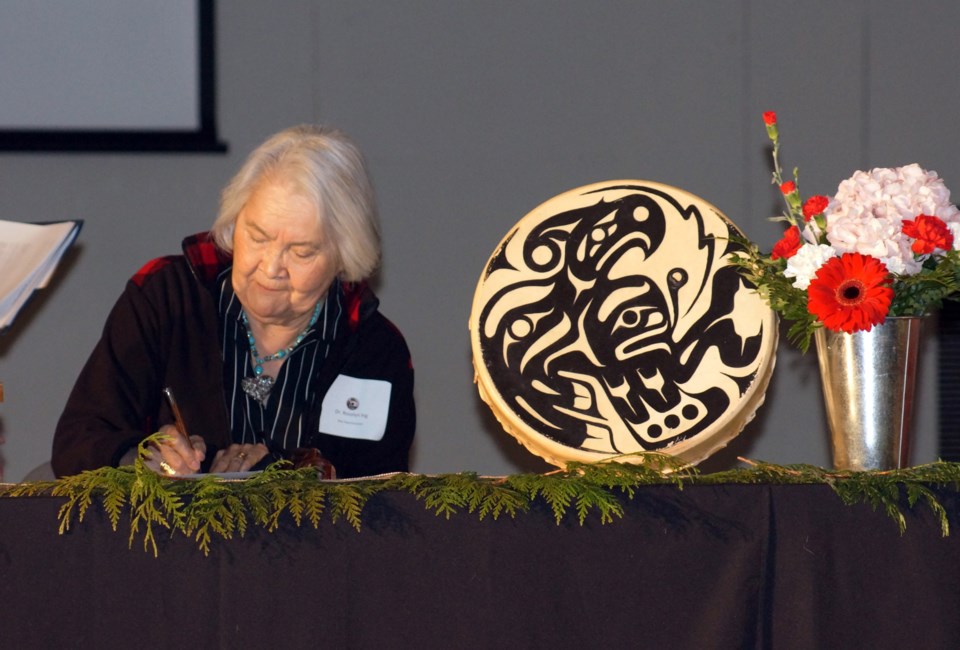 "There are still some people feeling a stigma in self-identification. It's another indicator if we're being successful — in terms of students self-reporting," explained McColl.
Picha, who is part Coast Salish (Kwantlen First Nation), is well-aware of the genocidal history of Aboriginal people in North America and has a critical mind for art history. She notes that a lot of art from Canada in the 1800s showed landscapes without people, to lure Europeans to come to North America — as though to say, Aboriginal people don't exist.
"So, even in art, Aboriginal culture has been washed away. But bringing (Aboriginal history) back in the education system will slowly bring it back. A lot of elements still need to be recognized; it's been washed away pretty badly and there's a lot of hurt there. Some attempts of reconciliation have made it worse sometimes," said Picha.
It is hoped that the agreement will trickle down into classrooms, so teachers better understand how to incorporate Aboriginal history and students, such as Picha, are better able to think critically.
"Aboriginal art needs to be taught from older generations," said Picha, who visits with elders during her summer breaks.
"It's been tough to learn a lot of the stories. They're old and don't want to leave their house. So, you have to go visit them and a lot of people are on (Vancouver Island). But because there are more courses becoming available to me now – I went to a conference on Aboriginal sovereignty — it's getting better," she said.
The critical component of the agreement, said McColl, is having elders on board to steer Aboriginal education in the appropriate direction.
One of the agreement's committee members is Roberta Price, a Coast Salish (Snuneymuxw First Nation) Aboriginal elder, and longtime Richmondite of 37 years.
For about 30 years Price, 61, has spoken to classrooms across the district (and, now, four others in the region) and helps teachers incorporate local Aboriginal history.
She says she's seen a marked improvement in local Aboriginal teaching within the district.
"There wasn't an awareness of knowledge that First Nations were present in Richmond. There wasn't a feeling of acceptance," she said.
Of course, for millennia, the Musqueam First Nation has always made Richmond their home, although they never had a name for Richmond. Rather, they named spots along the shoreline. For instance, Terra Nova was Spul'u'kwuks (Anglicized), meaning "bubbling water," for the gas deposits coming through the sloughs. It was a Musqeaum fishing village, but now it's a subdivision with a namesake elementary school — one example of an attempt to reclaim Richmond's Aboriginal history into modern life.
It's this history that elders, such as Price, bring to classrooms, such as Penny Nakamoto's Grade 2 class at Kidd elementary.
"Part of what the Grade 2 students learn about in social studies is that Canada is made up of many diverse regions and communities. So, we began with what is familiar to them — their own community. In the fall we looked at features of rural, suburban and urban communities and how Richmond has changed. In January we began learning about the Coast Salish people and the relationship the Musqueam people had to the land here," said Nakamoto.
The students built model villages as teaching points for past social, cultural and economic practices that occurred on the island. 
"We have also talked about how the Musqueam people still live here today and that their culture and traditions continue to be passed on. After having shared some of their own traditions and celebrations, students learned about the music, art and stories that are part of the Musqueam culture," she added.
Picha said she looks back at her elementary school years and isn't convinced model villages or totem poles are the way to go, as she's of the opinion it likens Aboriginal culture to those ones that are extinct.
"But this culture is still here," said Picha.
And it's modernizing, she said.
Like art, "you have to change after a while. You can't stay the same all the time," she said.
It's such an exchange of different ideas and perspectives that the agreement hopes to foster.