No shoulder checks, no eye contact with pedestrians, turning right from the left-hand lane, driving well over the speed limit, driving well under the speed limit, speeding in school zones, crashing into walls, driving on…sidewalks?
Driving in Richmond can be an exhausting whirlwind affair and its drivers have earned a notorious reputation in Metro Vancouver. Is it a fair reputation? Well, no, not really — at least within Metro Vancouver, according to crash statistics: Richmond's crash rate per insured vehicle is lower than Surrey, Burnaby and Vancouver. 
However, we're still pretty bad drivers when clumped in with Metro drivers; According to ICBC, Richmond sees about 1,200 crashes per 10,000 policies per year, while the provincial rate is about 900.  The city also has the fourth highest Class-5 test fail ratings in the province (27 per cent), although it's only a hair worse than most other Metro Vancouver municipalities.
But despite statistics and the regional (bad) company, by many accounts the seemingly unstoppable traction this reputation has gained through water cooler banter and social media forums likely means it won't go away anytime soon.
Furthermore, social stereotypes of unskilled, Chinese-Canadian drivers are likely to be perpetuated in a city where roughly half the population is of Chinese descent. And, driving experts note, societal differences in driving manners are often highlighted in a city full of so many new Metro Vancouverites.
To gauge just how bad it is, the Richmond News invited Kurtis Strelau, regional education manager of Young Drivers driving school, to take the passenger seat on a drive through Richmond. On this day it was raining and Richmond lived up to its reputation. He was also asked to evaluate this reporter's driving skills.
Taking the test
The ride started southbound at the Knight Street Bridge. Two vehicles were spotted on the sidelines, in a rear-end collision, as other cars sped by at about 10 km/h over the speed limit. 
It doesn't take long for Strelau to point out some common mistakes by this driver of 14 years, who has a clean sheet, save a couple speeding tickets.
"You trust your mirrors implicitly for lane changes and you just can't. No matter how you've adjusted them, there's going to be a blind spot. People stop checking because there's usually nothing there. But eventually something will be there," noted Strelau.
We carry on with a shrug of the shoulder, one hand on the wheel. We come to a red light and I'm commended on my slow approach. "I like what you're doing here. You're slowing down early to control the people behind you," he said.
Yes, people behind me, of course, I think.
"Rear crashes account for somewhere in the neighbourhood of 40 per cent of all crashes," says the veteran instructor of 25 years.
Heading down Westminster Highway Strelau points out several drivers ahead of us driving in other drivers' blind spots.
"I wouldn't recommend sitting in someone's blind spot.
"Now here, right here, cover your horn and brake," he jolts, noting a driver who appears to be leaning into my lane with little distance between us.
We approach a four-way stop procedure as the lights are out at No. 4 Road.
"This bugger right here, just blocked the intersection. God all mighty," says a frustrated Stelau when he sees a truck inch out.
Taking a dicey left turn onto No. 4 we approach Granville Avenue and observe a pickup truck and van t-boned. Strelau shakes his head. "This is what happens when you don't follow procedure," he said.
At the end of the journey, Strelau notes I would have failed the driving exam as I had passed over a solid white line to change lanes. He says it's likely the vast majority of veteran drivers would fail the exam if they applied their day-to-day routine during the test.
Cultural nuances
As for Richmond, Strelau says he notices a lot less eye contact on the roads when he drives here.
"On one hand it's well laid out; the grid pattern should make things easy to use. The lanes are wide, things are well marked, there are a lot of electromagnetic sensors, a lot of left-turn lanes… umm… but, it just seems people aren't using their eyeballs. I don't know if that's a cultural thing," he said.
It's an observation that Cst. Dennis Hwang of the Richmond RCMP traffic division knows all too well. 
Hwang, who has served Richmond's traffic unit for 17 years, notes he wouldn't be able to drive in parts of Asia (what he describes as a controlled yet chaotic driving environment) despite being a good driver here. He notes moving from one system to another "could interrupt the balance."
Hwang notices certain nuances among the new, immigrant community.
"Lots of people carry children in cars without seatbelts. There are lots of stops, and it seems to be common in certain Asian cultures. There are little things, and I generally don't see that among Caucasian drivers, but I wouldn't say they don't do that at all. However, I contrast this to novice drivers who have six passengers when they should only have one. So there's that," said Hwang.
He noted that driver's licence scandals of past years likely have an effect on the city's reputation, and social media is a big factor that snowballs the unwarranted stereotypes and reputation.
But ultimately, however, despite its quirks the city is no worse off than other parts of the region.
"I wouldn't say it's any worse than driving in Vancouver or Burnaby," said Hwang.
Hwang said one theory behind poor driving in the region is that people apply the driving test too rigidly to everyday driving.
"I've been told people study specifically for that test. Then when anything deviates from that, it's like they cannot think for themselves because they've studied so rigidly," said Hwang. 
Strelau agreed, adding he would like to see  drivers re-examined every five to 10 years. He also suggested that ICBC charge hundreds of dollars for a driving exam.
"Maybe people would take it more seriously if they had to fork over more money," said Strelau.
Dashboard cameras are becoming increasingly popular in pointing out every driving mistake that happens in the city.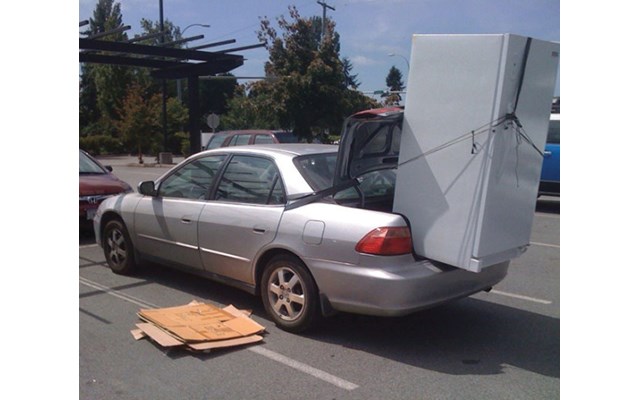 @RichmondDriver chimes in
About 2,000 people follow @RichmondDrivers, a local Twitter account documenting driving goof-ups in the city. The person behind the account  — a 28-year-old, 20-year resident of Richmond and marketing expert — spoke to the Richmond News on Sea Island to discuss the decision to highlight the issue.
News: How did you get started?
@RichmondDrivers: A lot of people, when they drive, they get angry and I'm not the type of person who would try to get angry. But, if I feel like I want to be mad at someone, I try to make fun of them instead so...
News: You noted half of the bad drivers you see are non-Asian.
@RichmondDrivers: On the road I see bad driving from everyone. There is no clear definition of a bad driver. It's not gender, race; it's not even age. 
News: What is it about the race card that seems to perpetuate this and other social media accounts?
@RichmondDrivers: I don't know really, but maybe it's just luck and coincidence that a city already known for bad driving turned out to be the biggest destination for Chinese immigrants. It's perception more than anything.
News: Have people taken it out of context?
@RichmondDrivers: Someone accused me of being racist, which is ridiculous because Richmond is only half Asian. If you equate Richmond (and the Twitter account) with Asians then you're the one who is probably racist.
News: You lived in Korea and have travelled Asia. Tell me about the driving culture there.
@RichmondDrivers: I never considered driving there because I never understood the driving culture. My family came from Hong Kong so I've seen driving culture in multiple (Asian) countries. And in each one, while you might be a good driver in Canada, over there you could be a hazard because you don't know how people operate.
News: Could it work vice-versa? 
@RichmondDrivers: Absolutely. It doesn't surprise me. In China and Asia people seem to know what's around them, but here there's not that built-in radar. Here, everyone's expected to stay in their lanes. 
News: Tell me about one particular stunner.
@RichmondDrivers: There was a sedan and the guy wanted to fit the whole fridge in the trunk. The fridge was halfway in and halfway out secured by a bungee cord and the backseat seatbelts. I give him creative points for use of the seatbelts but no points for safety.
News: Tell me about a moment where you became seriously concerned
@RichmondDrivers: I guess when the Railway greenway was turned into a jogging path. I've seen many many cars try to turn on to that. At first it's like, okay that's kind of stupid, and then you see children on the path and that's not good. Also, I turned from No. 1 Road to Westminster Highway and there was a car going the wrong way; that's probably not something you should be doing.
News: Richmond's getting older. Could this be a concern too?
@RichmondDrivers: It could be. I don't know the science behind reaction time looks like but I do have a dad who's quite old and I do notice he tends to do some things he normally wouldn't have done 10 years ago, like drifting into the next lane or not being in the right lane when he turns.
News: With more traffic congestion coming into the city, is there light at the end of this tunnel?
@RichmondDrivers: Not until the examination standards get tougher. Another thing I could blame is the population getting bigger and bigger, but the roads are not growing with the population. ...If anything they're moving backwards. I mean, look what they're doing to River Road.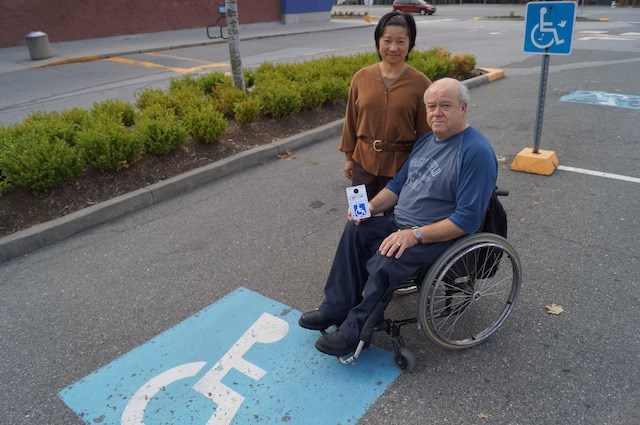 Parkers violating disabled rights
A complete disregard for disabled parking spaces throughout Richmond is among the city's most concerning driving problems, according to the Richmond Centre for Disability.
"We hope to heighten public awareness for the proper use of accessible parking permits and to curb its abuse and misuse," said RCD executive director Ella Huang who notes there's been a recent rash of violations that have been reported to the centre.
She noted one vehicle at Aberdeen Centre had recently been caught with a four-year-old, tampered and expired placard.
Last January, the centre's board chair, Vince Miele, spoke to media about how Richmond had led Metro Vancouver municipalities in 2013 for disabled parking violation tickets; Richmond had 276, while Burnaby, a city with a similar population and area had just 153. Vancouver and Surrey had 214 and 254, respectively (although the statistics showed no enforcement levels). 
Miele now says the situation still hasn't improved, at least anecdotally speaking.
"More and more people are getting placards and family members are seeing the opportunity to use them.
"And for a person to go through the trouble to make something up to park is outrageous," said Miele.
Excuses range from: 'It was only two minutes' to 'I didn't see it' and 'mind your own business,' said Miele.
Huang noted disabled people need the wide, designated spaces to exit and enter their vehicles .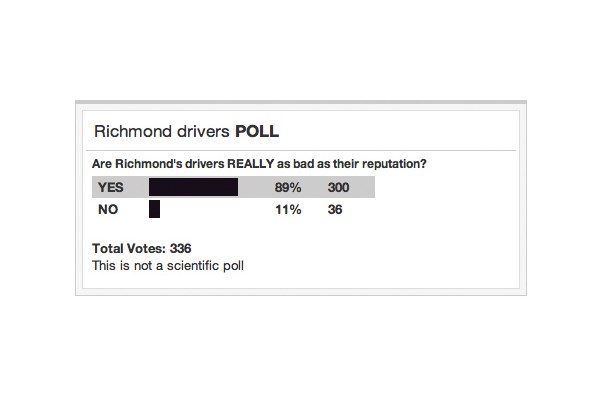 Bad-driving reputation a running joke, not necessarily based on statistics: pollster
An unscientific online poll conducted by the Richmond News asked readers, 'Are Richmond drivers really as bad as their reputation? From the 335 total responses, 293 — or 89 per cent — responded 'yes' while just 36 people indicated 'no.' Furthermore, another poll asking readers, 'Do you consider yourself a good driver?' resulted in 148 out of 163 respondents replying 'yes.' 
Insights West pollster Mario Canseco said what one can glean from this "fun exercise" is that people have biases about theirs and others' driving abilities and such biases can be perpetuated by emotions and anecdotes. 
When it comes to bad driving, "people tend to report that they see others doing it but don't have a problem with them doing it," he said, noting, in general, when it comes to driving, people tend to have many preconceived notions on how others should drive.
Canseco also noted such polls are likely to attract a particularly biased audience participating in them.
"From a statistical perspective it's not ideal," said Canseco.
He said the same question posed in Vancouver about Vancouver drivers likely would yield the same results.
Also, while there may be bad drivers in Richmond, topical, hyper-local subjects like this can take on a life of their own.
"I think there's a tendency to look at something that's a defining factor or character of a city when in reality there are different quantitate experiences," he said, adding the Richmond drivers debate has become an emotional one, largely as a result of anecdotal stories that don't necessarily match quantitative data.
"It starts to become almost like a joke and it happens all because (of one bad driver)," he said.
But even Canseco wasn't immune to the joke, as at the commencement of his interview with the Richmond News a minutely small chuckle emanated from him, when asked if he's ever driven in Richmond.
Canseco said there is no driving data based on age and ethnicity, however, he hopes to soon address the latter; this September Canseco will release research related to driving, with a focus on the new Chinese community. Among the questions he'll ask is whether or not the community feels discriminated against for not being able to use their licenses from China like other countries that have a reciprocal agreement with Canada.

Aberdeen Mall rated worse place to park
In June, followers of the Facebook group Richmond Learns to Park rated Aberdeen Mall the worse place to park in Richmond.