The number of violation tickets issued for distracted driving in Richmond has exploded by more than 50 per cent in the last year, from 1,170 to 1,833.
Despite increasing the penalties last summer to a $368 fine and four penalty points, distracted driving — namely use of an electronic device — still contributes to more than one quarter of all car crash fatalities in B.C., with an average of 78 people killed every year, with 26 occurring in the Lower Mainland.
These startling figures now afford distracted driving with the unenviable title as the second-leading cause of motor vehicle fatalities in the province, behind speeding, at 89, and narrowly ahead of impaired driving, at 66.
Despite the overwhelming evidence, most of us can walk through the centre of Richmond for 10 minutes or drive a few blocks of No. 3 Road and run out of fingers to count the number of distracted driving offenders.
And while the News observed two uniformed members of Richmond RCMP's Road Safety Unit in action last week at the intersection of Alderbridge Way and No. 3 Road, the phrase "shooting fish in a barrel" was never more apt.
In the first 10 minutes, the officers — who appeared from behind a hedge at the intersection, before strolling past stationary vehicles — had waded into the traffic waiting for the lights to change and pulled over half a dozen very surprised "distracted drivers."
Some of the drivers were male; some female, some young, some old; some in luxury vehicles, some in basic sedans.
All of them are now facing a $368 fine after the mini-blitz, which was part of Distracted Driving Month — run in conjunction with ICBC and the B.C. government.
The fact that the practice still appears to be disturbingly prevalent and socially acceptable among motorists was not lost on Sgt. Rob Quilley, who heads up Richmond RCMP's Road Safety Unit.
"How many years did it take for impaired driving to (become socially unacceptable)? 30 to 40 maybe?" Quilley told the News.
"Only in the last 10 years or so have we seen a huge movement in the number of drunk drivers.
"I don't know if (distracted driving) is going to get better or worse and we now have a generation that has grown up with their cellphones; it's very much part of their lives. They have a really difficult time not looking at their phone."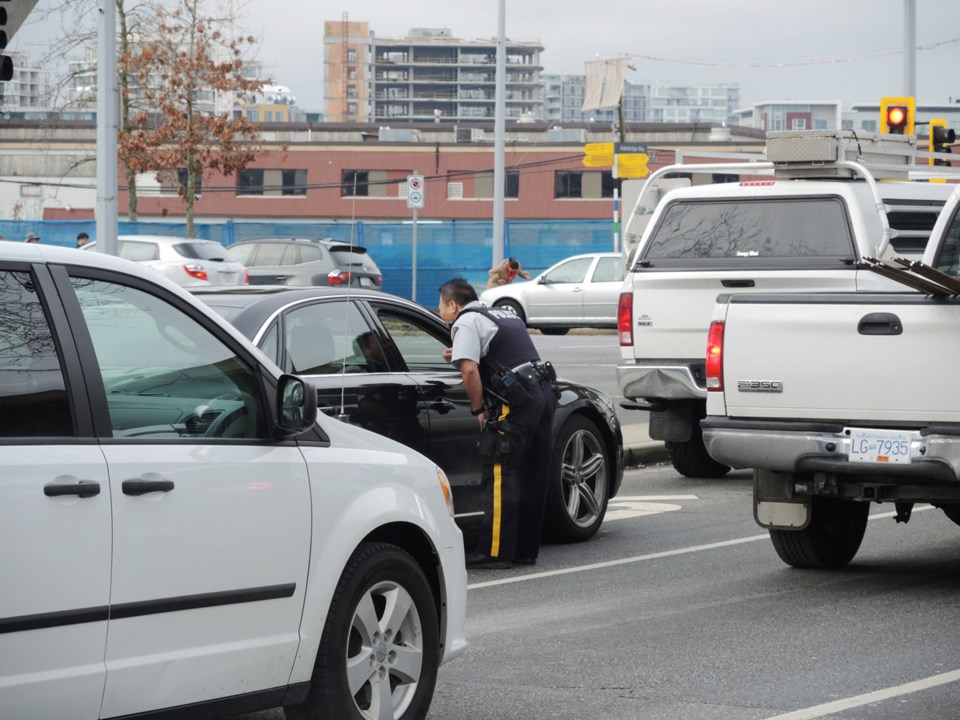 But it's not just the millennials and teenagers who are the problem, added Quilley. Case in point, being the short exercise at Alderbridge and No. 3 last week.
"We still get lots of women in their late 40s to 60s and lots of businessmen, especially realtors, who are so used to always being on their phones," he said.
Richmond, you may or may not be glad to know doesn't, despite its lowly reputation across the region, doesn't have the monopoly on dangerous driving habits, according to Quilley.
"From a personal perspective, I travel back and forth into Richmond and I think it's about the same elsewhere," he said.
"It doesn't matter where you go, it can be in Richmond or heading south on the 99 to South Surrey and you will pass a semi-truck driver on his phone."
In terms of the evolution of police tactics in catching the offender, not too much has changed in the last couple of years, said Quilley, noting that said drivers are usually too absorbed in their devices anyway.
"We have started using unmarked SUVs on the road," he said. "They give us a little bit more height. From an enforcement point of view, to be able to look down and actually see what they're doing is very valuable."
Off and on for the rest of March, Quilley's team, along with "cell watch" volunteers will be out and about in Richmond, keeping a close eye on drivers.
And on March 28, "Operation Hang Up" will see a province-wide barrage of enforcement out there, with four locations, complete with 20 members, in Richmond.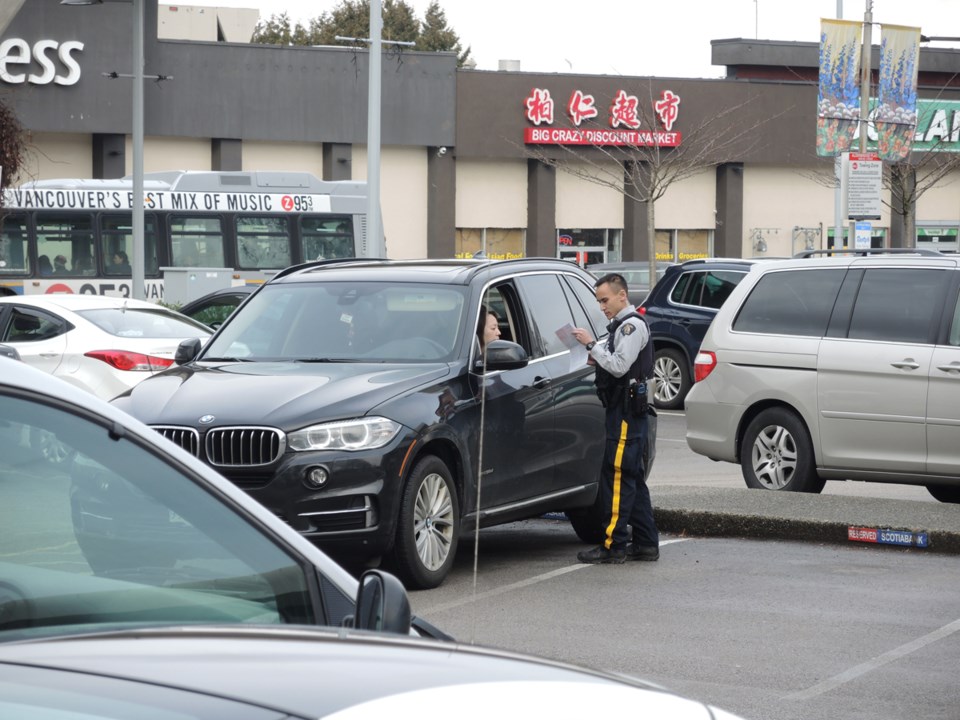 Death, by distraction: A game of deadly percentages
Psychology expert tells how drivers need 100 per cent 'cognitive power' for emergency situations
By Alan Campbell/Richmond News
You've done something 100 times and nothing bad has ever come of it.
Kind of like, say, texting or checking your emails while you're driving, right?
But all that fate requires to deal a deadly hand — either for yourself or an innocent other — is that one chance in 100.
That one moment when your attention on the road is diverted just enough to deter you from swerving to miss an errant child or avoid a head-on collision with an equally distracted driver, who has trouble stopping on red lights.
It's at those rare, but pivotal, junctures on the road that we need "100 per cent of our cognitive resources" to, essentially, preserve our own life and that of others, according to Farhad Dastur, a member of Kwantlen Polytechnic University's (KPU) psychology faculty.
"Distracted driving is very similar (to impaired driving), in so much that both lessen the cognitive resources that we can pull on when needed," said Dastur, who specializes in human factors and ergonomics, traffic safety, sensation and perception.
"Imagine that we need 100 per cent of cognitive power to safely carry out driving tasks.
"Certain things eat into that 100 per cent; such as age, inexperience, distractions and impairments.
"All those factors are going to be a problem when we need that 100 per cent in times of an emergency. Seasoned drivers can sometimes pick up on what might be about to happen. Is someone about to change lanes?
"But throw inexperience, impairment and distraction into that equation and you now have a problem.
"If you do it 1,000 times, you might get away with it 999 times. It perversely re-enforces the sense that this is a safe practice. But it is that one time that can be fatal."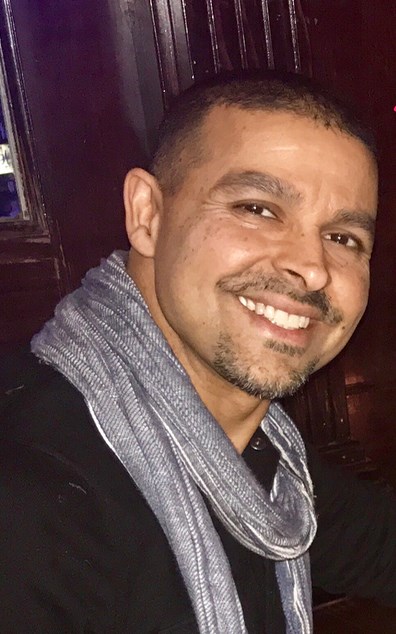 Driving, said Dastur, is a "very cognitively demanding task."
"I don't think enough people understand that," he said. "Depending on your experience, a lot of the driving tasks do become automated and second nature.
"However, driving is a very unpredictable environment and we sometimes have to make high-level decisions. We get lulled into a false sense of security but, now and then, you have seconds, or even milli-seconds, to make a potentially life-saving decision. Do you stop, do you speed up, do you swerve?
"It's at those points that the cognitive pressure is going to be at its highest. There's also eye-hand co-ordination, but a lot of it is placed on the brain to act accordingly."
And, according to Dastur, the aforementioned familiarity of cognitive tasks, breeds complacency, giving people a false impression that they're more in control than they actually are.
"We say to ourselves, 'Nothing has happened in all of the 100 times I've texted while I'm driving so, obviously, I can handle this,'" he said.
Using your cellphone while driving is still — unlike the relative disdain for drunk driving — socially acceptable, lamented Dastur, because of the "amount of people still doing it on a daily basis."
"There's also lots of social baggage that comes with alcohol that doesn't come with checking that text or the update on Facebook. They're in very different categories when it comes to social acceptability. And there is the safety in numbers factor, as well."
And it might take many years, admitted Dastur, before distracted driving gets anywhere near the pariah status that now comes with getting behind the wheel while impaired.
"It will be harder (to get to where drunk driving is)," he said.
"We can get to a better place, but it will require a big change in behaviour and even stiffer fines, perhaps."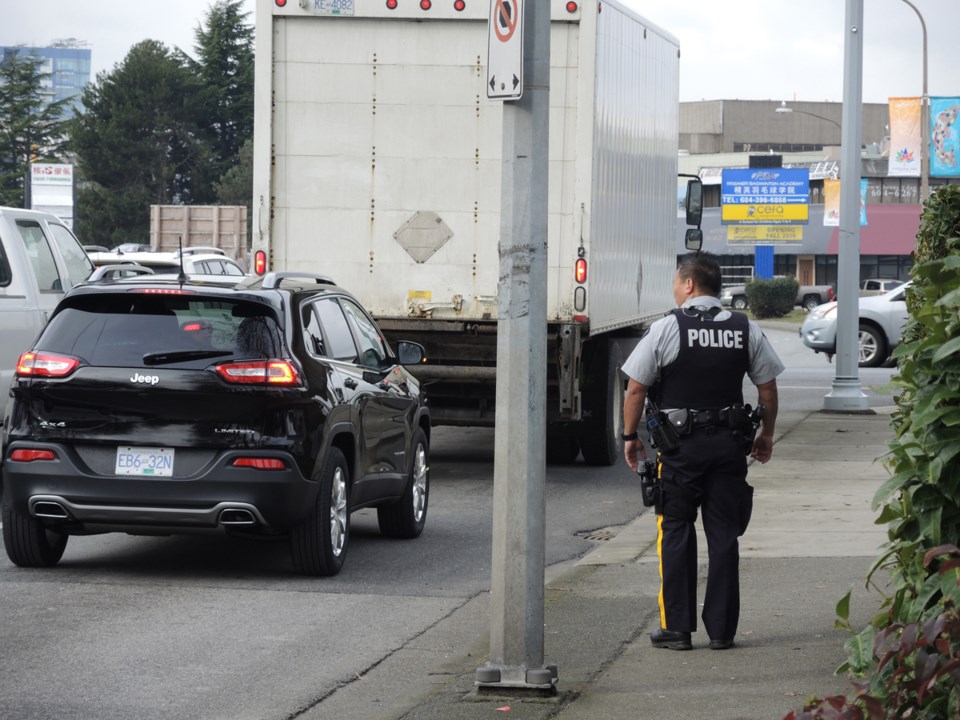 Oh, and although you're safe, legally, if you use remote Bluetooth to make those calls in the car, you might want to think again.
"It makes little difference," said Dastur. "It's not just about the eye-hand co-ordination, it's about that depletion of cognitive resources.
"If it's an important conversation, more of that aforementioned 100 per cent of cognitive ability could be sucked away."
So why, despite all the statistics and the increasing fines, do so many drivers still roll the dice with death?
"There's a list: They don't know it's unsafe or, they know it's unsafe, but don't think it applies to them; they've done it for so long and nothing has happened," said Dastur.
"It's an infrequent event and the mind struggles with that being classed as a danger.
"We live in a very demanding environment, we're so busy and here we have this great communication tool at our disposal. We have a lot of time pressures and the ease and availability of the phone is simply too seductive for many people."
The answer, joked Dastur, is simple.
"Fully autonomous vehicles. Then we can talk and text all we want."