A group of young immigrants and international students from Richmond visited Vancouver's Chinese-Canadian Military Museum last Sunday. They came out thankful for modern life and democratic rights.
Organized by Wendy Yuan, member of the Richmond Intercultural Advisory Committee, the dozen or so young Richmond residents also attended a Remembrance Day ceremony, where they met with WWII veterans.
"It's about teaching the young people to understand what the country stands for and what our ancestors did for us," said Yuan, whose husband's family paid the Chinese head tax when first coming to Canada, during a time when Chinese immigrants were not recognized as Canadian citizens.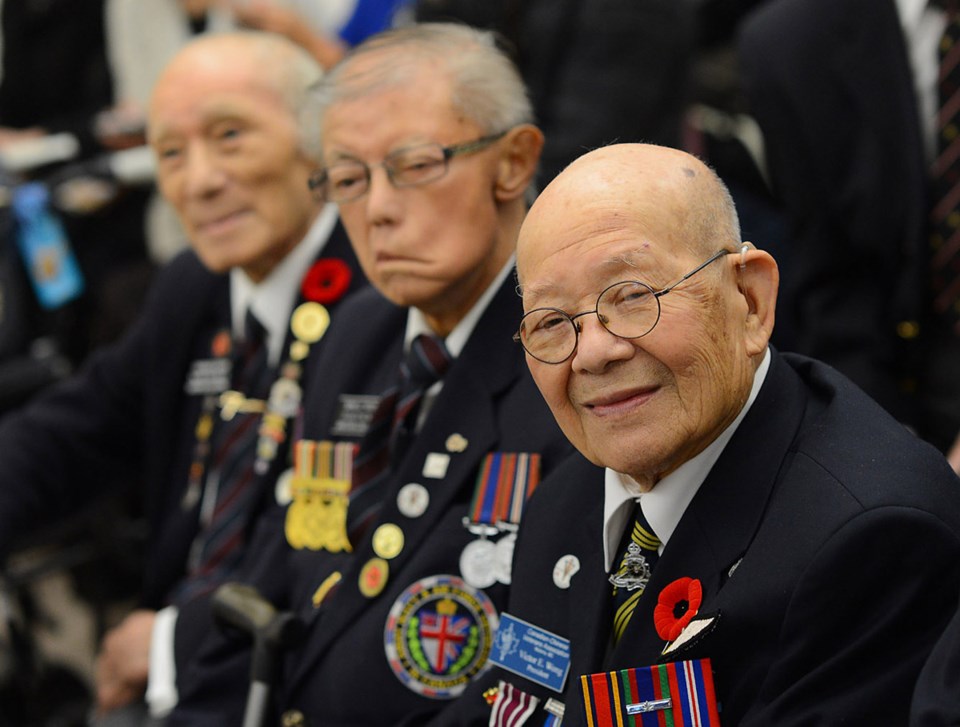 "A lot of young people take the life they live and the rights they have today for granted. They don't know that they can enjoy it because their ancestors fought hard for it," said Yuan.
"I hope through this visit, they will have an understanding of our ancestors' contributions. The younger generation need to take over the torch and carry on what they fought for."
Veterans took the young group for a tour of the exhibitions and explained the stories behind the pictures and displays.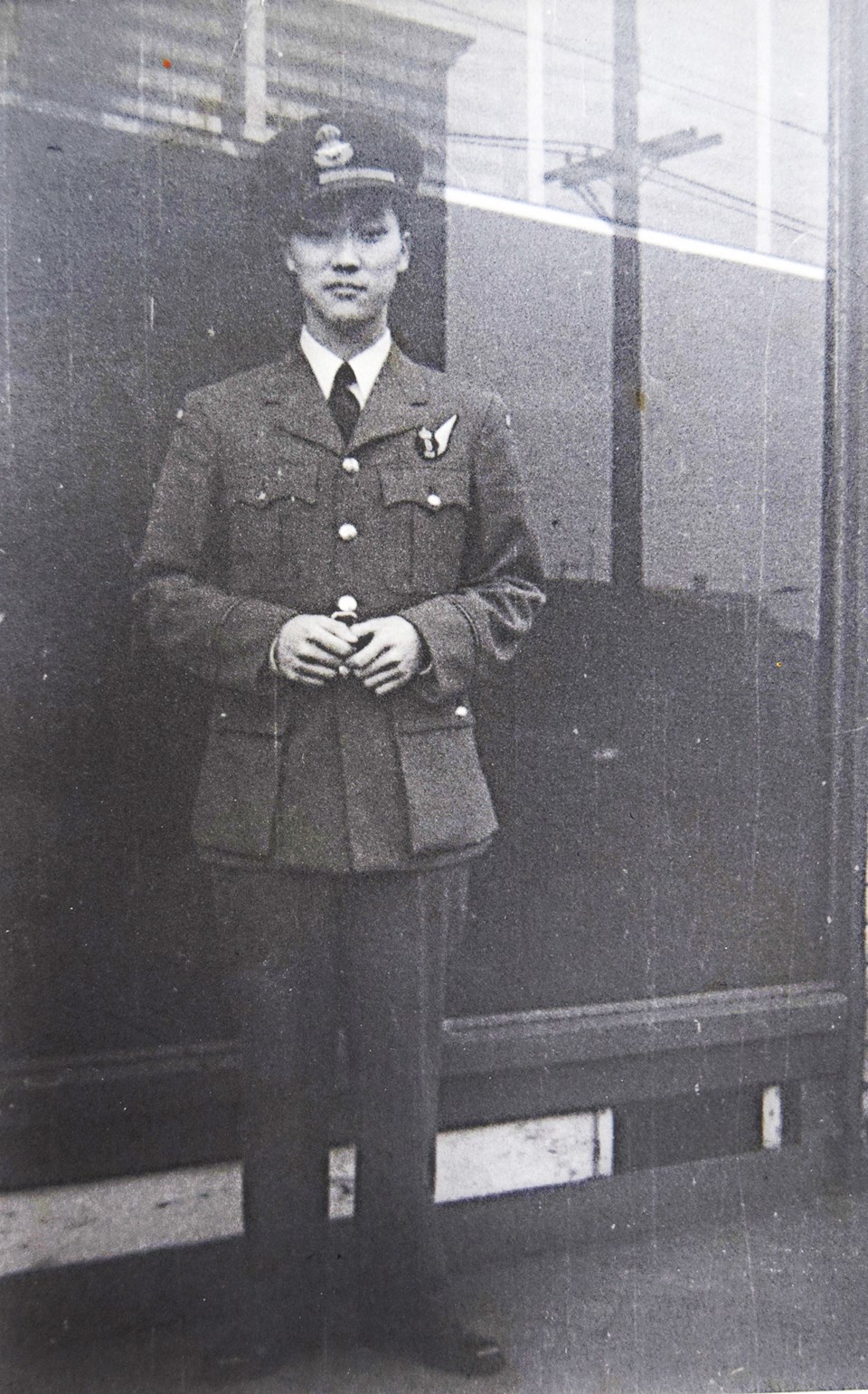 The group also joined an annual ceremony with more than 100 people in attendance, including Richmond's 100-year-old WWII veteran Thomas Wong, who was the first Chinese Canadian enlisted in the Royal Canadian Air Force.
During the ceremony, staff shared three stories of Chinese-Canadian soldiers who never made it home, including Kuon Louie, son of the founder of H.Y. Louie Co. Limited, who served in the air force and died in a bomb run.
"They served the country in the hope that they will be recognized by it. But till they died for Canada, they were still not considered as a Canadian," said Catherine Clement, curator of the museum.
"The Chinese soldiers believed that if they proved they were willing to fight and die for this country, the country would recognize them in the end."
In 1947, two years after the war ended, Chinese people were recognized as citizens and granted the right to vote.
"So for Chinese-Canadians, winning the war was a 'double victory,'" she added.
"It's really powerful," said Sean Qu, who immigrated to Richmond 10 years ago from China.
"For many of us, war was very far away. We had heard of veterans, but we didn't really know what they went through.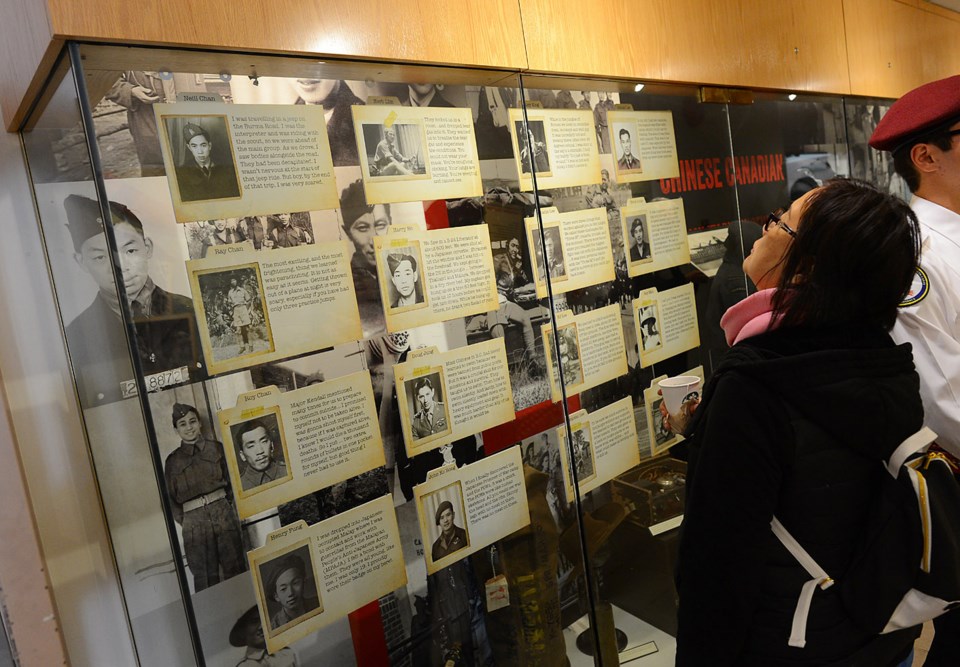 "By talking to them in person, learning about their experiences and seeing the images, I have a better knowledge of that difficult time and feel very respectful and grateful," said Qu.
As an immigrant, Qu said he has a deeper attachment to Canada and feels a stronger sense of responsibility, after learning about the country's history.
"Now I understand why, in Canada, Chinese are not excluded like in some other areas of the world. It's because our ancestors fought for it. It wasn't always like that.
"Living in a peaceful time, we can still contribute to the country and defend our rights, in ways such as participating in social discussions, or voting."
Lei Kou is an international student who came to Richmond two years ago. Growing up listening to stories about his great uncle who served in the Sino-Vietnamese War during the 1970s, Kou has great respect for veterans.
"Many veterans are being forgotten, like my great uncle. But I'm very impressed that Canada pays so much attention to Remembrance Day and pays respect to the veterans," said Kou.
"It even has a museum to recognize soldiers with Chinese ethnicity. It gives me a sense of belonging to this country, and I now have an urge to make a contribution to this land myself."