The 37th annual Nations Cup kicks off next weekend, with thousands of players and spectators expected to descend on the soccer fields at Hugh Boyd, Manoah Steves and Minoru Park.
A veritable feast of soccer is expected to fill the three-day schedule which kicks off Friday, July 15 at 6:30 p.m. with multiple games on tap at all three tournament venues.
Some of the best amateur soccer players in Western Canada will grace the grass and turf fields in Richmond, with men and women as young as teenagers in the Open section and as old as in their 60s in the over-52 section putting their skills on show.
Two more teams have been added to the over-52 Men's section to bolster their number from six to eight. However, the focus will be on the Men's Open section, where perennial favourites and title holders India will do battle with Africa, Portugal and Croatia in what looks, on paper, to be the toughest of the four round-robin groups.
Other powerhouse nations in the open section — Ireland and Germany — will also have to be at their best to win their sections, respectively facing Saudi Arabia, China and Iran and Scotland, Serbia and Italy.
"I get asked every year about this time and usually I get a sense who might be strong from warm-up games. But this year I haven't heard a peep, so I'm not that sure," said Nations Cup president Jeff Wilson, when asked who he fancied to take the Men's Open title this year.
"As ever, though, India, Ireland and Germany will likely be strong."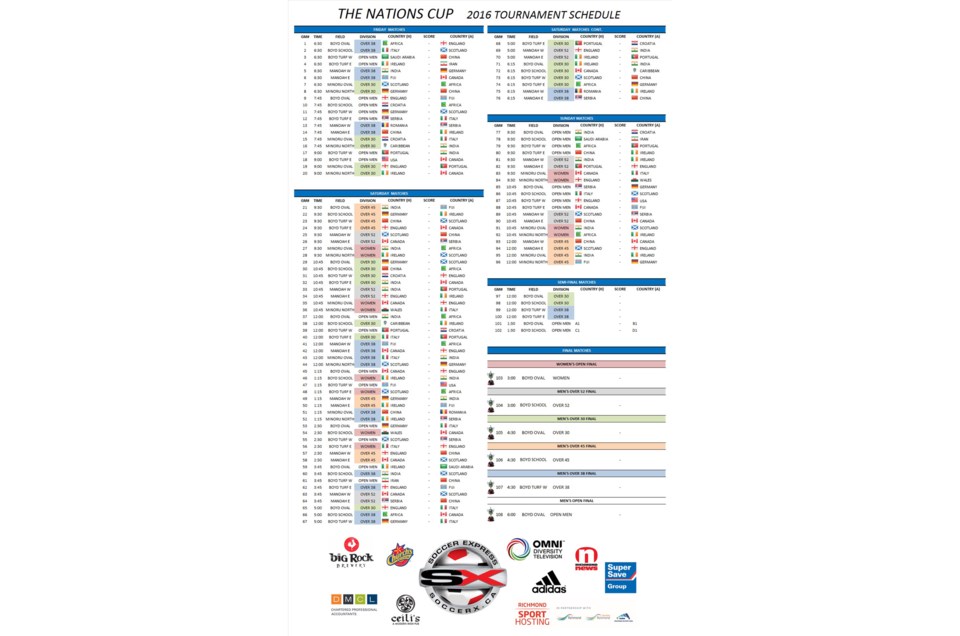 In the same section, Serbia, added Wilson, had to re-qualify for the tournament, but managed to overcome Japan in the final qualifying game to get back in.
In the Women's Open section, The Caribbean team pulled out late, so in stepped a new Wales team, which, said Wilson, put its name into the hat six months ago and not on the back of the men's national team's unprecedented glory run in Euro 2016.
As with most years, added Wilson, the Nations Cup has the potential to expand, with several teams on the waiting list in most age groups.
However, the lack of facilities continues to restrict the tournament's growth. "There still is the opportunity to expand, but the impediment is the facilities, there isn't enough fields," said Wilson.
"We could add teams, but we just don't have the space and we also run the risk of diluting the quality of the tournament."
Friday's beer garden opens from 6:30 p.m. and runs to 11 p.m., next to the West Richmond Community Centre.
For more information, go online to TheNationsCup.com.