It only took 24 hours for the rainbow steps outside the Richmond Cultural Centre to be vandalized by homophobic sentiment.
To celebrate the kick off to Pride Week, students at the Richmond Media Lab, based inside the centre on Minoru Boulevard, painted the steps at the entrance in the colours of the rainbow on Thursday evening.
By Friday morning, however, someone had written on the steps, seemingly in chalk, passages from the bible, condemning homosexuality.
"The rainbow is a promise from God, not an excuse to sin: Genesis 9," read one of the messages, while "Pride goes before destruction" and "Humility comes to honor," was written on a wall close by.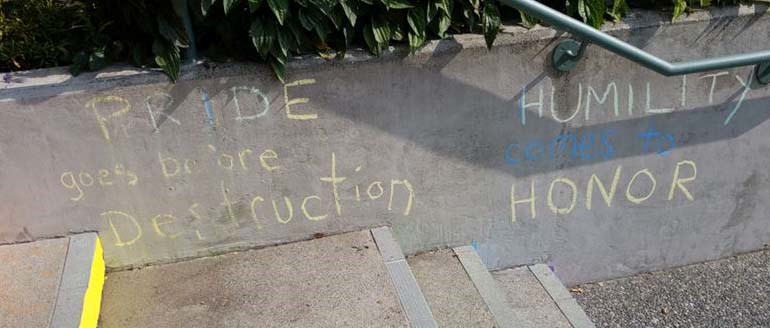 Richmond News reader Haytham Soliman, who found the vandalism this morning, said he was worried about young minds seeing the graffiti.
"I felt really bad! Not for myself, but for all the young kids coming to the place of knowledge, which is the library," he told the News via Facebook.
"They are seeing hate messages written on the walls; we should be encouraging kids to love each other and treat each other well, not by bullying and sending hate messages."
City of Richmond spokesperson Ted Townsend confirmed there were two instances of graffiti at different times in different locations around the cultural centre.
"We removed the messages as soon as we became aware of them and reported them to RCMP," said Townsend via email.
"If anyone has any information or sees this happening again, we ask them to call Richmond RCMP and quote File#RI23585."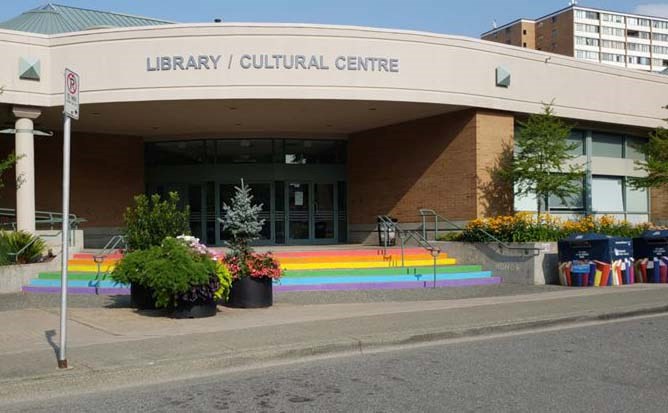 There is a city-wide celebration of the lesbian, gay, transgender, queer and two-spirit (LGBTQ2S) communities, with inclusive events from July 30 until Aug. 6.
On Monday, July 30, Pride Week officially kicks off. Residents can participate in weeklong activities at the Steveston Museum, which is hosting activities and crafts from 12:30 p.m. to 3:30 p.m. daily until Friday, Aug. 3. Steveston Interurban Tram will also host pride-related activities all week from 1 p.m. to 4 p.m. and the Richmond Museum will share one woman's story of pride through its Our Journeys Here exhibition from 9 a.m. to 9:30 p.m. on Monday to Friday.
Other events throughout the week include a Rainbow Social, outdoor party, coffee group, interactive games and arts activities. All events are free and many are for all ages.
Here is the City of Richmond's full list of events for the week:
Rainbow Social
Tuesday, July 31, 4:00 to 6:00 pm
West Richmond Community Centre
Free, all ages
Join this informal intergenerational gathering with lesbian, gay, transgender, bisexual older adults and allies.
A Splash of Pride
Tuesday, July 31, 4:00 to 7:00 pm
South Arm Community Centre
Free, 13-24 years
Join other youth in this outdoor party featuring snacks, water activities, a water balloon fight, and other fun activities.
Pride Week Coffee Group
Wednesday, August 1, 9:00 to 10:30 am
Hamilton Community Centre
Free, all ages
Drop by our community living room for refreshments and treats in celebration of Pride Week.
Paint Your Rainbow
Wednesday, August 1, 11:00 am to 2:00 pm
City Centre Community Centre
Free, all ages
Drop in to the community living room to create rainbow art and enjoy complimentary punch.
Show Your Pride
Thursday, August 2, 3:30 to 5:30 pm
Thompson Community Centre
Free, all ages
Join us for fun and interactive games and activities during an inclusive day of celebration.
Pride Button Making with the Richmond Youth Media Program
Thursday, August 2, 4:00 to 6:00 pm
Community Table at the Brighouse Library
Free, ages 13 to 24
Come and make a button to celebrate LGBTQA+ Pride.