Fresh Fraser River sockeye salmon is being sold at Fisherman's Wharf in Steveston for as low as $5 per pound, as estimates of a large, dominant spawning run hold up.
"The observer at Hells Gate has reported very good sockeye migration over the past week," noted the Pacific Salmon Commission in its weekly report Friday.
Jaime Da Costa, manager of Steveston Harbour Authority, says the wharf is bustling with fishers and consumers.
"There's a tonne of activity after the first opening. The fishers are extremely happy to have a shot at fishing. The stocks are high and they're catching a lot of fish. It's very busy at our ice plant," said Da Costa, who hypothesized prices could come down as more fish are caught.
The commission is maintaining its pre-season forecast of about 14 million fish this year. The river is in the midst of welcoming the summer "management group" of sockeye, estimated to be 4.3 million fish. The "late summer" group is estimated at 7.4 million.
Only one of the four groups – the early Stuart – has been completed. Prior to migration the commission estimated 84,000 sockeye fish from this group, the smallest of the four. In fact, it found 125,000 came through Hells Gate, north of Hope.
Assessments for the summer-run group are ongoing, said the commission, and data collected to date indicates the 4.3 million estimate is holding steady.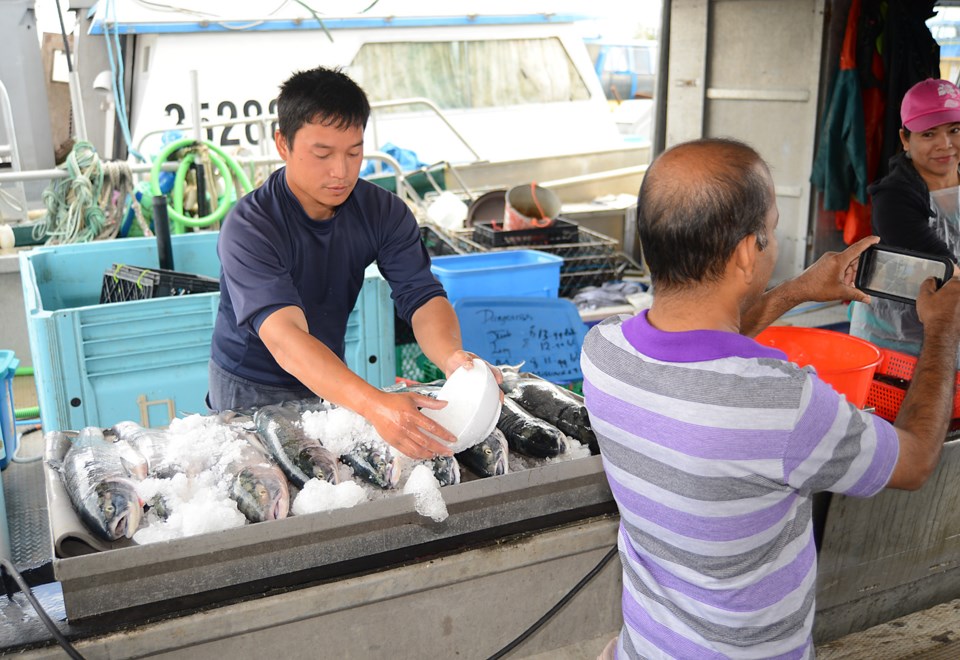 Meanwhile, "Late-run sockeye abundances are increasing in marine areas and some Late-run sockeye have migrated past Mission."
Department of Fisheries and Oceans notes: "Early summer, Summer and Late Run timing groups are all tracking their respective [median] forecast abundances at this time."
In total, all four groups have accounted for 4.78 million fish either being caught (2.6 million) or passing the counting station to spawn. Of those Fraser River sockeye caught to date, Canadian commercial fishers have taken about 1.4 million, while First Nations have taken about 426,000. Meanwhile, U.S. fishers have taken about 725,000.
Da Costa said fishers are generally pleased with the past two commercial openings since Aug. 6. A third opening occurs Tuesday and another is rumoured later in the week as the summer run ramps up.
"Currently, First Nations food, social and ceremonial (FSC) Sockeye fisheries are underway in Marine areas and the Fraser River. In addition several First Nation Economic Opportunity fisheries are being planned in the lower Fraser River," noted a statement Friday by DFO.
Despite the healthy run size to date, the commission continues to express concern about water conditions worsening. River discharge at Hope is about 17 per cent below average and the temperature at Qualark last Thursday was 19.2 degrees Celsius, or 1.2 degrees higher than normal.
"Sustained water temperatures in this range can cause severe stress to migrating sockeye and may lead to significant en-route mortality," noted the commission, which increased escapement targets by 20 per cent for the early summer runs "to compensate for pre-season expectations of en route loss."
The commission adds: "If the current pattern river temperatures continues, an increased fraction of the run may be required to compensate for …en route loss. Migration conditions for Fraser sockeye will be monitored closely over the next several weeks and if appropriate, additional management actions will be taken. To date fish condition throughout the Fraser River has been good."