This weekend, at Garry Point Park, just beneath the Japanese tall ship Kaiwo Maru, you may spot a little rescue boat — that of the Royal Canadian Marine Search and Rescue.
And that's because Station 10 leader Aaron Harnden and his rescue crew are posted on the dock to remind visitors of how to be safe around the water — especially along the fast-moving, unforgiving Fraser River, which claims a number of lives annually.
RCMSAR has teamed up with Mustang Survival and is loaning children lifejackets at the tall ship event, as they enter the dock and climb aboard the ship.
"Families are encouraged to bring their own (lifejackets) down to the docks of the Kaiwo Maru, to keep everyone safe. As well, our vessel, the BR Hastings, will be available for viewing dockside during the Kaiwo Maru Canada 150 weekend," said Harnden.
As many Richmond residents head down to the river's shore Harnden is hoping to keep those memories fresh as the summer lake swimming and river boating season approaches.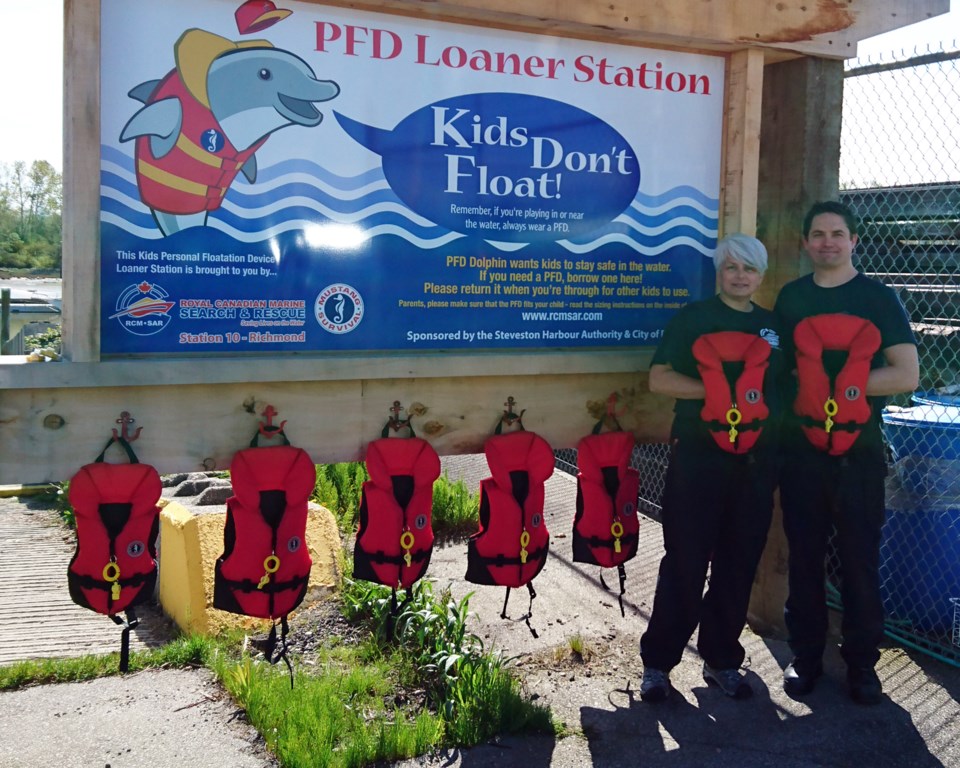 PFD photo bomb event
Another big event on May 20, dubbed Ready, Set, Wear It!, will raise more awareness as the crew will be joined by safe-boating partners from around the Fraser River to help break a world record in simultaneous lifejacket inflation and wearing. 
Representatives from the City of Richmond, and other local organizations will don and inflate lifejackets to raise awareness of boating safety and the importance of wearing lifejackets when on and around the water. 
Ready, Set, Wear it! is part of international Lifejacket World Record Day.
The public is invited to join the event, and photo bomb it while wearing their own lifejackets.
"Lifejackets save lives, and we're pleased to be holding this awareness event in Richmond for the first time. Lifejackets today are high-tech, comfortable, and stylish, and there's no reason not to wear them when you're in a boat or on the dock. We're especially concerned that children wear lifejackets at all times when around the water," stated Harnden.
The Ready, Set, Wear It! photo bomb event (May 20, Garry Point Park, at 10:30 a.m.) will take place during national Safe Boating Awareness Week May 20-26.
Furthermore, RCMSAR has recently installed a lifejacket loan station at the No. 2 Road boat launch and is planning to install two other lifejacket stations in the near future, said Harnden.
See RCMSAR10.org for more info.