Despite the Chinese coronavirus sparking panic-buying of face masks in Richmond, medical experts say their effectiveness is, at best, negligible.
The Richmond News reported earlier today how many pharmacies across the city were either completely sold out of surgical masks and face masks or had only a handful left.
According to the pharmacies the News spoke to on Wednesday evening, the amount of masks being sold increased dramatically this week, since news of the coronavirus outbreak spread across the globe.
The respiratory virus has claimed 25 lives since emerging from a seafood and animal market in the city of Wuhan, infected more than 800 people nationwide and been detected this week in Everett, Washington State.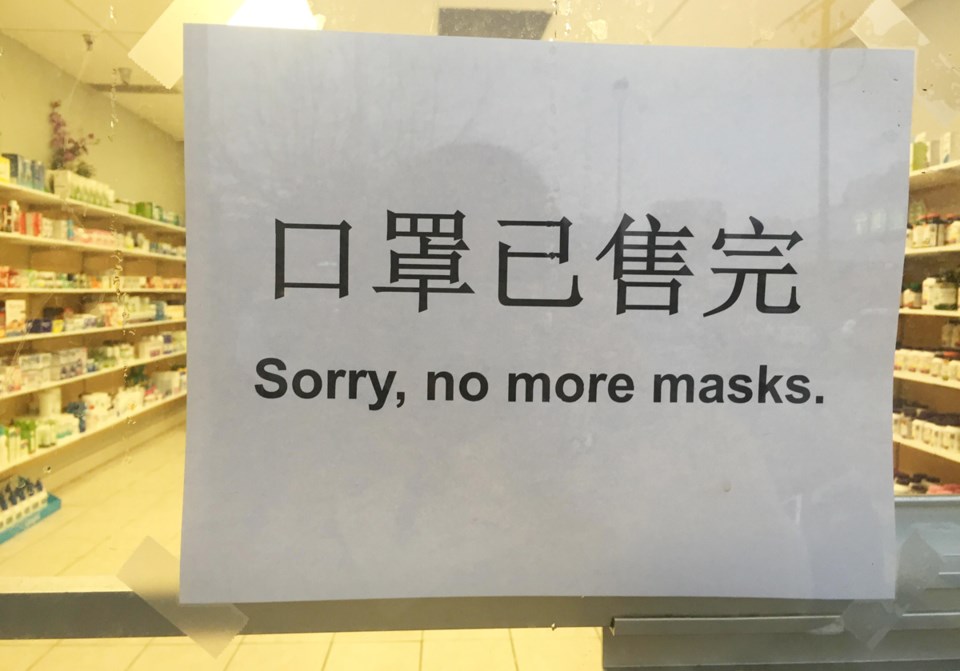 However, during a national teleconference Thursday morning, Dr. Theresa Tam, Canada's chief public health officer, said simply wearing a mask, when you're well, is not a preventative measure.
"It can sometimes make it worse, if the person puts their finger in their eye or touches their face under their mask (for example)," said Tam.
"We would only recommend putting a mask on if you were sick and were entering a medical facility, such as a hospital.
"We have no recommendation for people to wear a mask (when) going about their daily business."
Some people understand that an "N95" respiratory face mask, as opposed to a more common surgical mask, would provide the best protection.
But Prof. Kelley Lee, of the Faculty of Health Sciences at Simon Fraser University, told the News Thursday that neither type of mask, surgical or respiratory, "filters or blocks very small particles in the air that may be transmitted by cough, sneezes or certain medical conditions."
"Virus can still get through," said Lee, a tier 1 Canada research chair in Global Health Governance.
"If properly worn, both types of mask can reduce the risk of exposure to large particles, such as droplets, splashes, sprays or splatter that may contain viruses or bacteria by preventing them reaching your nose and mouth. 
"They also help reduce exposure of your saliva and other respiratory secretions to others.
"For this purpose, regarding large droplets, N95 respiratory masks are more effective."
However, if worn properly, the N95 masks, added Lee, can actually make it harder to breathe, "which is why certain people, those with pre-existing conditions, need to take medical advice" before wearing such apparatus.
Lee said there is "divided opinion" on how effective masks reduce the spread of infection. 
"Virologists and other scientists are generally doubtful that masks alone worn by the general population are effective against infection from airborne viruses or bacteria," she said.
"Most viruses are transmitted by air. Disposable masks tend to fit loosely, have no air filter and leave your eyes exposed. It is also difficult to wear a mask for a prolonged period.
"There have been a few studies suggesting that wearing a disposable mask can help in some settings (hospitals) or some situations (crowded public places, student dorms), notably lowering the risk of viral transmission from sneezes and coughs, and from hand-to-mouth contact."
But any increase in effectiveness, said Lee, must be accompanied by "an increased vigilance in practicing basic hygiene, notably regular handwashing and avoidance of hand-to-mouth contact.
"In other words, the positive effect comes less from the masks serving a filtration role and more from encouraging people to follow well-known hygiene practices."
During the teleconference, Tam said people who have been to Wuhan, the Chinese city at the centre of the coronavirus outbreak, will leave the three Canadian airports – including Vancouver – with information in English, French and Chinese on what to do if they do experience symptoms in the next 14 days.
She was also asked, if someone with no symptoms on a flight from China, later has symptoms, would every passenger on that flight be quarantined?
"When you're symptomatic, that's when you're infectious," said Tam.
Asked if hospitals across the country are doing anything different, in light of the outbreak, Tam said from the moment they learned of it, "we've been in contact with the provincial health authorities.
"The key recommendations are that people coming through the front door (of medical facilities) with symptoms are asked about their travel history and what specifically their symptoms are.
"Everyone is on alert and all hospitals should have infection control measures; that's a fundamental piece of policy."
The BC Centre for Disease Control told on Tuesday how quarantine officers are available at Vancouver Airport to co-ordinate any response required, and Richmond Hospital infection control practitioners are "ready to respond to any potential scenario where a patient may require further investigation."
A spokesperson for Vancouver Coastal Health, which runs Richmond Hospital, said the aforementioned "infection control practitioners" are always at the hospital and their presence isn't out of the ordinary.
The News reported earlier this week how warning signs had been erected at Vancouver Airport and an extra screening question relating to the disease and Wuhan had been added to the process for people entering Canada via YVR.
China is set to close Beijing's Forbidden City – one of the country's most revered cultural sites – due to rising fears over a new SARS-like virus that has infected hundreds and killed more than a dozen.
The move comes as Chinese authorities lock down some 20 million people in central China at the epicentre of a deadly virus outbreak, banning planes and trains from leaving in an unprecedented move aimed at containing the disease, which has already spread to other countries.
The central city of Wuhan, where the virus emerged, was put on lockdown Thursday, with outbound trains and planes indefinitely suspended. Tollways on roads out of the city were closed as well.
Anyone who is concerned that they may have been exposed to, or are experiencing symptoms of, the coronavirus should contact their primary care provider, local public health office or call 811.