Guess who's back? Brodie's back.
On Wednesday, Mayor Malcolm Brodie announced his candidacy for the mayoral "race" for the City of Richmond.
Standing uncontested to date, Brodie, the city's mayor since 2001, could become the second longest-standing mayor/reeve in the history of Richmond should he follow through on the upcoming four-year term, Brodie would tie former mayor Gilbert Blair with 18 years of public service, with only Rudy Grauer, who served as Richmond's reeve from 1930 to 1949, having served longer in the city's top political chair.
"I will be formally running for the position of mayor of the City of Richmond in the upcoming civic election, which is to take place on November 15th," said Brodie at his office in Richmond City Hall.
Brodie, a lawyer by profession, left off last election with a political war chest of $164,000, which has since been kept in a City of Richmond trust fund. In the past five elections Brodie has always garnered at least two-thirds of the vote running as an independent following two terms on council running with the Richmond Non-Partisan Association slate.
At his media briefing Brodie addressed several issues he wanted to see carried out in the city.
He noted there would be no "bold" moves in the next four years but was particularly mindful of continued densification in the City Centre and how such development must balance quality of living.
 "The city is either growing in many different ways or it's going on a downhill slope. I believe we have to continue growing and grow with quality of life in mind," said Brodie, dismissing the notion that the city has grown too fast.
He cited the city's expected population boom of about 75,000 more people in the next 25 years and said densification will need precision planning, including new community facilities, increased policing, a transportation plan focused on the Canada Line, and parkland development, among other things.
Brodie said the city's goals of addressing climate change and conserving the environment and agricultural land has been "in our upper most mind."
He cited the Railway Greenway and the Richmond Olympic Oval as a great success of incorporating active living in the city. Regarding the latter, he spent a number of moments throughout the meeting defending the facility.
Meanwhile, he also noted maintaining the city's heritage in the face of development will be yet another challenge he vows to continue to tackle.
He indicated numerous times his ability to see eye to eye with city council on most issues and credited them, along with community volunteers and city staff for his long run in office. He also defended being questioned on the perception by some that city staff, all too often, directs city issues.
"We (the mayor and council) set the political direction for what we want done, we rely on staff for implementation and expertise," he said.
When asked, Brodie was mindful of the perceived cultural gap and fractured communities that exist in the city.
"We're proud of our diversity, we're proud of the fact we're one of the most diverse cities in the country, but it takes constant attention and work to make sure that it's a harmonious situation as opposed to one that we could easily get into with the groups being in conflict with each other."
Brodie said he sees a different city now than he saw in 2003, quickly following that by saying its "international focus" has expanded.
While stating he is "constantly being flattered by residents saying how wonderful it is to be in Richmond," Brodie addressed two new political slates that have only stated that the city needs more transparency and engagement with its residents.
"We can always do better and be more effective in terms of communication. But all of us only have 24 hours in a day and we try to reach out as best we can," he said.
On the issue of voter turnout Brodie said he did not know why Richmond's turnout has been abysmal (24 per cent in 2011). He cited one rare instance of disagreeing with current council: Brodie opposed council's decision to scrap the 'vote anywhere' plan, which was employed in 2011 and resulted in a 1.6 per cent rise in turnout from 2008. It was scrapped for a savings of about $90,000.
"I think that was a mistake," he said.
Brodie said Richmond has a "long tradition" of long-standing politicians. Indeed, behind Delta's Lois Jackson, he is Metro Vancouver's second longest serving current mayor, serving one more year than New Westminster's Wayne Wright, Burnaby's Derek Corrigan and Port Coquitlam's Greg Moore, thanks to a 2001 by-election when Brodie took over for Greg Halsey-Brandt.
Brodie said he will take his career one election at a time. Since Brodie said he has been raising funds since 2011, he noted it's reasonable to assume he will be left with another six-figure sum of cash following this election. The funds would be forfeited in 2018 should he retire from politics. He indicated no desire to move up to higher government.
Brodie's campaign manager is Michael Chiu, a director for the Richmond Community Coalition.
For a full script of the 40-minute question and answer period see below:
The following is a question and answer period between local media outlets and Mayor Malcolm Brodie at his office at Richmond City Hall as he announced his candidacy for the 2014 municipal election. A sixth term victory for Brodie, who is currently unchallenged, would put him in power of Richmond City Council for up to 17 years.
What would you say to those who say, 'well, it's Malcolm Brodie again and there's nothing new in Richmond again'?
"We have had a tradition in Richmond of having long serving (politicians). …If you have long serving mayors, councillors and city staff you can envision where you want the city to go and work to implement that vision. Every three years to this point the people have had their say whether they want me to be mayor…and anyone's able to run. I don't think change for the sake of change is a good thing. If people are fundamentally opposed to where the city is headed, they will know that and take steps appropriately. But I don't think we should advocate for change for the sake of change. At the end of the day I have one vote out of nine so there are several factors that go into the successful running of this city"
Will we see anything new from your platform?
"I've outlined what I think we need to emphasize. I don't think after 13 years you can expect me to come up with some bold new direction. I am obviously part of the direction the city has taken. I guess the newest things would be the facilities we are planning to construct; we have the aquatic centre, the fire halls, the City Centre Community Centre, but going into the future we need to look at the other facilities we need as a growing community. And as we densify the centre then I think we have to say okay, we have to have more of a police presence in the city centre (and) we need to consider the facilities that we need for the city centre, specifically, more libraries (and) do we need another pool? Do we need another community centre? Work with the school board to say where are you going to locate any schools that you want in the city centre. So I think that's the focus and direction of where I want to go. But in terms of bold new ventures I mean the boldest ones have been the Canada Line …and the (Richmond Olympic) Oval, which has been kind of an iconic facility, different than the others. I don't expect that kind of change."
Do you see any major problems that need addressing?
"Every day will be filled with challenges…we have to wrestle with all those issues I talked about; the environment and growth, community safety, our relationships with other cities, making sure we set the stage for a strong business sector."
Do you see any cultural conflicts in the city (such as the Chinese signs issue and the Lingyen Temple expansion proposal)
"I think there's a cultural component to many of the issues we see in the city of Richmond…my vision for the City of Richmond is to have one community, not a series of smaller communities that are at odds with each other. I want one community and in making my decisions and exercising my discretion I've only got one thing in mind: What's best for the City of Richmond and how can we move forward in the most cohesive fashion. I support some of the groups in the community that are working on intercultural harmony from our own advisory committee on it, to some of the other groups such as the RCCS, SUCCESS and many, many others. So, I think that's an important of component our city life. I mean, we're proud of our diversity, we're proud of the fact we're one of the most diverse cities in the country but it takes constant attention and work to make sure that it's a harmonious situation as opposed to one that we could easily get into with the groups being in conflict with each other."
What kind of feedback have you been receiving from the public?
"I get very positive feedback from the public. I'm constantly being flattered by residents saying how wonderful it is to be in Richmond and how much they enjoy it. When I'm told that, we all recognize it's a constant challenge to keep it that way. But I get constant feedback that things are on the right track. On individual issues people have all kinds of different issues that relate to the quality of life we enjoy. But I have to say I do get very positive feedback in general."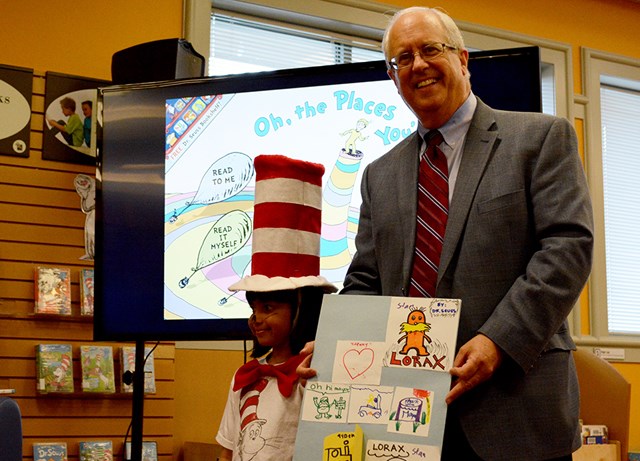 There has been increased property crime along the Canada Line. How has that been resolved or are you still working on it?
"I don't know the statistics you are referring to. Property crime is something the RCMP and transit police work on very hard. For instance, in this last couple of years, there's been a series of break-ins at commercial enterprises. They were hitting the ginseng and herbal stores so there was a small group of merchants that met with RCMP and Coun. Chak Au to talk about strategies for the shop owners to protect themselves better. And the RCMP put extra resources into (the problem)…"
You've been mayor for 13 years. To whom do you give the credit?
I think it's a combination of circumstances. I give great credit to the people with whom I work with - I'm talking about community groups and volunteers, (and) I'm certainly talking about our city staff who are dedicated and passionate about the community of Richmond. I give great credit to the city councillors. …They're a veteran group of councillors, they know the city very, very well and the challenge that I encourage (for them) is to vote with the sole interest of the community in mind, and if you put that idea upper most in your mind and not because it's a pet project or something like that, then I think we make strong decisions. We don't make perfect decisions; a lot of it depends on the consultation with the general public. Nothing is perfect, everything could be better, we could consult more, communicate more and more effectively, but we certainly try to reach out and make sure the community is aware of the situation…"
Why do you think, with the two new political slates, their choice words for what's needed at city hall have been 'engagement, transparency and openness'?
"Because, we can always do better. We can always do better and be more effective in terms of communication. But all of us only have 24 hours in a day and we try to reach out as best we can. I would be surprised if anybody underestimates the need to more effectively communicate. It's a constant challenge, there's everything from social media, which is getting bigger and bigger all the time, and we have to communicate as best we can. But you can never reach a state of perfection."
Some of the new slates talk of a lack of voter turnout and doing a better job of reaching out to the community to get meaningful impact to set the direction of the city. What do you have to say on that?
"In terms of getting direction, I see people all the time. I have a pretty good sense of the issue. … I think we could always do a better job seeking input from the people but we do focus on it extensively."
What about voter turnout?
"With all respect to council, and city council has done a good job, I voted against the majority on council in terms of having the vote anywhere. I think if we're going to convince more people to come out and vote you've got to make it as easy for them to responsibly come out and vote. The idea of voting anywhere, where you can go to any polling place, not just the polling place in your neighbourhood, it can easily be done with computers. I think that was a mistake and it will somewhat negatively affect voter turnout. We introduced vote anywhere last election…I forget the (turnout) increase. There was some increase but not a huge increase, and I think that was the discussion — that it didn't justify the expense, or at least that was the major part of the discussion. …I believe we have to give it more of a chance."
Why do we have abysmal voter turnout?
"I don't know the answer to that. We try to reach out, we try to communicate, we send out candidate statements we (to communicate the process), but still we have a voter turnout…"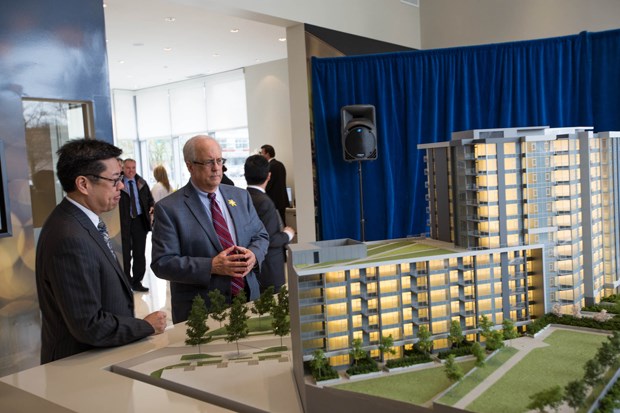 Some say the city is growing too quickly, what do you say?
"In terms of growth we've set our targets until 2040 and we expect another 80,000 people. There's always that feeling that things are great now and we would like to stop this and have a good life, but you can't. The city is either growing in many different ways or it's going on a downhill slope. I believe we have to continue growing and grow with quality of life in mind…"
Some people say the city is constantly tackling make work projects (the Oval, the aquatic facility)…perhaps because these are lean times…we could have lower tax hikes annually?
"I can tell you I've never supported anything I've thought was a make work project. It's that simple. I terms of the Richmond Olympic Oval I think that has been one of the most tremendous legacies in my time in public life that I could even imagine. You say we got $60 million but we also get the money from the Games Operating Trust. We get the interest on roughly $40 to $50 million which translates to $2 to $3 million per year in operating costs, so I think what we get is far more than just the $60 million towards the capital cost. In terms of the legacy I have my own ideas on a facility that attracts over 700,000 visitors a year that has taken the $3 million subsidy that we've given as a city and ended up with more than a $3 million surplus so it's a net better than zero situation. We're at over 5,000 members and 80 per cent are Richmond residents. And we attract attention from all around the world. So one can debate whether you like the Olympic Oval or not but it's not a make work project."
Some say city hall is the case of the tail wagging the dog with staff setting the direction more than council, what do you say?
"Each council term, and this is no exception, we set out our term goals. Every report done identifies what council goal is being addressed in this report. We (the mayor and council) set the political direction for what we want done, we rely on staff for implementation and expertise…"
What goals have been under served or, at least, the least focused on?
"I guess the one that sticks in my mind is one of the council goals was to have a memorial garden. I think that's of particular importance so people can enjoy their whole lives in the City of Richmond and also have a memorial garden for when they've passed on."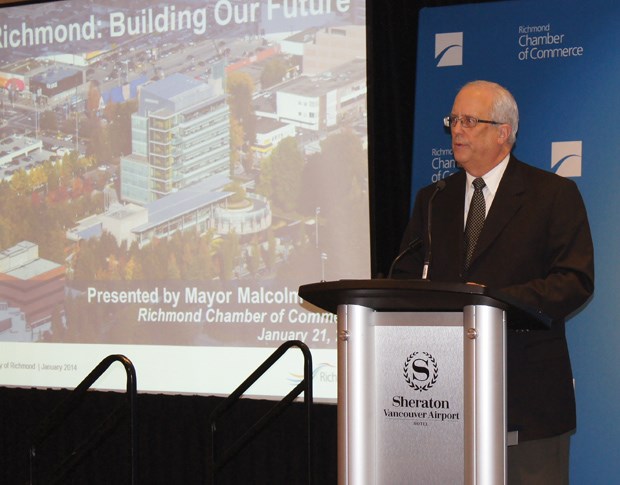 What does the city do after 2041? Can we keep growing the way we're growing? How do you think the next mayors will address growth after 2041 if the only solution to continue our economy is to build up and could that eventually mean (developing farmland)?
"The answer to that last one is no. This city council and the residents and the provincial regime will not permit building on agriculture. So that's a non-starter. In terms of the more general question we did the city centre area plan about 5-6 years ago and what we did is we didn't limit it to 2040, which is in the Official Community Plan. We took it out 100 years. We know the density is mostly going to be in the city centre and we addressed how to cope with that and what we are going to do. Overall, the single-family neighbourhoods are going to stay the same. There's going to be densification in the city centre and along the arterials but the single-family neighbourhoods, as well as the farmland, are going to be left protected."
What's your position on the replacement of the George Massey Tunnel?
"I'm waiting to see the plan. I can see we have to decongest Highway 99. It has to be done, but right now, for traffic flowing southbound it will flow much more quickly but for northbound traffic you've got congestion south of the tunnel and need some kind of strategy that will take care of congestion south of the tunnel right to the Oak Street Bridge and I have not seen what that plan looks like…and I've yet to be convinced."
Have you de-facto endorsed a bridge at the Massey Tunnel?
No. That suggestion has been made and I think erroneously. What we did is we took – I mean we have to analyze whether we think the bridge in the end is going to be a good thing or not but you cant just say well I like it or I don't like it. You have to have some criteria. Does it fit these criteria. So, what we did is we took a look at the criteria and said, okay, when we get to analyze it, these are the kinds of things we will be looking at. And that's what we did, is we endorsed the criteria for analyzing the bridge. We did not endorse the bridge. That decision and that position has yet to come."
VAPOR has indicated you've basically given up on your opposition to the jet fuel pipeline. For instance, they're taking donations from the public to fight a legal battle against the provincial government and (the city) hasn't donated a penny even after strongly worded letters (against the pipeline) you sent (to the province) through council.
"I agree one of the major motivations for the bridge is the port wants a deeper draft for its bigger vessels to come through, whether it's jet fuel, coal or whatever. I agree that's one of the issues and that will be one of the contexts that will be addressed. In terms of the jet fuel line we did everything (to oppose it). We devoted staff resources. We did everything politically and administratively to voice our displeasure with the VAFFC, the airline consortium that was addressing the jet fuel and it was their project. Ultimately the BC EAO (Environmental Assessment Office) gave it the go ahead and VAPOR as a group has decided that they want to carry on fighting the matter in court. We huddled with our lawyers and had intense and important conversations with our lawyers. Our position is, if the city is going to get involved in a legal action, we're not going to donate money to a private group to carry on a legal action. We will take that legal action on as a city ourselves. The decision was made that it was not prudent to carry on with a legal battle and that has been our position."
Why wasn't it prudent?
"I can't tell you what the advice is because it was behind a closed meeting. I'll tell you my attitude as a lawyer – or as a former lawyer at least. The courts are no place to make a statement of principle and just demonstrate you're opposed to something. You have to be assured that when you come out of that court that you're going to have a decision that's in your favour and that it is going to do something that you wanted it to do, which in this case is stop the pipeline. And I'm not at all convinced personally that taking a court action is going to stop the line. I wish it would. …It (the pipeline) doesn't make sense but that's what we're left with. I'm doubtful that the legal action will have the result that would justify the resources."
Every year people are critical of taxes hikes…yet there's very little turnover in council. Is this a sign that people are willing to pay more for the facilities and services we have?
"I don't know anyone ever to like paying taxes. In a perfect world we would have none and people wouldn't have to contribute to local government. But, in fact, one of the main resources that we have as a city is a property tax. Out of every tax dollar that each of us pays, eight cents, eight cents, is what goes to local coffers, the rest goes to federal and provincial governments. …We have a long-term financial management strategy that says we will keep our tax hikes to the increases to the cost of living plus one per cent of property taxes to the reserves, money for a rainy day. Given the fact that all costs go up and we index our tax hikes to the increases in costs, if we don't increase our taxes we have to take money out of reserves and/or cut back in services. So I don't hear people at my doorstep wanting to cut back on services. And I think it's a terrible idea, as we did, frankly, like we did in the late 1990s, we went into the reserves to reduce the amount of taxes. I think it's a short run situation, a short run approach and we pay for it in the long run. …I'm happy to cut back on services if it's not necessary or appreciated but generally the services the city provides are appropriate."
In terms of your relationship with the provincial and federal government over your past 13 years, how has that changed in how demands are placed o the city and how the city communicates with them?
"I'm not sure whether it's changed over 13 years or whether we've become better at it and more aggressive about it. We understand for any major project it helps immeasurably to have the support of the senior levels of government. And so, whether we're talking about Metro Vancouver or the City of Richmond, we take extensive steps to reach out. I think we've been quite successful at it but we certainly can't do a lot of these projects by ourselves. Affordable housing is a good example, the Kiwanis Towers on Minoru and the Storeys project. We can give a lot of resources but we need help. And I think especially with the greater amount of downloading that always seems to be happening from senior levels of government, I think that there's that kind of understanding so we're able to work with the other levels of government in carrying out these various programs.
What has been downloaded over 13 years?
"A lot of them are social programs. I can't give specific examples unless you gave me more time but certainly the number of times that people come to the city and say listen we have this program our group does this particular program that is being slashed and cut out by the provincial government, that is not an unusual thing to happen. And so the city is put in a position because we're close to people that if we value the program we have to undertake it. I'll give you an example of where I think the province should step in, is restorative justice. We give Touchstone Family Services about $90,000, I believe, and I think that's an important program, but one that should be undertaken by the province."
Do you think that's fair?
"No. And we regularly make that point… We have to work with the senior levels as best we can."