A week after a person infected with measles spent two eight-hour days at the Lansdowne Centre Toys R Us, the store has posted a warning to employees and customers at its entrance.
Vancouver Coastal Health informed the public of two new confirmed cases of measles Sunday, bringing the current Metro Vancouver outbreak to a total of 13 cases. One of those infected people, the health authority said, was at the Richmond toy store from about 11 a.m. to 7 p.m. on Feb. 17 and 18.
On Monday, a printed notice from VCH was displayed near the store's entrance
"We are recommending that anyone who was present on those days, and not immune to measles, should monitor for early symptoms … and ensure that their immunizations are up to date," the note read.
A manager at the store referred Richmond News questions to the company's head office in Toronto, but they did not respond to requests for comment before publication time.
Just outside the Toys R Us entrance, at the Lansdowne food court, some people eating with their children said the exposure risk made them nervous.
"I'm a little bit fearful," said Gem Carlson, who had her three-month-old daughter strapped to her chest. "Like, encephalitis? (A complication of measles when the brain swells) That's scary."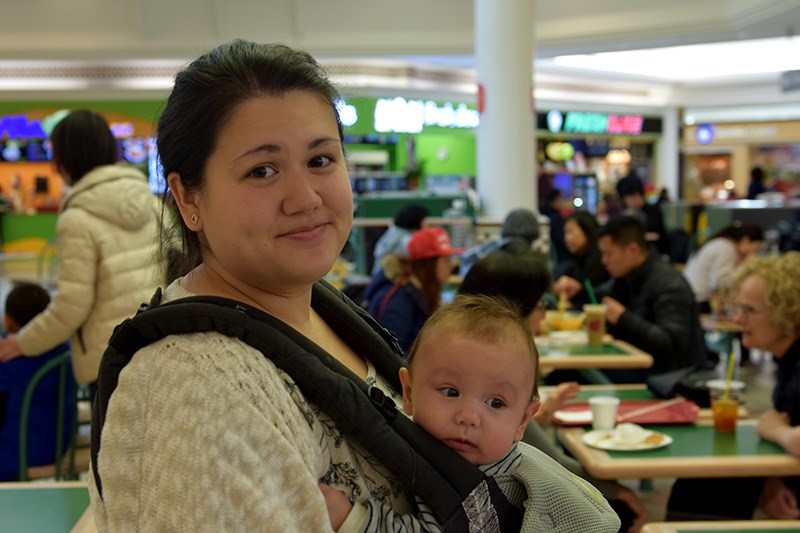 Babies, like Carlson's daughter, aren't supposed to get a measles vaccine until they're 12 to 15 months old.
However, they are able to get a medicine called immune globulin that reduces the risk of severe illness due to measles if given within six days of exposure,  according to VCH.
Another patron, Tashlin Naidoo, said he was disappointed there weren't more obvious warnings about the measles exposure.
"Realistically, they should be posting a little bit of warnings around here. I had no idea there was an (exposure risk) at the Toys R Us."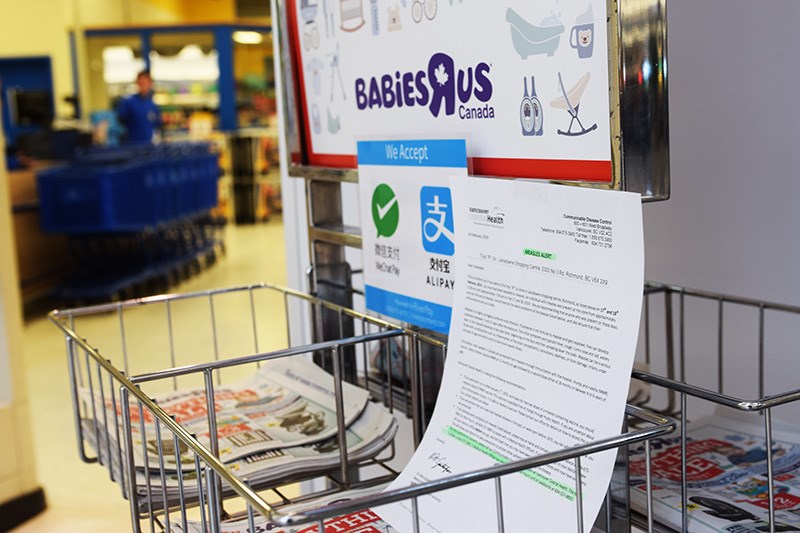 Measles patients have also visited other locations in Richmond, including Richmond Centre, Dave's Fish and Chips and the Starbucks in Steveston and YVR. One person also rode Canada Line.
According to VCH, symptoms of measles include fever, cough, runny nose, and red eyes, followed a few days later by a rash that starts on the face and spreads to the chest. Symptoms usually develop between seven and 21 days after exposure.
The virus can cause serious complications, including inflammation of the brain, convulsions, deafness or brain damage.
The good news is that most Canadians are vaccinated against measles. If you're not sure whether you've had two doses of the vaccine, the following places in Richmond provide it for free:
Shoppers Drug Mart
11800 Cambie Road
Shoppers Drug Mart
6060 Minoru Blvd
Shoppers Drug Mart
5555 Gilbert Rd
Terra Nova Medical Clinic
6011 No 1 Rd #140