A review of Canada Port Authorities by Transport Canada may provide the City of Richmond with a means to air the numerous grievances it has with Port of Vancouver, said Richmond's Mayor Malcolm Brodie.
"Certainly we have had our issues with governance at the port," Brodie told the Richmond News Monday, following an announcement in Delta from federal Minister of Transport Marc Garneau to review Canada Port Authorities "to optimize their role in the transportation system as strategic assets that support inclusive and sustainable growth and trade."
A new government website asks "to hear what Canadians and marine stakeholders have to say about how our ports can respond to current and future challenges and opportunities."
The review asks municipalities to participate as well.
Vancouver Fraser Port Authority is one of 18 ports in Canada and it oversees Port of Vancouver operations. A number of recent port projects and/or objectives have clashed with the City of Richmond, noted Brodie.
"A few issues that come to mind quickly is encroachment on agricultural land by the port.
"Our concerns of their wish to have the option of using agricultural land is undiminished," said Brodie, who sees large swaths of east Richmond farmland as under threat of port development.
Another issue cited by Brodie is the port's board of directors underrepresenting local, municipal interests as it has just one member representing local municipalities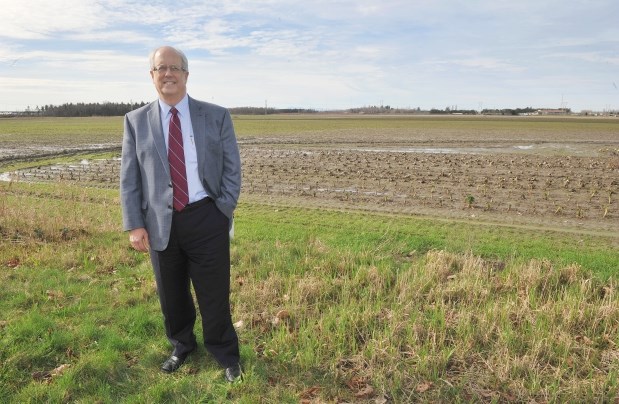 Furthermore, the port's board has refused to meet with city council, said Brodie, who has also questioned the port's desire to grow while being a landlord to non-port related businesses, such as composter Harvest Power.
"The efficient use of land by the port is something that should be addressed," said Brodie.
Steveston-Richmond East Liberal MP Joe Peschisolido has expressed similar concerns about the port overstepping its mandate.
Meanwhile, environmentalist Otto Langer, chair of VAPOR, a group opposed to jet fuel being shipped up the Fraser River, said he's skeptical the review will address environmental concerns.
Langer, who attended Garneau's announcement, said "I never heard the word 'environmental assessment' once."
Langer hopes port authorities lose their right to conduct their own environmental reviews — something he views as a conflict of interest.
He said this occurred with a 'harmonized' federal-provincial review of an 80-million litre jet fuel facility now under construction near Riverport.
Garneau said port authorities have served Canada well in supporting regional economic development, however a review is needed to keep up with innovation.
His ministry noted in 2017, ports and marine shipping carried almost $90 billion of Canada's exports to world markets, and brought in $110 billion.
The findings of the review, expected in 2019, will identify potential policy, legislative and regulatory changes "to help Canada port authorities to consolidate their position as key players in the Canadian economy."
 Information is available on the LetsTalkTransportation.ca/Ports-Modernization-Review website.