There's a new Santa Claus coming to town and some local families say they're devastated that the Richmond tradition of visiting "Santa Chris" has come to an end.
The well-known and well-loved Santa, who was a feature of Richmond Centre's winter wonderland display and celebration for a decade, has moved on to Coquitlam Centre this year. Many Richmondites have taken to social media to express their dismay, even leading to the creation of a Facebook group honouring "the real Santa Claus."
"I was just completely devastated," said Beverly, who preferred to only use her first name and who only learned of the change when a different Santa arrived at the mall.
"I know that the community loves him. He's honestly amazing, amazing. Him and Mrs. Claus are just the picture-perfect Santa couple. They're really sweet with the kids so it was just really saddening."
Beverly told the News seeing Santa Chris at Richmond Centre had been a family tradition for around a decade. The long-time Richmond resident explained she used to visit Santa with her grandfather, as he liked to take photos every year. After her grandfather passed away in 2009, Beverly said she carried on the tradition by taking her own children, now ages five and seven, to see Santa.
"My kids have been going to him ever since they were babies so they know his face. They're very familiar with him," she said.  
For Beverly, the entire ambience made the experience special, including the photographers, the elves and various activities available for the kids while they waited in long lines.
"Just their whole team was amazing," she said.
However, Beverly reached out to Santa Chris and discovered he had relocated to Coquitlam Centre after not being asked back to Richmond Centre. His schedule has been shared in multiple Richmond community Facebook pages as well as on "The REAL Santa and Mrs. Claus" fan page, which, as of Wednesday evening, had nearly 80 followers.
"We actually cancelled our appointment with Richmond Centre and we're going to go see him in Coquitlam instead," Beverly said.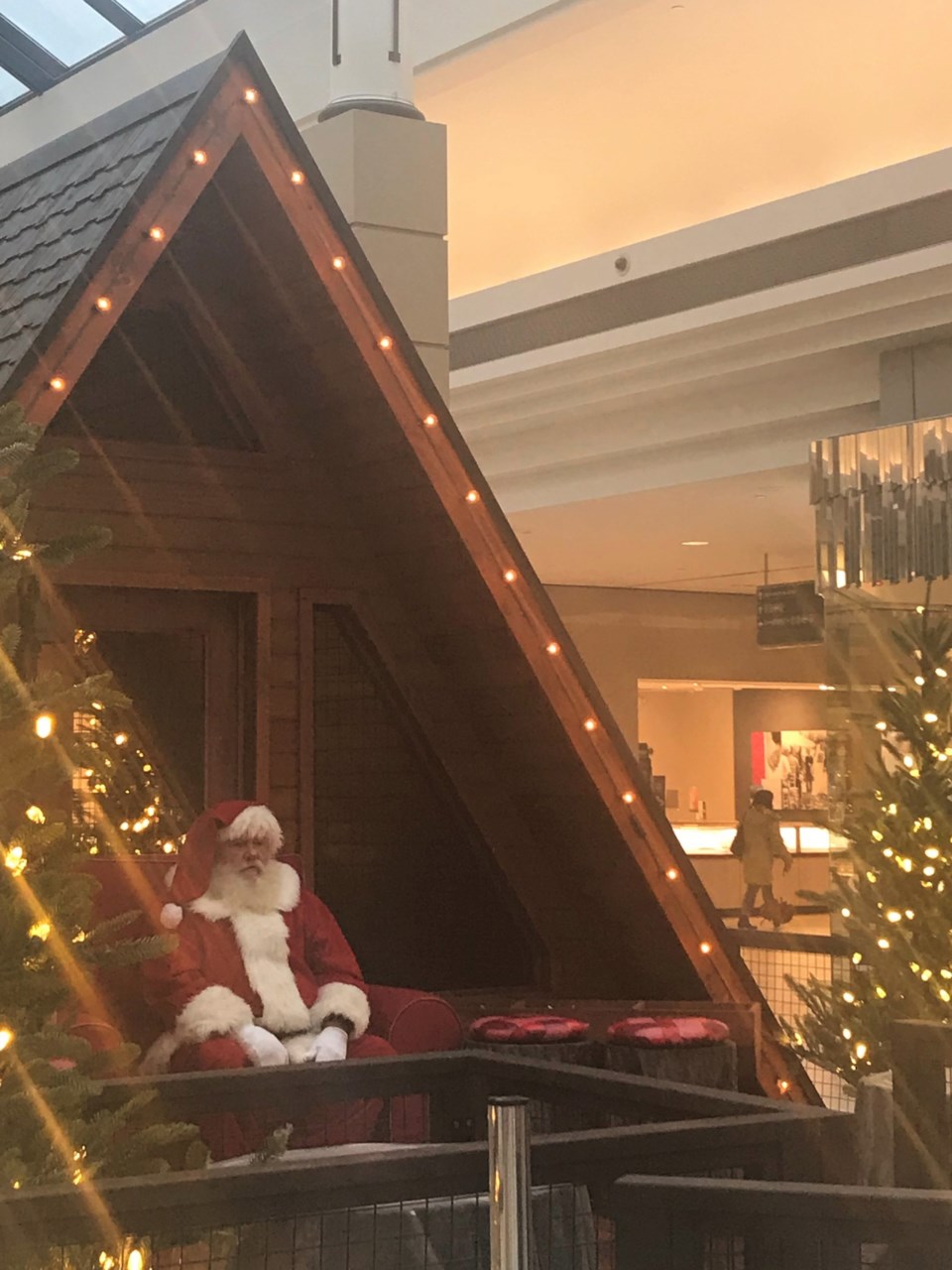 Beverly isn't the only one upset by the change in the jolly old elf. Dozens have posted comments on Richmond Centre's Facebook page expressing their disappointment.
"There will never be a better Santa and whatever the reason he's not back it's a crying shame," said one Facebook user on Richmond Centre's page.
"Santa at Richmond Centre was beautiful and magical in the last 10 years. The perfect Christmas tradition for children. Sad that this year, Richmond Centre is the same as all of the other malls. Nothing special anymore," said another commenter.
Sheila Lutz, general manager of Richmond Centre, explained that the mall does a review of its holiday experience every year. This year, Lutz explained, the mall decided to bring in some new displays.
 "Santa's been a very important part of our experience over a number of years at the shopping centre and each year when we review elements and potentially change things up, we did decide to make a change in the vendor and photography and our goal is that we will still be delivering an amazing photography experience," she told the News.
Lutz added that there were some "hiccups" the first opening weekend and encourages visitors who may have had issues to contact Guest Services.
"Our Guest Services folks were contacted over the weekend by a few families that said that they did not receive the same experience that they'd received in prior years so we're working through that on an individualized basis," she said.  However for one Richmondite, a visit to the new Santa with her eight-year-old son this week was still a pleasant experience.  
"He was really nice, my son liked him…I don't know why people are so upset," said Lisa Mitchell, who had also seen Santa Chris in the past. "It wasn't as great, usually they have the big waiting area with all the elves talking to everybody so maybe that's what people are missing."
Along with visits at Coquitlam Centre, Santa Chris has a scheduled appearance in Fort Langley this weekend at the Community Hall from 11 a.m. to 4 p.m. on both Saturday and Sunday.
The Richmond Centre Santa is at the mall seven days per week until Dec. 24. More information can be found at Richmond Centre's website.