Whether you're the kind of traveller who prefers to take off with a taste of home in tow or a visitor looking to bring back an edible souvenir, the Vancouver International Airport has just added a new retail option that is all about showcasing some of our incredible local food and drink.
Called Pacific Farms Market, the locally-focused food store sells brands familiar to Vancouverites, like Purebread, 49th Parallel, Rosemary Rocksalt, F.I.S.H. (Fresh Ideas Start Here) and several regional craft brewers like Yellow Dog, Fuggles & Warlock, and Fieldhouse.
Pacific Farms Market is billed as a "farm-to-flight" concept, as in you can get foods made with farm-sourced ingredients before your flight, riffing on the "farm-to-table" term.
The plan to open Pacific Farms Market has been in motion for nearly three years now; the store was among those announced in early 2019 as part of YVR's big food and beverage revamp to have an emphasis on local businesses.
"YVR is committed to transforming our food and beverage offerings to be a more authentic reflection of our region and a major step to our journey is through our partnership with Pacific Farms Market," explains the airport in a media release.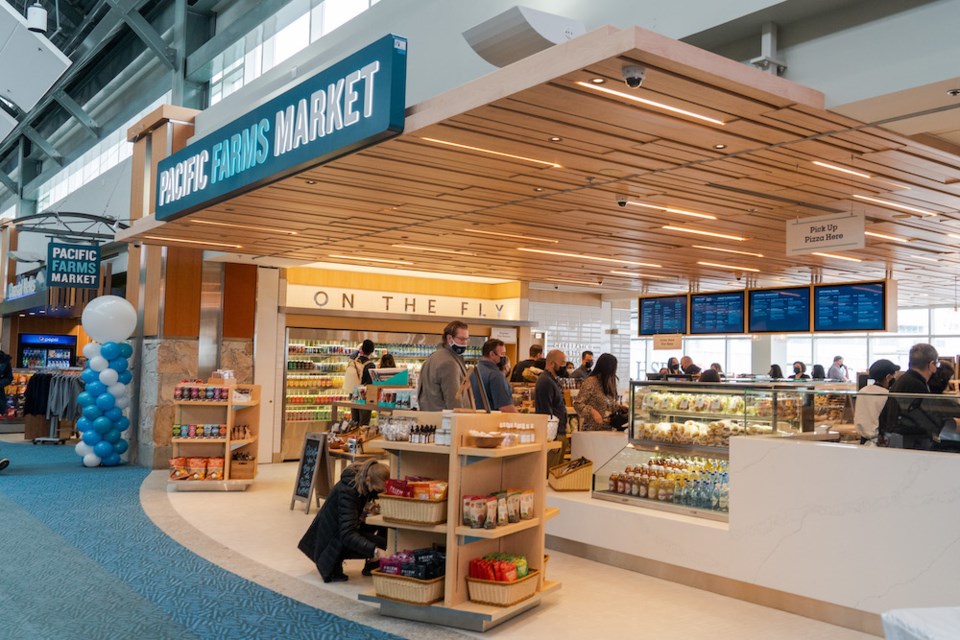 The marketplace offers a unique opportunity for local food and drink businesses to reach a wider audience.
"By introducing Fuggles & Warlock craft beer to a wide range of travellers we hope to gain new customers who may have not had a chance otherwise to visit our Tasting Room in Richmond during their trip," says Aisha Maretz, Chief Executive Officer of Fuggles & Warlock Craftworks Ltd.
"We are thrilled for this opportunity to showcase the beautiful local and sustainably harvested seafood of British Columbia to the rest of Canada and the world," adds Jenice Yu, founder of Vancouver-based F.I.S.H.
On Wednesday, Jan. 26, Pacific Farms Market officially opened for business. The marketplace is located in the C Pier of the domestic terminal, post-security, and is open daily from 6 a.m. to 10 p.m. The counter-service spot offers grab-and-go and has some seating within the market area so you can sit down to enjoy your bagels, sushi, or baked goods.