How many people do you know in your neighbourhood? John Young knows most of the people in his, but it's not enough, and now he is helping more people get to know each other.
Last week, Young and his wife Joan held a barbeque party in their cul de'sac on Barkerville Court to meet with their neighbours in the community.
"I thought it was time to put a neighbourhood party on because a lot of new people have arrived; it was time we met them," Young told the Richmond News.
He collected a database of all his neighbours and their contacts, and sent out invitations.
Around 19 homes out of 22 on the court attended the outdoor potluck, where people enjoyed grilled chicken, skewers and vegetables while chatting with each other.
"I called them out by their address and introduced everybody to everybody. We also gave each other a name tag and encouraged everyone to mix and mingle, so they didn't just stay in their family groups," said Young.
"We had a neighbour who acted as a Chinese translator. We talked, chatted, laughed and made jokes. It was a very good time for everyone."
Apart from their own stories, neighbours also shared information about the area with each other. For example, one warned others about a man pretending to be a food bank worker to swindle money from people.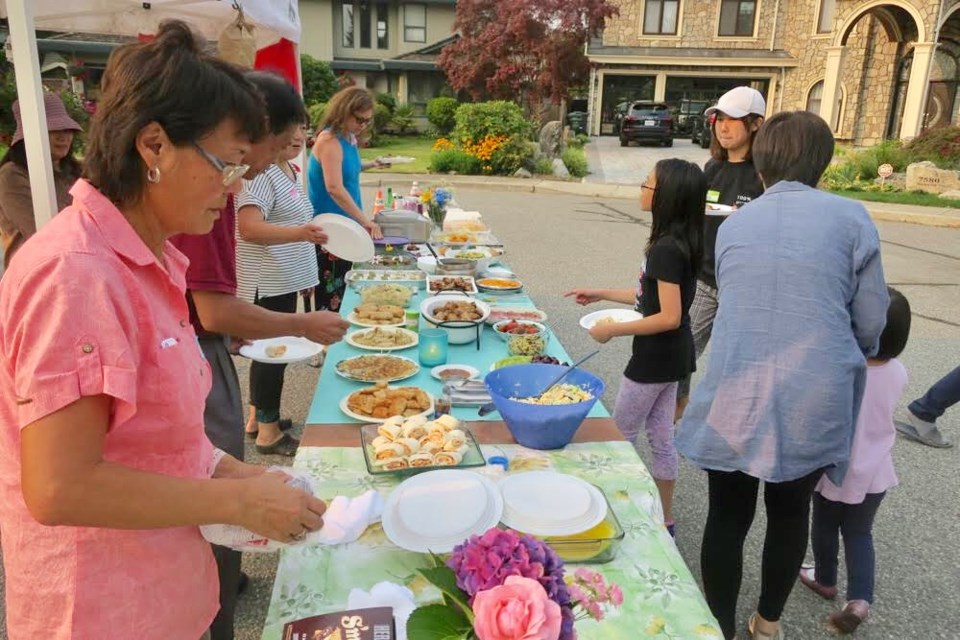 Young, a retired teacher who has lived in Richmond for 45 years, said a neighbourhood gathering like this is very important.
"It's just a sense of a good feeling and good fellowship amongst neighbours you live beside," said Young.
"The neighbours got to know each other better and they talked to each other. Now when they see a house, they know who lives there, they know the face, they know the person living there. The whole neighbourhood has become much friendlier."
Young said the neighbourhood has changed a lot over the past years, as a lot of homes have been torn down and rebuilt.
"But anyway they all appreciate a helping neighbour, no matter how luxurious their home is; No matter what language they speak, you get to know them and be helpful," said Young.
"And I don't think it matters what culture you are from and how different the cultures are. You can have the same culture up and down your street and not be friendly, and you can have completely different cultures and be friendly."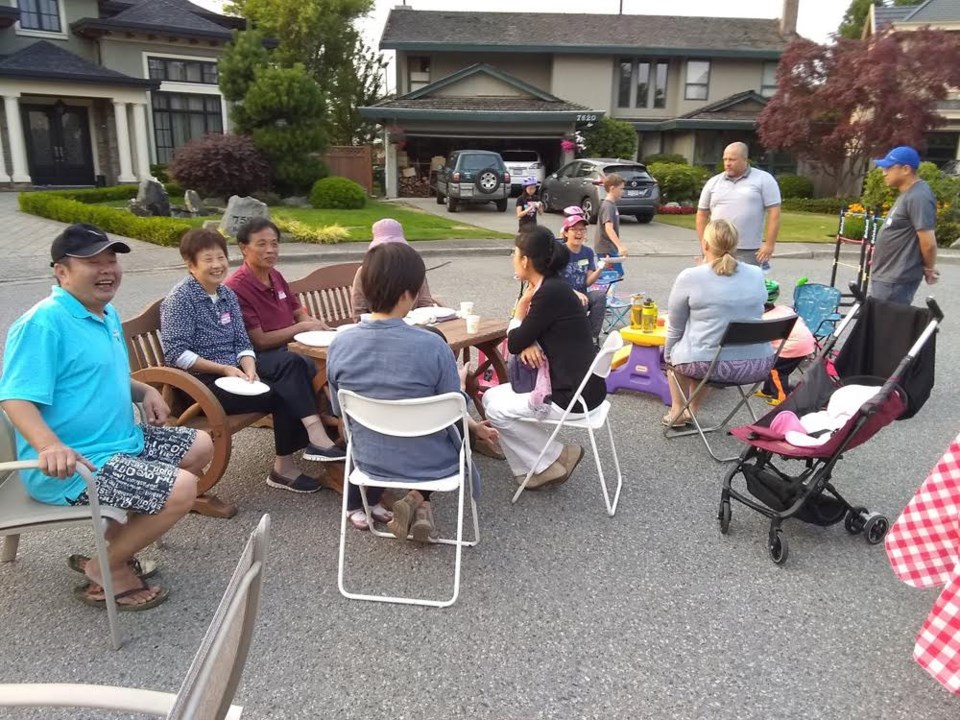 One thing he and his wife have been doing when there are new neighbours moving in is to sign a card and write "welcome to our neighbourhood," and take a small pot of plant, then knock on their door.
"Usually they are extremely friendly," said Young.
During Christmas time the couple also holds Christmas tea in their house and invites all the neighbours to come over and chat.
"An interesting anecdote was their fascination with our wood burning fireplace.  Some had never seen a fire inside a house before and took turns taking selfies in front of the fireplace," said Young.
His neighbours also brought them gifts in return. One neighbour often goes back to China and each time brings back a container of tea for Young and his wife.
Young encourages more neighbourhoods in Richmond to get together once in a while or hold events like this for people to get to know each other.
"There are hundreds and hundreds of neighbourhoods in Richmond. If they all have a block party or Christmas tea and invite their neighbours, Richmond will be a far more livable and enjoyable place to live," said Young.