He's only a couple of weeks into the first year of his new life at UBC and already the work is starting to pile up for business student Alon Aminov.
But no matter how much pressure is placed on the 18-year-old McMath valedictorian in his freshman year at UBC, it's unlikely to faze Aminov, who cannot only deal with adversity, but thrive in the face of it.
If things get a bit rough over the next four or five years, the former high-performance athlete just needs to close his eyes and remember how he survived cancer and, while recovering at home, educated himself, passed Grade 10 exams and got elected as student council vice president.
"When I was first told (about the tumor in his chest), I started to cry," said Aminov, who, before being diagnosed early in Grade 9 with Hodgkin's Lymphoma, won international medals for his triple-jump exploits.
"I'm not sure if that was because of the tumor or that I might miss my accounting test in school the next day.
"I was hospitalized that same day; this was my first time ever in hospital; I'd never been sick in my life, so it was so unexpected. My mom and dad were devastated; we were all very scared."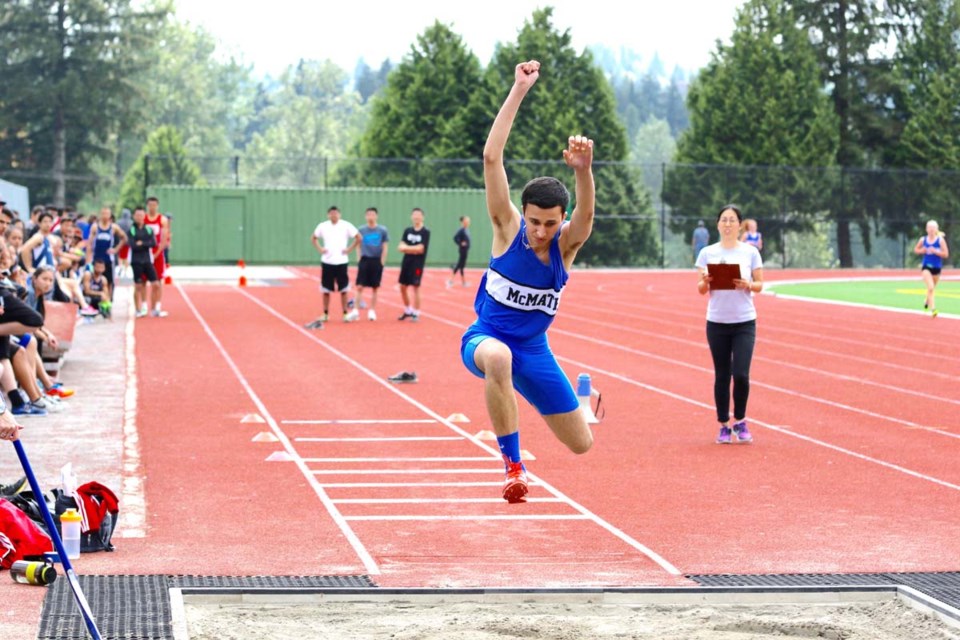 Two days later, Aminov had surgery to remove the tumor and when he came out of the operating theatre, he could barely breathe or speak, due to his diaphragm being affected by the procedure.
"When I was first being treated, I was told I may have to postpone or give up my education," said Aminov.
"But I wasn't prepared to give up a whole year. So, a teacher from the district, Ms. Claridge, came to my house and watched over me while I sat my tests.
"I basically self-taught through most of Grade 10; but I had a lot of support from my school and my teachers; I'm very grateful to them of all.
"From home, I decided to run for student council vice president and I campaigned from home, with very few people even knowing about my circumstances. I ended up winning (the election) in May of 2014."
In Grade 7, Aminov, after starting track and field with the Richmond Kajaks, began to excel in the triple jump.
Later, after gold success in the BC Summer Games, he and his fellow athletic star brother travelled to Israel in Grade 9 for an international track meet.
He arrived home with two medals, but also with a mysterious pain in his chest during training.
"The coach told me to take a rest, but I decided to keep going," Aminov recalled.
"However, the problem got worse and worse and the pain started travelling all over my body. Hospital x-rays didn't show anything and I was put on a course of antibiotics.
"It got worse again, and my mom ended up taking me to Children's Hospital. They found a tumor in my chest, between my heart and lungs, the size of a fist."
A dozen rounds of painful chemotherapy later and, by May of 2014, Aminov was given the all-clear.
"I was really happy and thought, 'right, let's get back to normal,' but that wasn't going to happen," he said.
"I would have to make adjustments, as I could barely jog, let alone do high-performance sports; they were gone for good."
However, in Grade 11 and 12, while still recovering from his treatment, Aminov managed to make the Richmond finals in triple jump again and got first place and also top spot in the Vancouver districts.
"But when I got to provincial level, I had reached my new limit."
By that time, Aminov's focus had drifted to academia and applying for university spots.
In his final year at McMath, Aminov also spent a lot of time applying for a scholarship award from Coast Capital Savings, called Youth Get It Education Awards, where recognition is given to students who have "overcome great challenges to find success at school and continue to strive for academic excellence."
"I received it at my graduation ceremony. I was obviously proud as I'd put a lot of effort into the application," said Aminov, who won $2,500 from the Coast Capital award towards his education.