There are plenty of fish in the dating pool, but it was one with a terminal illness that got Cynda Yeasting hooked.
Yeasting joined the online dating website, Plenty of Fish, about nine years ago. 
After spending 14 years focusing on her career as a legal administrative assistant and raising two sons after two failed marriages, she was excited to start dating again. 
She looked forward to going out for dinners, meeting new people, having fun and possibly finding Mr. Right. One man caught her interest early on, but that quickly turned into a dud. 
"One of the guys I had gone out with, who I thought was very nice, I realized he was cheating on his wife," Yeasting said. 
"I then decided to look for someone who wasn't on here every night, as Plenty of Fish has a feature where you can see when a person was last online. That's when I found Michael's profile."
Richmond resident Michael Chu's profile was very open and honest, and he wasn't online every day, Yeasting explained. 
He wrote that he was divorced, had a child, was looking for that one special woman. He also wrote that he was terminally ill, but it was under control. 
Intrigued that a man with limited time was looking for love on an online dating site, Yeasting emailed Chu and then they decided to meet.
"When we met, we talked for over two hours and we would have talked through the night if I didn't have work in the morning," Yeasting said. 
"We had so much in common and there were so many coincidences."
It turned out that Chu's mother went to the same Sunday school as Yeasting's aunt, his dad knew Yeasting's family, his ex-wife lived across the street from Yeasting's sister and Yeasting actually met Chu's uncle in the past.
The two clicked and their relationship progressed quickly. But there were challenges.
"My eldest son was very angry with me because he knew his mom was inevitably going to get hurt," Yeasting said. "My mother was not happy. She said she would never date somebody with cancer.
"But when people met Michael, he looked so well that they had a hard time believing that he had stage four cancer."
Yeasting met Chu's family and she got on with them well and she actually became friends with Chu's ex-wife.
The couple also had their share of heated arguments, like all couples, but the two made it a point to not go to bed angry at each other, as their time was limited. 
They also went on a couple of trips together, got engaged and lived together in Richmond.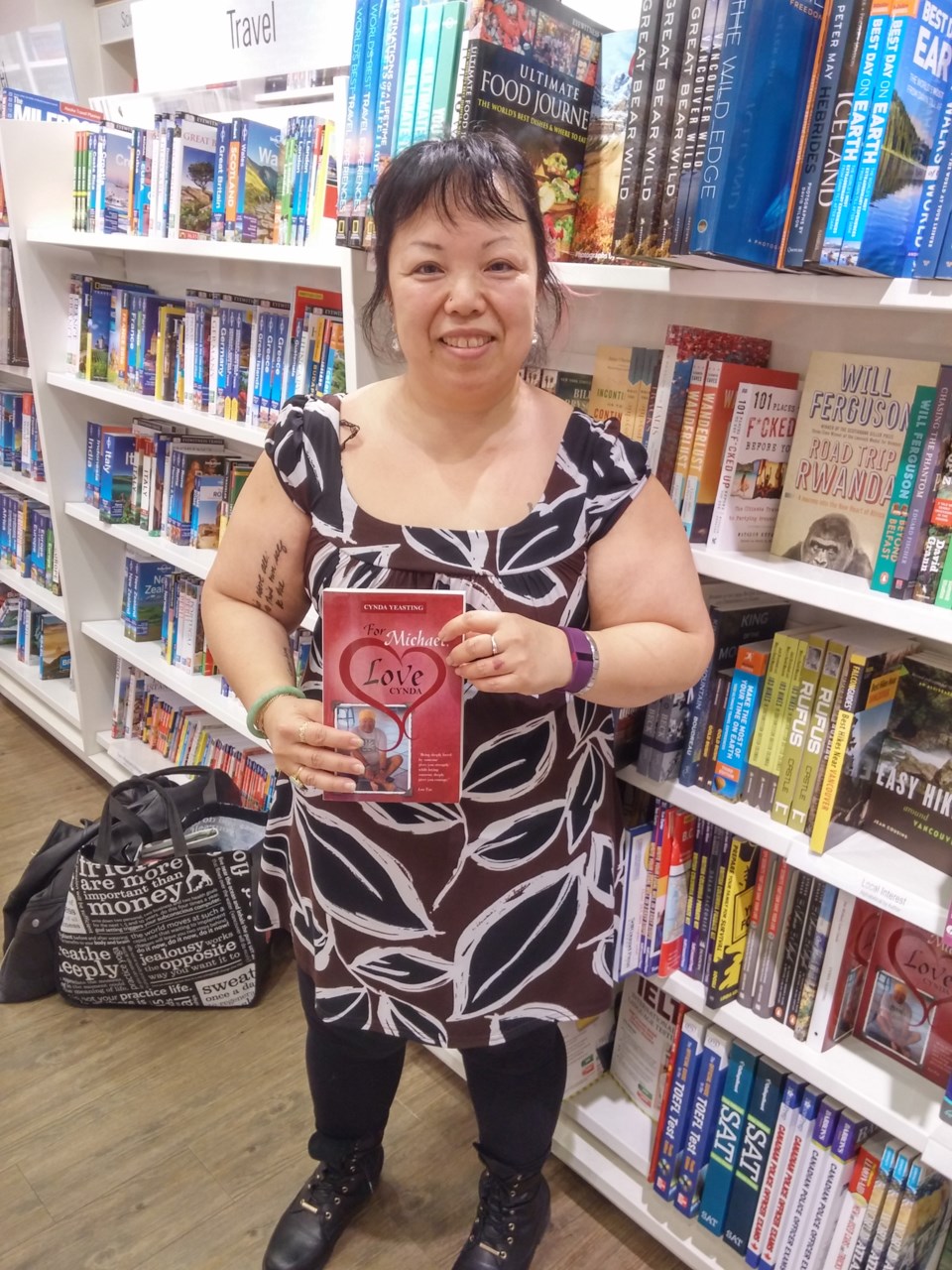 Unfortunately, their relationship only lasted about 19 months. Chu died from lung cancer in August 2008.
"He was the love of my life and I was the love of his life," Yeasting said, explaining she has no regrets and if given the choice, would not change her decision in pursuing a relationship with Chu.
"Life is short. You need to take a chance and enjoy every minute of it."
Yeasting wrote a book about her experience, titled For Michael, Love Cynda, which helped her mourn Chu's death. 
She will have her first book signing at IndigoSpirit Bookstore in Richmond Centre on Saturday, July 23 from 12 p.m. to 3 p.m.
For more information about the Yeasting and Chu and the book, visit Facebook.com/ForMichaelLoveCynda.