On Devine Elden's last day of life, she did what she's always done: welcomed her family and closest friends into her Steveston home.
They gathered Dec. 30, 2018 for quality time and ceremony before her medically assisted death. She went for one last walk with her son to Garry Point Park, wrote some farewell letters and changed into pyjamas and a robe before lying on the couch.
She looked out to her garden, adorned with hundreds white lights for the occasion. Inside, the house was decorated with her favourite white roses, candles and her trademark angels. There was a fire in the hearth.
The group of eight sat around Elden to say prayers and chant a familiar meditation mantra.
Then, around 5:30 p.m., a doctor and an assistant arrived to administer a series of injections that first put her to sleep and then stopped her breathing. And so Elden went, holding a rose to her chest.
Unofficial mayor of Steveston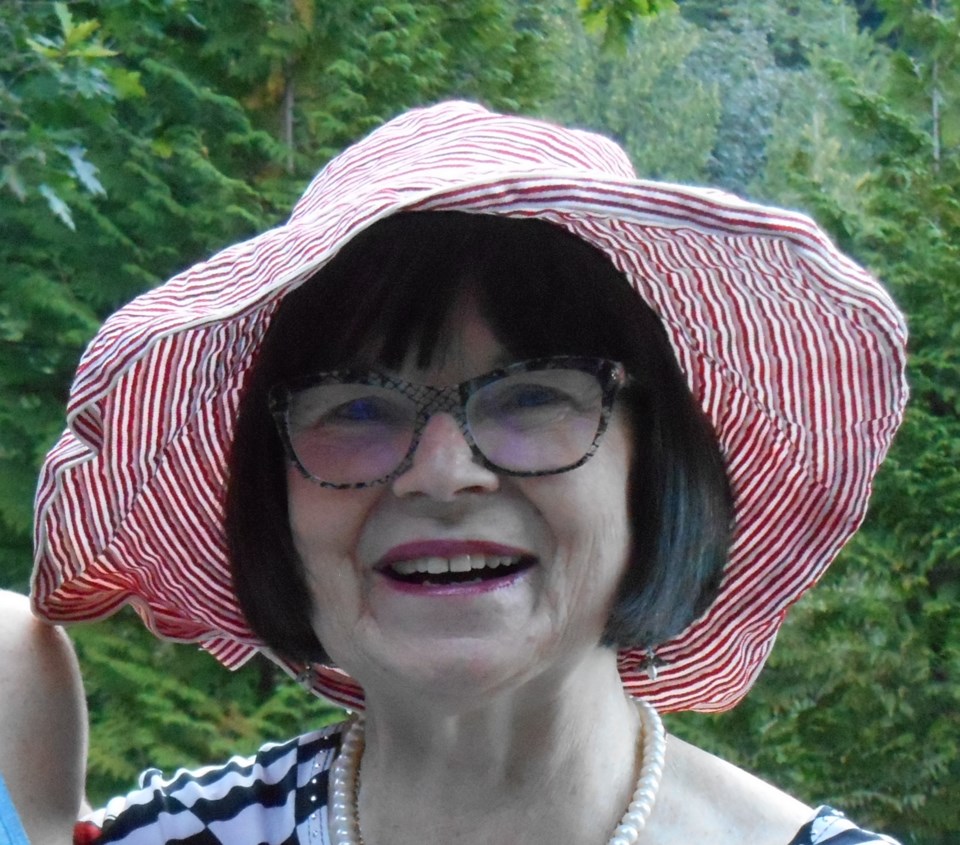 The 80-year-old was best known among her wide circle of friends for starting Jet Lag Travel Fashion Boutique and her charity work benefitting youth in foster care.
She was instrumental in starting the Canadian chapter of European-founded SOS Children's Villages, and married her love of fashion with the cause dear to her heart by raising money through charity fashion shows. 
She was affectionately known among some as the unofficial mayor of Steveston.
"Her main concern was helping people," said Jim Scorgie, her adopted son. "She helped a lot of kids through her life. She had all these little sayings, like 'you've got to have an attitude of gratitude.' Her house was the house of the open door."
Elden chose medical assistance in dying, a practice legalized in Canada in 2016 for those with grievous and irremediable medical conditions who are in an advanced state of decline, because she wanted to leave on her own terms.
She had cancer in her spine. It was extremely painful and impacted her independence.
"Not many people are angry when a baby is born," she said while still alive. "We need to change the atmosphere of people's thinking about dying.  Dying is the other side of birth."
Preparing for her last day
She prepared for her last day with care, by thanking people in the community and saying goodbye. She also educated others about accessing medical assistance in death, in a talk she called "Flight 000: Heaven Bound."
"Everyone is going," she once said to seniors in Delta. "However, very few are packed or ready."
Preparing for a trip was what Elden specialized in. At Jet Lag, she'd pick out coordinated outfits for her clients so they could pack light on vacation. She was known to slip a small cut-out angel into a customer's purchase with a note saying it would watch over them and bring them home safe.
Her friends and family, all heartbroken to see her go, nonetheless admired her courage to choose medical assistance in dying.
"I was very sad for myself. But so happy for her that she left in the way she wanted. So beautifully, so gracefully and strong," said Gary Ludlow, a friend.
Penny Allport, a friend for more than 30 years who considered Elden family, helped guide the ceremony. Allport is a lifecycle celebrant, who specializes in creating appropriate environments for major life events such as weddings, funerals and, more recently, deaths that people have planned for.
"My care is in reclaiming end of life as a sacred family and community event," she said, adding the event should ideally be healing for those involved.
Allport felt a "deep soul connection" with Elden, and admired her desire to meet death with care and consciousness. 
"It's not easy to leave this earth," Allport said. "She knew what she had to say goodbye to."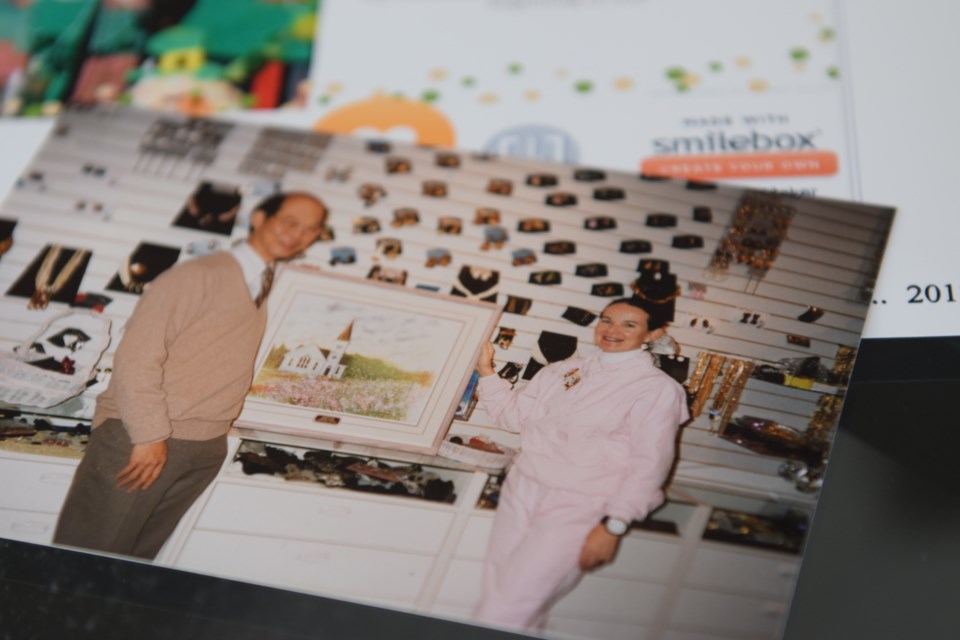 Elden gave back to many
Elden touched many lives, and was passionate about helping young people who didn't have a lot of family support. No one knows that better than Jim Scorgie.
Scorgie first came to Elden's house as a teenager after a track meet. He was friends with Elden's stepson, the son of her husband at the time. After that first afternoon, Scorgie said he never really left.
He went away to college, but would stay with Elden in Steveston every summer. Eventually Scorgie married Wendy Porteous and his career took them overseas to Europe, Asia and the Middle East. Elden would often visit.
When Scorgie was 55, Elden legally adopted him in the midst of a percieved health scare.
"She just went, 'Oh my god, I've got to make this official,'" he said.
She welcomed Scorgie and others into her own home, while making sure other young adults had a shot at stability through her donations to SOS Children's Village BC.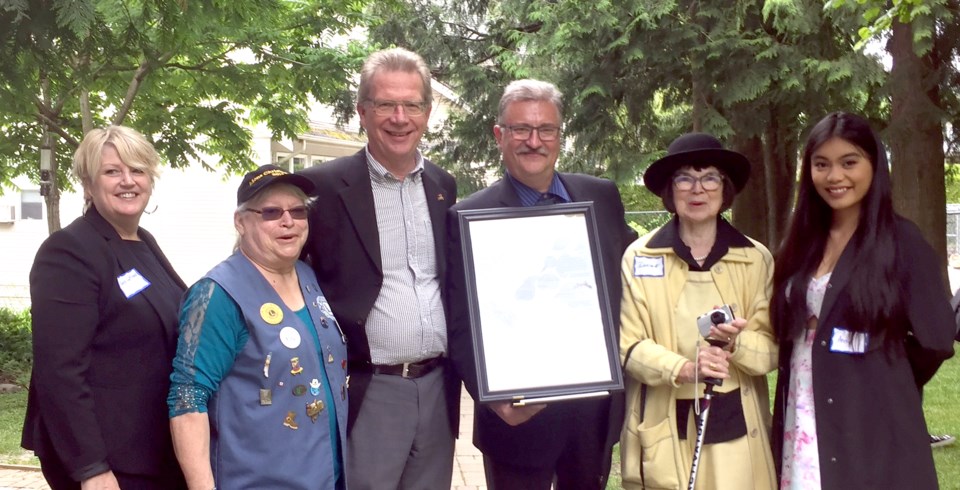 They have a thrift store on Moncton Street, and over in Surrey the organization houses kids in government care with foster families who all live in adjacent houses. Staff on-site in the village provide therapy and other types of support to kids.
Each village home also has a transition suite for kids on the cusp of adulthood. A donation from Elden enabled one to be renovated and furnished.
"[Devine's] caring went bone deep," said Rose Hamilton, spokesperson for SOS Children's Village BC.
"She created community wherever she went … I'm so glad I knew her."
About six weeks after Elden died, SOS Children's Village BC commended the provincial governnment's latest budget for increasing funding for foster parents for the first time in a decade.
Elden's loved ones remember her eclectic sense of style, and welcoming attitude she gave everyone who walked through the door.
Also familiar were her often-repeated sayings like "each one, teach one."  
Another, when closing her store, was "thank you Lord for those who came and went, and especially those who helped to pay the rent." 
Elden's wisdom, bravery and generosity will be remembered by her many friends and surviving family.