Patricia Stapleton's dream of running the Boston Marathon was first postponed, and then cancelled altogether, due to COVID-19.
Despite that, the 72-year-old former Richmond school teacher ran the virtual alternative on Sept. 20 (one week late because of the wildfire smoke), running the full 42.2 kilometres through Richmond, over the Canada Line bridge into Vancouver, and back.
She crossed the finish line back at her home, where she started, on Hollycroft Drive in Richmond, as friends and family cheered her on.
"It wasn't Boston in Boston, but it was absolutely amazing," said Stapleton.
"My friends turned it into an amazing event, it was fantastic. So, I was really touched by all of them."
A virtual race is harder, she said, as you're out on the street and always need to be alert. There's also traffic lights to contend with, which can impact your race time.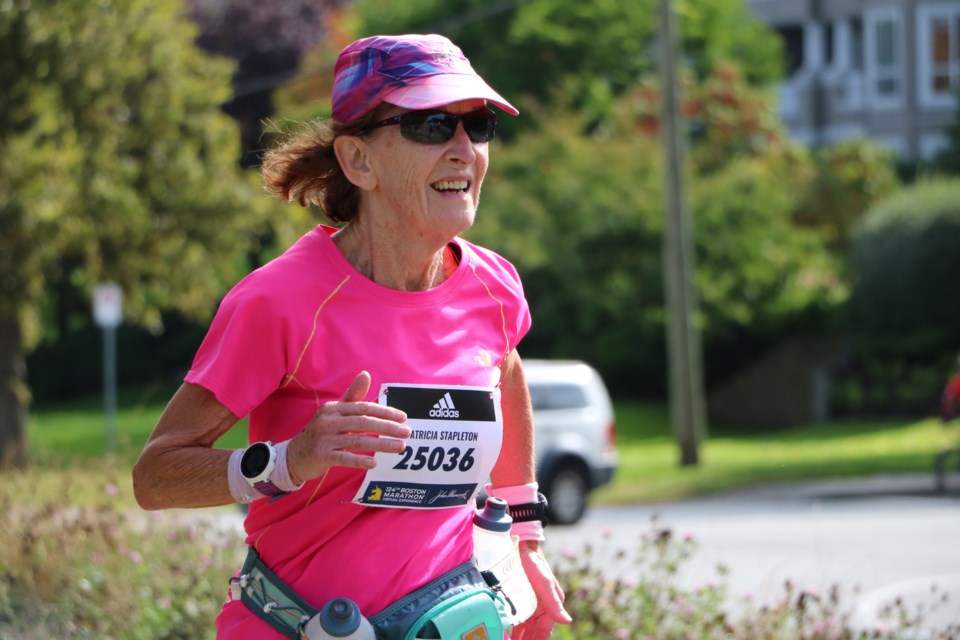 For example, she said during her marathon she waited a total of 14 minutes at the lights at No. 3 Road, near Bridgeport Road.
With virtual runs, she said, you start your GPS when you start running and don't stop it until the end, at 42.2 kilometres – meaning all the time spent at traffic lights counts in the run.
All in all, Stapleton finished with a time of 5 hours, 30 minutes, but she said she felt she could have done it in 4 hours, 45 minutes if she was on a "closed course" rather than the street.
A large part of running marathons is the adrenaline and energy, she said, that you pick up from other people.
"Nobody runs a marathon alone," she said.
While this year's marathon was virtual, Stapleton was far from alone as she ran the route she mapped out.
When she stepped out her door at 7 a.m., there were people outside waiting to see her off.
Her running friends set up cheering groups and water stations along the route, and also joined her in running throughout the marathon, so that Stapleton never had to run alone.
Stapleton said the "coolest thing" was as they came off the Canada Line bridge on the way back, and stopped for photos. While a number of her friends had gathered there for her, there were also some cyclists who decided to wait until they came off.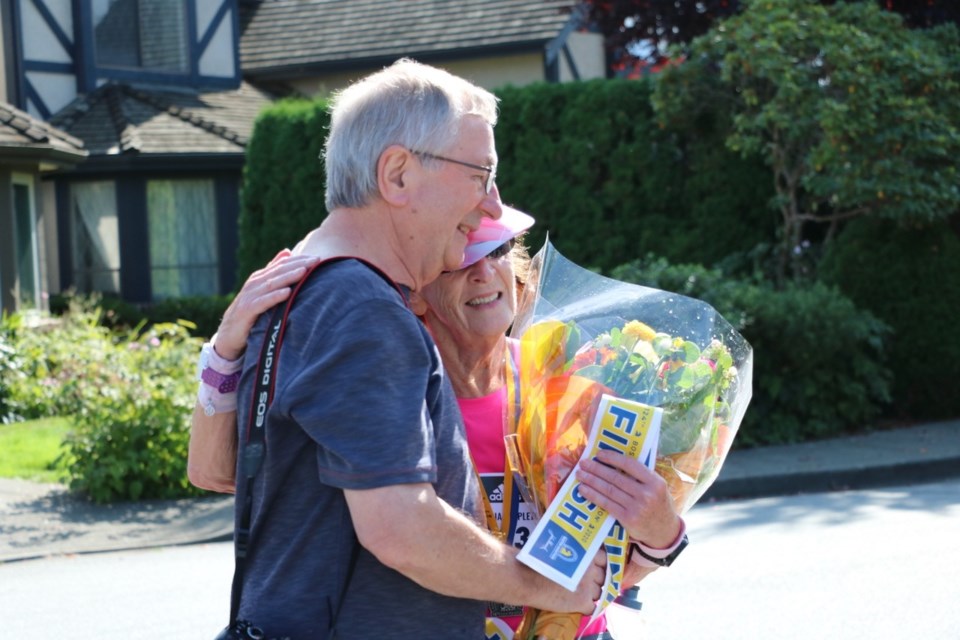 "I just feel really blessed with the encouragement I got," she said. "When I was disappointed (the marathon was cancelled), people were there saying, 'It's okay, it will come again.'"
Stapleton first began running in 2008, after she broke her wrist – and quickly fell in love with the sport, and with longer distances. She completed her first marathon in New York in 2013.
She had previously qualified for the Boston Marathon in 2017, however, she was three seconds shy of the acceptance time.
And while 2018 "wasn't a good running year" for her, due to an injury in marathons, 2019 was "amazing," with races in Vancouver, Calgary, Haida Gwaii and North Bend in Washington state.
It was there that she qualified again for the Boston Marathon, with a time of 4 hours, 47 minutes, on a day that had 38 millimetres of rain.
In order to qualify a second time, Stapleton said her time needed to be five minutes faster than what it was in 2017.
She said she ran about four days a week to prepare for this year's marathon, doing a combination of speed runs and longer runs, often running back and forth over the Canada Line bridge – "a really good hill" – along with water running (when the pools were open) and yoga three times a week.
Stapleton continued her training even after the marathon – first postponed to September – was finally cancelled, telling herself that "sometimes life really does suck, but keep going."
She had also received a guaranteed acceptance to the Chicago Marathon, but that was cancelled two weeks after Boston.
But then the virtual Boston Marathon was announced.
"I figured well, if you can't have what you want, you have to take what you can get. So I decided I would do it," Stapleton said.