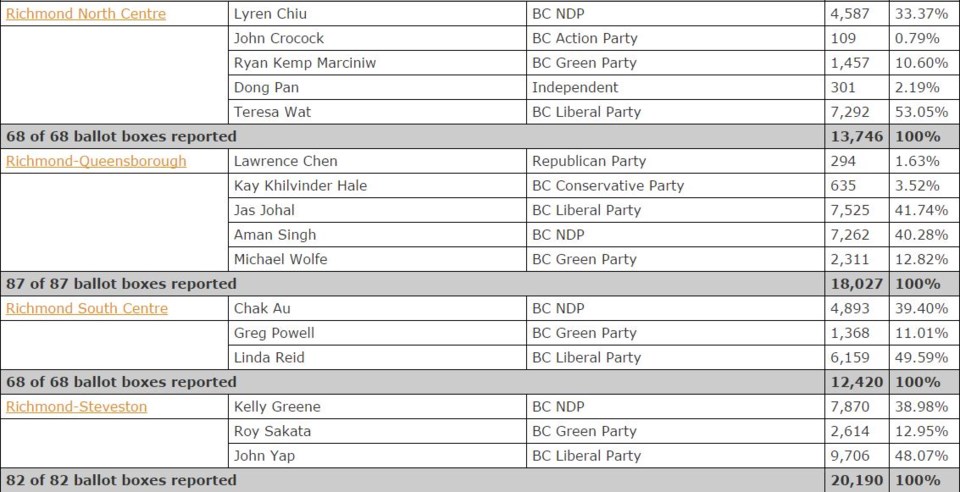 Richmondites chose to stick to the BC Liberals in all four of the city's provincial ridings Tuesday evening.
However, the final count in Richmond-Queensborough may help determine what party holds the balance of power in what is potentially a minority government sitiuation, following the historic 41st provincial election.
The newly-carved riding that incorporates most of east Richmond and parts of New Westminster witnessed a nail-biting, neck and neck race between the Liberals' rookie candidate, former TV reporter and LNG lobbyist Jas Johal and the BC NDP's fellow newcomer, and criminal lawyer, Aman Singh.
When the dust settled, Johal had 7,525 votes and was in the lead by 263 votes, with Singh fetching 7,262 votes, with absentee votes still to be counted.
Johal's seat counts as one of 43 the Liberals have secured in the election. Meanwhile the NDP got 41 seats and the BC Green Party received a record-setting three seats that could thrust them into a "kingmaker" role in a coalition government.
With the riding of Courtenay-Comox secured by the NDP by only nine votes and three other ridings, including Richmond-Queensborough, separated by only a few hundred votes, it will likely take the final count by Elections BC on May 24 to determine the winners.
If the status quo remains, the Greens could form government with the Liberals or NDP. 
In the meantime, Lieutenant Governor Judith Guichon has asked Liberal leader Christy Clark to remain Premier.
"It's not quite over yet as we await absentee ballots . . . It was a squeaker for sure," Clark told media Wednesday.
Richmond-Queensborough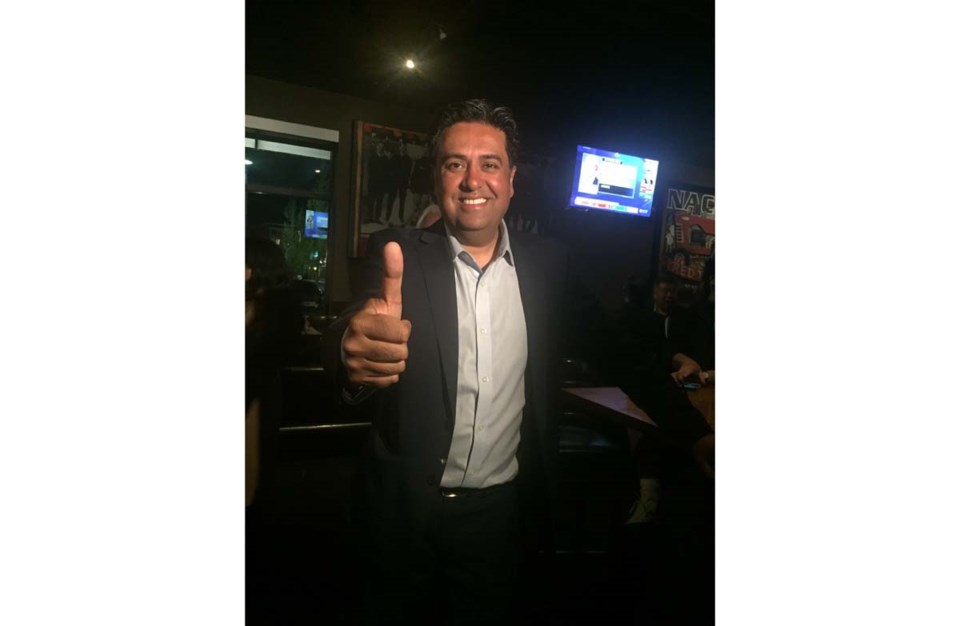 Earlier in the evening, while commanding a clearer lead and amid what turned out to be premature celebrations, Johal said he felt like a "bottle waiting in the ocean, not sure in which way is up."
He noted that he started building his campaign back in November. 
"I didn't just pop in last month. For six months this has been a full-time job. I probably knocked on thousands of doors. For me, this is personal," said Johal, referring to the diversity of the community and the opportunities it has given immigrants such as himself.
"That's why public service is so important to me. I know what I've been given, and I want to give back.
"I never missed a single one of those all candidate meetings. I want to hear people's concerns and share my ideas."
The NDP's Singh was unavailable for comment as the results were still coming in.
In the same Richmond-Queensborough riding, local teacher and Green Party hopeful, Michael Wolfe – who garnered around 12.8 per cent of the popular vote – thanked all his supporters.
"Your vote was an honour to receive and has been a vote for a vision of the future that is worth fighting for," he said by phone.
"As I return from hiking the Juan de Fuca trail with my students on Friday, I look forward to learning the election results and returning to the community I've always cared for.
"Please stay in contact, grow your neighbourhood networks, and remain active citizens, as there is much work to do."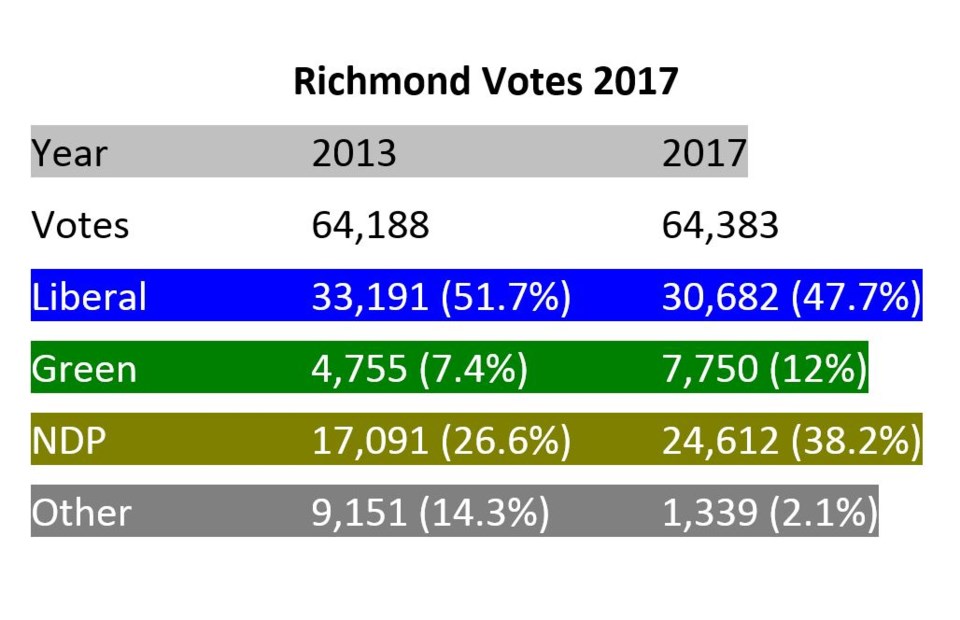 Incumbents sweep
Less complicated were the wins for the Liberal incumbents Teresa Wat (North Centre), John Yap (Steveston) and Linda Reid (South Centre).
Yap survived an early scare to see off NDP upstart and rookie candidate Kelly Greene to take Steveston for his fourth term, collecting 48 per cent of the vote to Greene's 39 per cent.
Veteran politician Reid won more comfortably than expected in the re-jigged South Centre riding, dismissing the challenge of the NDP's city councillor, Chak Au, with a 49.5 per cent to 39.5 per cent victory.
In the re-worked North Centre riding, Wat, past Minister of International Trade, cruised to her second term as MLA with 53 per cent of the vote, compared to nearest challenger, the NDP's Lyren Chiu, with 33 per cent.
Richmond-Steveston
Out west, Yap took care of community activist Greene to secure his fourth term as MLA for Richmond-Steveston.
When asked what projects he'll be working on, he said a new hospital for Richmond was "clearly a priority."
"We need to work on getting that hospital improvement developed," he said.
Yap talked of a hard-fought campaign, adding that "every campaign is different and this one was different again.
"We knocked on a lot of doors, heard peoples' hopes and their concerns. And we want to deal with those concerns."
He said people wanted a "strong economy," but he also heard a lot about housing affordability.
His nearest challenger, Greene — who narrowed a 23 percentage point gap between the Liberals and NDP from last election to just nine points this time around (making it the riding's most competitive race since 1991) — said important social issues she raised on the campaign trail will be harder for Yap to ignore.
"Tonight hurts but while we did not win my seat we have brought issues which are vital, to all of our residents front and centre — affordability, health care, the environment, education, mental health, child care, economy, corruption, to name a few. And we will continue to shine a light where the darkness doesn't want us to look," she told supporters at the local NDP headquarters in City Centre.
The mom of three young children co-founded Richmond Schools Stand United, a grassroots group dedicated to increasing education funding and seismically upgrading unsafe schools.
"We will compel them to act," said Greene, who said she couldn't yet look into the future, to the next election.
Richmond South Centre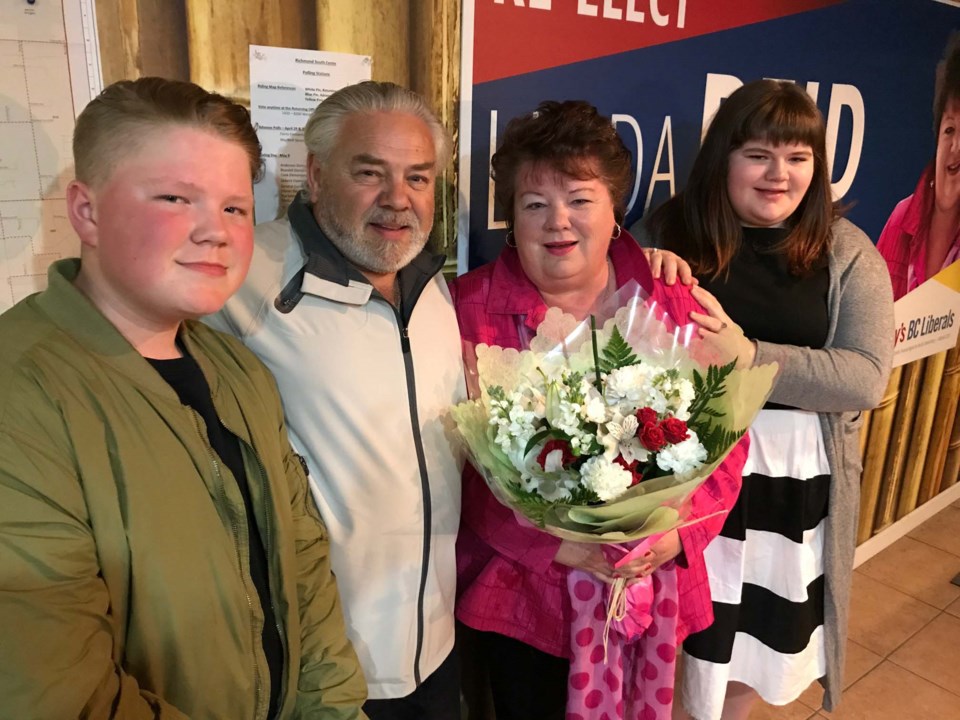 Of her incredible seventh victory at the polls — a record for a female MLA — Reid said: "To create a little bit of history in the moment just warms my heart.
"I'm hoping the seventh win sustains. But this was a glorious campaign.
"No one ever does this work alone. I had a tremendously gifted campaign team. We got out every possible vote, shook every possible hand there was to shake. And I am absolutely delighted with the outcome."
With the two parties running neck on the provincial scene throughout the latter stages of the night, Reid said she was hopeful that Christy Clark would continue to serve as premier.
"That leadership and stability needs to continue."
This was the first election since 1991 (her first election) that Reid fell below 50 per cent in the popular vote.
Au, who will remain on city council, said his political future is uncertain. He said it was too early to digest what had happened (after expecting to win) but didn't rule out another campaign in four years.
Notably, Au pledged, in 2014, to only run in two civic elections.
He said it was difficult to face negative attack ads throughout the campaign; after the writ had dropped, he was the continued target of anonymous leaflets that attacked his character and denigrated homosexuals and drug addicts.
Au said he overcame the negativity partway through the election, in part thanks to his faith, he said.
He said he doesn't foresee any change in how he'll approach dealing with Liberal MLAs, as a city councillor, now that he has taken to the opposition.
NDP surge
Meanwhile, Au said that, with himself, Greene and Singh all reaching about 40 per cent of the popular vote, his party had breached Richmond.
In 2013, the NDP took 26.6 per cent of the vote while this election it took 38.2 per cent. No other municipality saw greater gains by the NDP, whose overall vote was 39.9 per cent, about the same as last election.
"I think this is a victory . . . even though we did not achieve what we wanted at the end, and I think Richmond is never the same as before."
While a Liberal sweep in Richmond was expected, former SoCred MLA (1987) Nick Loenen told the News it was the NDP surge that was the story in Richmond Tuesday night. Loenen said he suspects the Massey Tunnel replacement project turned many away from the Liberals, locally.
Richmond North Centre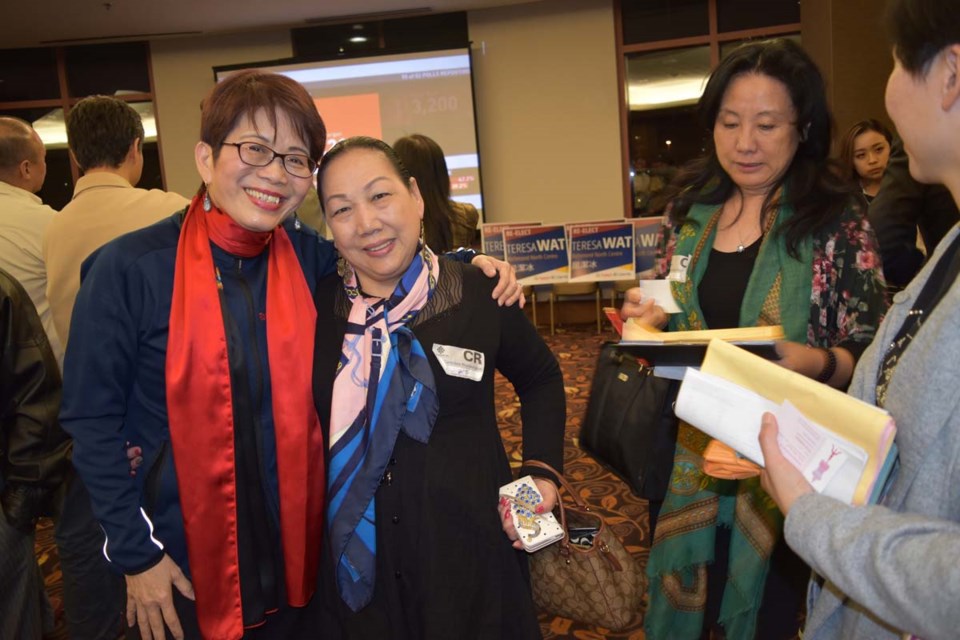 Of her smooth victory, Wat said her re-election was testament to how hard she had worked in her constituency, even though the boundaries were shifted and the riding was renamed as Richmond North Centre.
"I have to express my gratitude to all my constituents for their trust in democracy," she said.
"The voters have spoken loud and clear and I am going to listen to each and every one, including those who did not vote for me."
She added she wants to be part of a government that can provide a strong and better future for all British Columbians.
She also listed the construction of the north tower at Richmond Hospital as her main goal over the next four years.
"I will do my best to push that forward, to finalize it," she said.
Green kingmakers
Not to be forgotten is the role of the Green Party in Richmond. In Richmond-Steveston, Roy Sakata set a record for most votes ever by a Green Party candidate in Richmond, with 2,614 ballots, good for 13 per cent of the popular vote.
Meanwhile, Wolfe received 2,311 votes, or 12.8 per cent — his best showing in a provincial election.
Many NDP supporters argued the Greens would split the vote on the left wing, giving power to the BC Liberals.
In Richmond the Liberals got 47.6 per cent of the popular vote, while province-wide they received 40.9 per cent, which was still good for tops among parties — a point made by Clark at her post-midnight speech.
"We won the popular vote and we've won the most seats," said Clark.
"It's my intention to lead British Columbia's government," Clark told supporters.
All the leaders spoke with cautious optimism.
"They want us to work across party lines," added Clark, who said the Liberals must be humbled by the results.
NDP leader John Horgan chose to highlight the fact 60 per cent of people didn't vote for Clark.
"A majority of British Columbians voted for a new government and I think that's what they deserve," said Horgan.
Green leader Andrew Weaver indicated he's willing to work with both parties.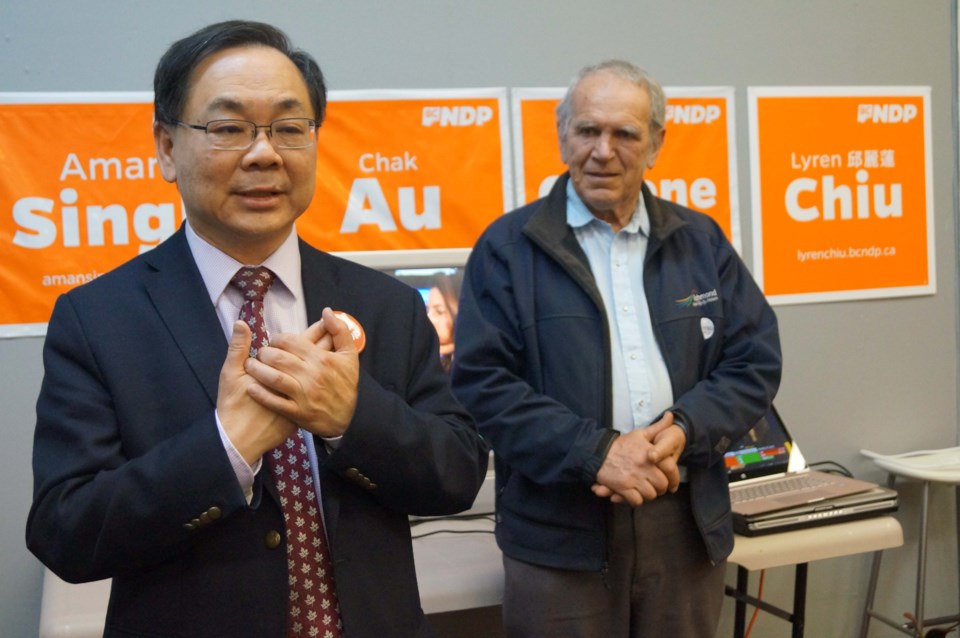 Weaver may well get to choose who to form government with, should the Liberals not receive a majority of seats.
Notably, the roughly 176,000 absentee votes accounted for nine per cent of the total vote.
The Greens were thrust into the spotlight by fetching just over 300,000 votes, more than double what they got in 2013 and good for 16.7 per cent of the popular vote.
Weaver said his "number one priority is removing the influence of big money in politics."
Horgan also alluded to campaign finance reform.
"British Columbians voted to get big money out of politics," said Horgan.
Weaver said little to TV reporters after midnight but did indicate his desire to move to a clean energy economy.
"LNG is not happening," said Weaver. "It wasn't going to happen then, it won't happen now . . . Let's move on to a new economy."
As for what a coalition government means for Richmond, Coun. Harold Steves, of the NDP, said the Liberal-planned Massey Tunnel replacement bridge could be dead in the water, if that's the case.
"As long as the NDP and Greens have 44 (seats), we have chance to stop Site C and the Massey bridge," said the environmentalist.
However, many at the Richmond NDP headquarters were calling Weaver the "kingmaker" and expressed concern he would side with the Liberals to form a government.
Nevertheless Wolfe has stated the Greens are adamantly opposed to the bridge proposal.
This election, there were 64,383 votes cast whereas in 2013, 64,188 Richmond residents cast a ballot.
Correction: The print version indicated the Liberals have a minority government. They do not at this point. However they are presently in a position to be first to form one, by seeking the confidence of the Legislature.