If you glance over Richmond on Google maps, you will see a small subdivision of single-family homes nearly hidden in between No.7 and No.8 roads off Westminster Highway, just south of Mayfair Lakes Golf and Country Club.
This is the Fedoruk Road neighbourhood. The 300 metre-long dead-end road is connected to Westminster by Kartner Road.
In all, there are 61 homes in the subdivision that originated from farming acreages developed for veterans after the Second World War.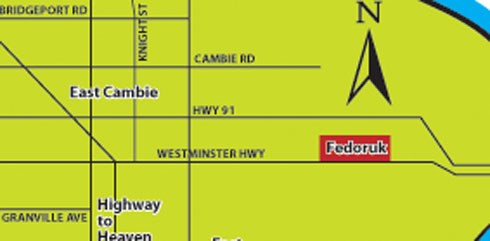 Most of the existing homes are older but renovated, and there are a few new ones that blend in beneath the colourful trees. Here, ditches still line both sides of the streets, neighbours know each other like they should and people like to talk.
Janet Love recalls the first day she visited the neighbourhood to look at her future home: "The very first person that saw us waved and smiled at us. They didn't know who we were. We could have been from outer space. Where else could that happen? It really says something about this area."
Love has lived on Fedoruk for six years now. Last week, her husband David Chan recently won an award for the biggest pumpkin in the Lower Mainland, which he grew in the retired couple's backyard. Growing oversized pumpkins is now an annual tradition for Chan - something he says he initially saw on the Johnny Carson Show. "It's fun in here because at least three homes have chickens, so if you ever run out of eggs you know where to go," said Love.
"There's lots of dog walkers out here so you meet lots of people just being outside," she added.
Love shares her home's keys with a neighbour and says she knows most of the people on the street. It helps to have holiday parties amongst her neighbours, she said.
She noted that living here compared to her previous place (a townhouse) in Downtown Vancouver is like "night and day."
It was because she and her husband were looking for a place suitable for their new RV that they chose Fedoruk.
But she says it took her months of looking around Richmond before she even realized the place existed on the MLS listings.
Fedoruk Road is named after William Fedoruk, a member of the Royal Canadian Air Force who died in 1941 in Scotland during the Second World War. His family had moved to Richmond in the 1930s, according to city archives.
Don Tegart's father was one of the veterans who moved to Fedoruk in its formative post-war years. Tegart has since split the family's initial property and built a second home on it.
"Most of the people you can talk to and sit down with," he said.
Tegart says the neighbourhood is quiet now that the airport's flight path was redirected. And because there is so little traffic, it's a child-friendly street. Along with his wife Judy Tegart, he frequently babysits his grandchildren.
"Our kids' friends used to call this 'Boonyland' because it was so far out of the way," quipped Judy.
The Tegarts say they shop at the WalMart shopping complex in East Richmond, but that Richmond Centre and Ironwood Plaza are about equidistant. Love says she will often go to No.5 Road and Cambie Road (a six km drive) to shop for food if she's in a pinch.
According to the Tegarts, the surrounding farms are one of the neighbourhood's many charms despite being asked about the smell of manure.
"Farms were here first so we don't make an issue with that. But the new compost facility is a problem though. ... Sometimes [the smell] can peel the paint right off the house," said Don, at which point it was probably time to put another pot of coffee on.