Arguably some of Richmond's best natural vistas and parks are situated in the Thompson neighbourhood.
Here, the West Dyke meets the North Dyke in the city's northwest corner at Terra Nova Park and it's where many locals like Toshi Osawa go to exercise or simply take pause to watch airplanes take off and land at the airport - or in the Fraser River, when it comes to seaplanes.
"It's nice and quiet. There's lots of nature here. It feels safe," said Osawa, a 15-year resident of Terra Nova who spent an afternoon taking photos of the area with his new camera.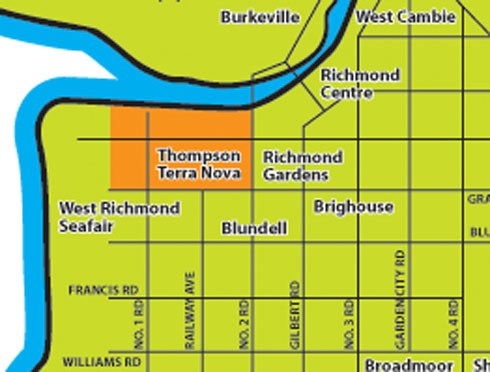 The first subdivision in Thompson was built in the early 1940s.
It provided one-acre lots for settling Canadian veterans.
Decades later, such plots would be further divided and rancher style homes spread between No. 1 Road and No. 2 Road along Granville Avenue and Westminster Highway.
Today, like in many Richmond neighbourhoods these homes with ditches in the front yard are being replaced by larger, more modern ones.
Thompson also now encompasses the relatively new Terra Nova residential development, built in the 1990s, west of No. 1 Road.
It's one of the wealthiest communities in Richmond - or Metro Vancouver for that matter - and gated townhouse complexes are the norm on the winding Barnard Drive that connects Granville and River Roads, while passing by Quilchena Golf and Country Club.
The city left about 100 acres of parkland to the extreme northwest of Lulu Island, which still provides some of the region's best bird watching.
Terra Nova Park is also the site of many community garden programs.
Rain or shine, this is where you might find Ann Metcalfe, a retiree from Tsawwassen who helps Gilmore elementary school primary students plant vegetables.
She said this month she would also be teaching the children how to make root vegetable soup.
"It's connecting them to where their food comes from," said Metcalfe, who describes the
neighbourhood as "eclectic."
If residents prefer the hot house variety kind of veggies, a mini
Save-on-Foods is the local supermarket hub.
Thompson also has a collection of small parks that don't make the radar of most Richmondites.
Gibbons Park, down the street from
Save-on-Foods on Westminster Highway, is a small softball field with a 1950s feel.
Further east near the No. 2 Road Bridge is Dover Park, which has a soccer field and tennis courts tucked behind condos next to the city's work yard on Lynas Lane.
Dawn Mauricio walks her dogs in this park where the city has recently established an off-leash area.
"It's a dog-oriented community. My front yard is a park, my backyard is a dyke.
"I love it here," explained Mauricio who lives in a nearby condo.
Aside from park activities, Thompson residents can either go to Thompson Community Centre or the Richmond Oval for indoor fun.
The community centre also has a skate park for the more adventurous.
In the early evenings at the lacrosse box and basketball courts, it's common to see competitive box hockey and basketball games, respectively.