One could argue West Richmondites are the best hosts in town. Ever since the neighbourhood took shape between 1955 and 1965, West Richmond has been synonymous with sports and, as such, scores of families across Richmond visit the area weekly to attend events.
The community, also known as Seafair, developed its sporting culture right from the get go with the construction of an arena next to the dyke at the end of Francis Road. The arena first hosted The Gulf of Georgia Winter Club, which would run curling and skating clubs.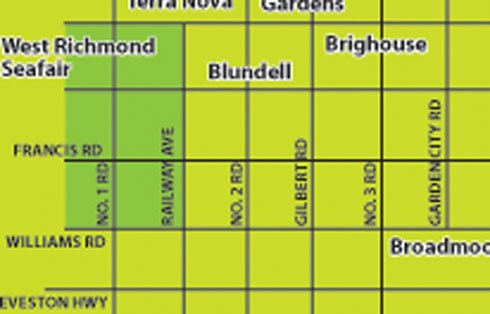 Not long after, the arena became known as Seafair Rink playing host to the Seafair Minor Hockey Association. The privately operated rink had one regulation-size arena as well as a smaller practice rink. The restaurant and bar upstairs was a popular meeting spot. But as it aged the rink faced financial problems, forcing its closure in 1994. The hockey association moved to the newly built Richmond Ice Centre the next year and geographical ties were severed.
Today, the neighbourhood still has a strong association with sports thanks to Hugh Boyd Park, which features the largest continuous synthetic turf playing surface in North America. Furthermore, adjacent to the fields is Richmond's only pitchand-putt golf course.
As West Richmond resident and soccer mom Nadyne Rousseau puts it: "We are the mecca of soccer.
"Saturday morning you can't park in the community centre. You have to park on the street because it's so busy. This is the place for soccer."
Indeed, Hugh Boyd field is home to the Nations Cup, an annual weekend soccer tournament that draws thousands of spectators and community sponsorship.
Lyn Scott works part-time at the West Richmond Community Centre and has lived in West Richmond for 43 years. Now retired Scott said there are some other aspects of the neighbourhood that have changed, namely ditches.
"Our kids survived the ditches. They used to fall in them all the time," she chuckled.
West Richmond was defined by two major developments west of No. 1 Road that spawned split-level homes on large plots amidst winding roads: Gilmore Park in 1956 (north of Francis Road and south of Blundell Road) and Richmond Park in 1959 (north of Williams Road and south of Francis Road). One will notice the street names in each subdivision end with "more" or "mond" respectively. Only the Richmond Park subdivision had ditches, which have since been filled in.
There are also a number of multi-dwelling complexes with unique names that stand as neighbourhood markers; the Edgewater Park townhomes along the dyke and the Master's Green apartments behind the golf course are two examples. More recently Seafair West is a colourful detached-home development that sits where the rink used to be.
"Using names is how you reference where you live. You don't say No.1 Road and Francis. You say 'Edgewater' or 'those colourful homes near the dyke,'" Rousseau explained Scott said the West Dyke is a big draw for families, as is the convenience of Seafair Centre shopping mall.
The mall's main tenant is Safeway supermarket but it's also home to an independently-owned butcher shop and produce stand. "People are nice here....There are lots of nice older people, too. I saw this was a good community. They wanted good quality produce," said Henian Yang, owner of Red Carrots Farm Market.