Rose Worden has a lot of stories to tell about her Bridgeport neighbourhood. To name a few, there's the old lady down the street who bakes strudels, the old men who meet in some kind of woodshed in an undisclosed location, and a tabby cat named Oscar that is now - somehow - living in its third house on the same street.
On Caithcart Road, Worden raised two children who have since become adults and moved out.
Along with her husband, she lives in an older splitlevel home in an area next to Highway 99, south of Bridgeport Road.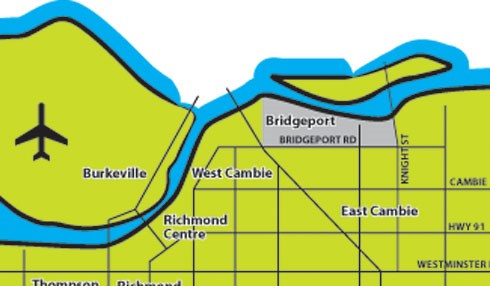 Caithcart is part of the larger Bridgeport neighbourhood that is seeing rapid changes, largely due to its proximity to big-box stores to the east and the recently built Canada Line to the west.
Its closeness to the highway makes it a good location for commuting workers as well.
Caithcart itself is unique in that it hasn't changed much. It's lined by large maple and oak trees, which have stood for decades.
There are no sidewalks and most of the homes from the 1960s and 1970s remain.
And of course, you will find many of the original residents such as Worden living here.
"Most people on this street have lived here over 20 years. We all watched our kids grow up.
"Not many places in Richmond have trees like this," said Worden.
In contrast, Bird Road just a block north has mostly new, modern homes with large gated driveways.
There are no big trees on Bird Road and most of the remaining older homes have proposed re-zoning signs on the front yard.
Worden says thats because the neighbourhood's children have grown up and seemingly few new families have moved in, the neighbourhood feel has declined a little.
"We used to have BBQs. It's kind of fizzled out now," said Worden who points to some out-of-place gated homes on her street as one of the reasons for less interaction with new neighbours. North of Bridgeport Road is the Tait subdivision, one
of Richmond's oldest created under the Veteran's Land Act in the late 1940s.
But long gone are the days of one-acre lots and the smell of farmland. Today, the homes in Tait are large and modern, and its residents' shopping needs are served by the big-box stores, particularly Costco.
One of the neighbourhood's endearing features is Bridgeport Trail, a greenway that cuts the subdivision in half and connects the River Rock Casino area to the commercial area to the east.
It's also here where one may find a sort-of rebirth of neighbourhood activities, which are largely arranged through Tait elementary school, according to the school's PAC chair Leah Silver who frequents the playground after school with her children.
Silver says it's a friendly neighbourhood and she has gotten to know many people through her children at events, such as BBQs at the school.
"Within our cul-de-sac, our immediate neighbours, we definitely know them. It takes a while - at least six months - but once you're here for a year, I would say I've met my neighbours.
"We're friendly, but I wouldn't say we do anything together unless there are kids involved," said Silver, who moved to this neighbourhood because it's quiet and her husband works across the Oak Street Bridge in Vancouver.
Soon, a large condo development (Parc Riviera) will be completed north of Silver's home, bringing in new residents to the neighbourhood, and perhaps more interactions as the north dyke trail becomes a more welcoming place.