What can you say about Steveston that hasn't already been said? That was a question posed to many who live and work in the sleepy village. As it turned out it was a question that stumped a lot of long-time Stevestonites.
"I think there isn't much more that can be said about Steveston.
"People try to make it so much more than it is, and it's just a little town at the end of the world," said Karen Heringer, an original co-owner of Heringers meat shop, which opened in 1990 and can now be classified as a staple of the neighbourhood.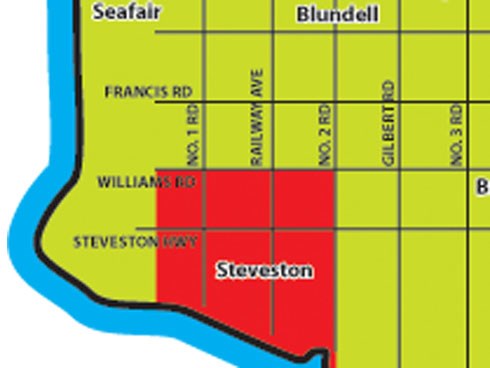 Today, life in Steveston, as well as its history, is well documented and celebrated.
Born of a government land grant to the Steves family in 1880, it became the world's busiest fishing port with the hard work of Native Canadians and immigrant labourers and fishermen from all around the world.
Fast forward 123 years, the smell of fish and nearby farm manure is gone, replaced with the aroma of hip coffee hangouts and restaurants that vie for tourist dollars.
In Steveston, a lot of things are new - even the old things.
The popular Imperial Landing Park is a long boardwalk promenade that connects Britannia Heritage Shipyard to the Gulf of Georgia Cannery and Garry Point Park via Bayview Street.
The Steveston Hotel still stands and serves to quench the thirst of Stevestonites.
And on No. 1 Road is the new Army Navy and Air Force Unit 284 clubhouse where you will find its president and longtime Stevestonite, Chuck McDonald.
At first, McDonald couldn't think of anything that hasn't already been discussed about Steveston.
"Golly, I really don't know....I don't think there's anything that hasn't been talked about," laughed McDonald.
But he gave it some more thought and as it turns out there was something right under his nose. "I kind of consider us a secret," he said.
McDonald also noted the pedestrian pathway behind the legion is also a secret among locals.
It runs along where the old Steveston interurban tram tracks used to be and passes by Steveston Park, the community centre and amenities like tennis courts and a lacrosse box before ending on Railway Avenue.
The legion is representative of Steveston's changes. It's been operating for 66 years and last year it moved into the big new clubhouse that is part of a larger development that includes seniors housing.
Here, you can listen to Steveston's elders chat about the neighbourhood over a cheap pint or glass of wine.
More banter can be heard across the street at Steveston Barbers - another staple of the neighbourhood - where you'll find Ray Tsuji, Ryan Lewis and Jarod Provost snipping away.
All long-time Stevestonites, they work at a Steveston institution, which has been chopping lettuce since 1937.
It too has modernized and kept up with the times as it moved from Moncton Street to a new building on Chatham Street. But while the building is new the wholesome conversations remain the same.
All the barbers agree there isn't much more that can be said about Steveston - at least for the time being. There are secrets, they say, but most of them are unpublishable.
Mostly, the barbers think the changes that have occurred in Steveston over the last decade have re-shaped the village in a new way, and the process of finding a new identity is ongoing.
"It went from Las Vegas to a Yaletown retirement home," joked Provost of the village's seedy reputation decades ago.
"It's suburban Yuppieville now," quipped Tsuji.
"Look what happens when people have kids," chuckled Lewis.
"You have a sense of community here. It's a small town feel.
"You can walk down the street and still see people you know." said Provost, summing it up best for all three.