A lot can be said about Burkeville despite it being one of the smallest distinct neighbourhoods in Richmond.
Its residents have the distinction of being the only Richmond tax payers who don't live on Lulu Island. Its school has just 38 children enrolled, and it's a good place to eat a sandwich and watch airplanes.
The Sea Island neighbourhood is one of a kind and its founding history is well documented in city records.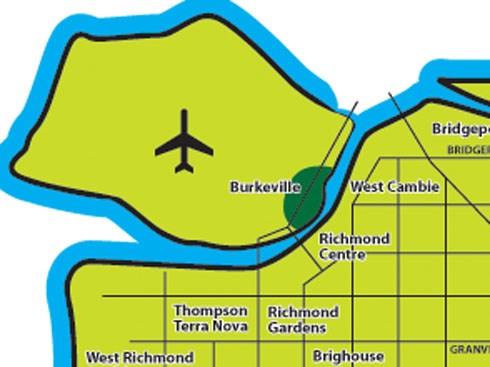 The unique Burkeville cottages were built in 1941 for aviation industry workers and following the Second World War, they provided housing for returning veterans.
Today, very little has changed within the confines of Burkeville itself, save for some new homes that have replaced the cottages.
It remains a gardening community and there are still even ditches in front of most homes.
By contrast, Sea Island as a whole has grown immensely over the decades with the endless expansion of Vancouver International Airport and the addition of the Canada Line and BCIT Aerospace Technology Campus.
Furthermore, a 97-store designer outlet mall is set to open next year just north of the neighbourhood - not exactly something that's synonymous with Burkeville.
"It's a super small community. Basically [the school] is like The Little House on the Prairie. Everyone knows everyone," said Linda Kwan, head teacher at Sea Island elementary school (the school is too small to have a principal).
Since the community is so tightly woven, parents help one another as if they were family, Kwan added.
Students are picked up and dropped off by their friend's parents frequently and the school hosts annual holiday luncheons.
Characterful gardens abound on Burkeville streets, many of which have names related to the aviation industry.
Lou Vanderploeg, 61, a retired landscaper, lives in one of the small homes with a colourful garden full of decorative trinkets and antiques.
"We didn't even know this place existed. We used to live on No. 4 Road and accidentally we drove by and said, 'Hey, people live here!' So, we decided to buy a place here," said Vanderploeg, describing how he found his home for the last 20 years.
Indeed, to find Burkeville, one needs to look beyond the tall thick trees that shelter it from Russ Baker Way.
However, the new Flight Path Park helps to welcome those taking part in Burkeville's main attraction: Eating lunch and watching planes.
"We were just killing time between jobs," said delivery driver Jorge Barandiaran who parked his truck at the park to have lunch.
The park is also popular with parents such as Rena Nagase who brought her two children, Rinato and Lisa, to play.
"We had a picnic here and they wanted to see airplanes. And it's a beautiful day today," said Nagase.
Burkeville has no shopping centre and the only restaurants close to the neighbourhood are at a nearby hotel or on the south end of the island where there's a McDonald's and the Flying Beaver Bar & Grill.
Both establishments are busy on most days during lunch as workers from nearby aviation companies punch-out to eat.
This season celebrates one of Burkeville's most famous annual holiday attractions: the 2013 Halloween Mini Theme Park, which is set up at a local resident's home. This year features the Alien ER Trauma Bay. For more information, visit www.jordanshauntedadventure.ca.