If Richmond can be described by the broad definition of a bedroom community, then perhaps the East Cambie area takes the checkered flag for being the definition of a bedroom neighbourhood.
Flanked by three freeways and the busy Bridgeport Road to the north, the car is king in East Cambie where a diverse mix of cultures comes together.
The centre of this neighbourhood is No. 5 Road and Cambie Road. This is where one can find Mitchell elementary school, kitty-corner to a strip mall with a hodgepodge of ethnic restaurants.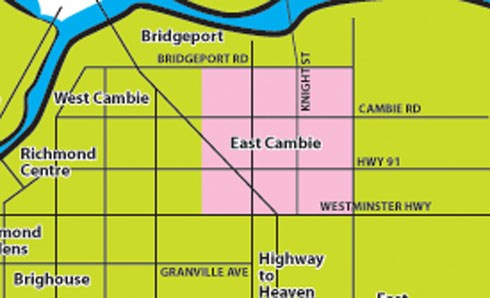 "What I see here, especially around the No. 5 Road and Cambie area is people coming from work, so we get a lot of customers that way," said Sarb Pabla, manager of Himayala Restaurant.
"It's a mix of everything, the Hindu community of course, the Chinese, a mix of all the communities you can think of, which is a good thing because we're not just depending on one group," said Pabla, whose restaurant serves a popular lunch and dinner buffet in an unassuming style.
The neighbourhood is naturally busy no matter what direction you head.
To the east is Knight Street and endless blocks of commercial parks; heading west on Cambie, one reaches Highway 99 and a cluster of chain restaurants and hotels serving airport travellers; to the north is Bridgeport and its big box retailers that bring trucks and delivery vans through the neighbourhood.
Southward is the popular Urban Farm Market and the Richmond Auto Mall that ushers nervous, prospective buyers up and down Jacombs Road.
To catch their breath, East Cambie residents can take a break at the nearby Richmond Nature Park.
Once off the main roads and into the subdivisions, one encounters a variety of homes, representing new and old Richmond.
East of No. 5 Road are predominantly new homes, with large footprints and small yards, sometimes gated. To the west of No. 5 Road are streets with big, older homes with large balconies to the side or across the front.
North of Cambie, ranchers, bungalows and split-level homes with ditches still in the front yard are popular but increasingly being replaced by modern mansions.
But no matter what home residents live in they depend largely on Cambie Community Centre for indoor activities and the adjacent King George Park for outdoor ones.
The centre is attached to Cambie secondary school and is an obvious, popular hangout for teenagers. The centre offers the usual score of community programs, one of which is drop-in badminton.
On a Monday, Wednesday or Friday afternoon in the gymnasium there is a typical gathering of 15-20 mostly Chinese-Canadian badminton players who come mostly from other Richmond neighbourhoods.
"We come here because it's a regular program and also it provides senior rates, so it's cheaper than a private place." said Bill Lo, a retiree from Steveston.
Outside at the park, there's a water playground for the children during the summer, and the inconspicuous Bath Slough Trail begins across the street as it heads toward Bridgeport.
Click here to watch a video of Cambie Community Centre.