At first glance, the Blundell neighbourhood may not seem like much. It has no nearby community centre and its central point, Blundell Centre, is just another busy strip mall.
Looking at a city map, this central neighbourhood's extremities cling to more highprofile areas like Brighouse or Seafair. A closer look, however, reveals Blundell has a distinct nature to it. It has a culture of acceptance and its home to some very helpful people.
It's also a growing neighbourhood whose changes - and the challenges that come with them - are parallel with many of the other older more established areas of the city.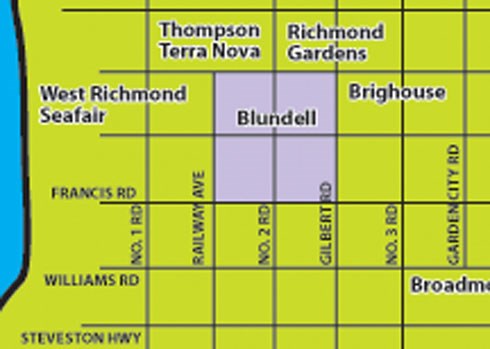 Perhaps nowhere else in Richmond will you find a touching display of neighbourly friendship than at Rosewood Manor, one of the city's largest seniors care home and residences.
"It's a very ideal area. It's not far from the mall, and we get tons of volunteers who just walk by and want to participate," said Katherine Schooley, Rosewood's recreation and volunteer manager.
Rosewood is situated in-between Blundell Centre and Blundell elementary school.
Staff say shoppers and shop tenants have always taken care of seniors who have lost their way, and on the other side an intergenerational bonding program with the students gives residents happiness and fulfilment.
The program works to have students and seniors interact with one another by doing things such as art projects, music concerts or games.
Rosewood also acts as the students' emergency safe haven and the seniors are always invited to holiday events at the school.
"It brings back a lot of memories for them. It's good socially and emotionally. It feels like home and it makes the residents feel useful again," said Schooley.
"The students call them their Grandbuddies," said principal Maria Medic, who credits her teaching staff with the program.
Both the school and residence are able to take advantage of Blundell Park for outdoor activities. This is the largest park for about one kilometre in either direction.
Shopping is accomplished by locals at the popular Blundell Centre where the flagship stores are Safeway and Shopper's Drug Mart.
The mall, which is currently undergoing a face lift, is at No. 2 Road and Blundell Road, one of the city's most notorious intersections for accidents outside of the city centre.
Across the street on Blundell is where you'll find Jenny Eliazan bartending at the Pumphouse Pub, a local staple for gatherings and craft beer tastings.
"It's like family here, it's like Cheers; one of those places that feels like home," she said.
The Pumphouse is where you might find some guests from Linda Cooper's Stone
Hedge Bed and Breakfast, which is popular among Southeast Asians and Chinese visitors.
The long-time resident and mother of two adult children lives southwest of Blundell Centre and says her neighbourhood is safe and quiet, but changing rapidly.
"The houses are coming down left, right and centre. There are houses coming down
that are newer than mine. (New home owners) don't want an old kitchen, they don't want a yard, they want a monster house," she said.
Call it the decline of BBQ culture or call it what you will, Cooper says neighbourhood interactions are becoming few and far between on account of language barriers with new immigrants and because some newly built homes go empty for years before anyone moves in.
She says it saddens her that her children have no hope of buying in the neighbourhood. "Sure I'm happy my property value has gone up, but I realize my children will never be able to live here, unless they want to rent. As far as owning a house in our quadrant, you can forget that," she said.
Down the street from her home and business is the old Alexander Kilgour elementary school, which converted to a francophone school due to declining enrolment.