"Working-class," "gentrified," "multicultural" and "diverse" are some words that can best describe the Broadmoor neighbourhood.
This is evidenced by visiting the Broadmoor and Richlea shopping centres at No. 3 Road and Williams Road - where people come to bank, shop, eat and greet - and seeing the diversity in age, ethnicity and wealth that comes together in this south Richmond neighbourhood.
Take Leo Silvo, 45, who has been cutting people's hair for the last 15 years here. His old barbershop, Broadmoor Barbers, started in the old, cavernous and since-renovated Broadmoor Mall, but he has since moved on to newer digs at Richlea Centre under the new name LA Clippers.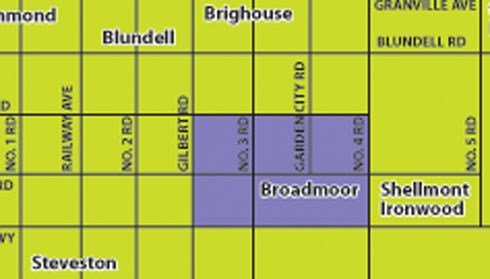 Silvo was born in Iraq and came to Canada 17 years ago. He can be heard recounting his love for Canada as well as this neighbourhood each day his shop is open.
"Now you see a lot of mixed cultures, especially in my business here. I'm glad to be in this neighbourhood. People are nice and gentle here," said Silvo.
A few doors down is Tino's Pizza, owned by Bob and Rick Brammer. The brothers grew up in Richmond and while they don't know much about hair, they've been baking pizzas for the locals since 1991.
The fact that these two businesses, as well as many other long-standing neighbourhood locales such as Banner's Restaurant and The Pioneer's Pub, are still around after such a long time is as much a testament to their customers as it is to their operators.
"People like consistency and want to frequent the places they know. Not much for us has changed, maybe a few pictures on the wall, that's it," said Brammer.
But not all things stay the same, Brammer admits, pointing to the megahomes being constructed all around the neighbourhood.
While the neighbourhood largely took shape in the late 1950s with the development of residential subdivisions on the farmland, Broadmoor is increasingly becoming an "out-with-the-old-in-withthe-new" neighbourhood.
For instance, large multi-million dollar homes, mostly being sold by Canadian-Chinese realtors, are replacing the 1960s ranchers on Mowbray, Saunders and Pigott roads.
Richmond's Official Community Plan has facilitated the construction of townhouses on its main roads as developers buy up the ranchers they've controversially designated as tear-downs, and the new Broadmoor Mall has had condos built on top of a new Shopper's Drug Mart.
Not everything old is gone just yet, however. Across the street on No. 3 Road remains the low-cost housing of Mayfair Courts apartments and one of the neighbourhood's main landmarks for community gatherings - South Arm United Church - is as strong as it was during its founding in 1904.
Pastor Gary Gaudin notes the neighbourhood is an "odd mix" of everything and immigrants from a variety of countries continue to give it a dynamic, evolving feeling.
"You have a significant seniors community.
"They've seen it go from almost a small village to having to adapt to an influx of lots of new people. There's a new sense of what Richmond is and what it's becoming that has lots of people excited," said Gaudin.
On a typical day Broadmoor residents looking for activities are able to frequent South Arm Community Centre for gym sports and table games, as well as South Arm Park for outdoor sports like soccer, baseball, lacrosse, box hockey and tennis.
The centre also provides activities for the adjacent Hugh McRoberts Secondary School, where most of the neighbourhood's teenagers attend.