Not many people can sit back and say they've checked off their bucket list items 22 years into their lives.
So it's just as well Richmond's Zach Besler – a player/coach at UBC's junior varsity baseball team who's just about to graduate in kinesiology – is one extremely motivated individual, who thrives on setting short- and long-term goals.
But if you think for a second the McRoberts secondary alumnus has had an easy passage through life, you'd be wrong.
In 2015, in his final high school year, Besler looked well on his way to achieving his bucket list of being a kinesiologist and playing baseball at UBC – dreams first penned on a poster in Grade 7.
However, his hip suddenly gave out while sprinting to first base when playing for Richmond City Chuckers. He had torn his gluteus medius and couldn't walk for a few days.
But he wrapped it up in a tensor bandage and tried to play out the remaining five weeks of the season, ultimately causing more damage to the surrounding muscles. That was it for baseball.
Besler did get into kinesiology at UBC, but underwent two and a half years of physical rehab and setbacks and, instead, channeled his energy into volunteer leadership activities at the school, while learning about injury prevention.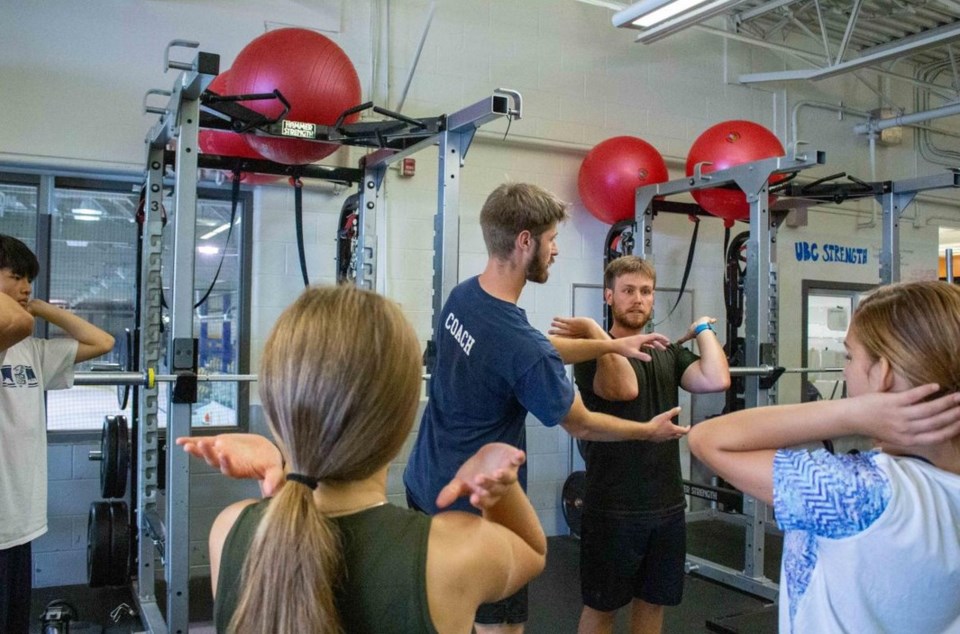 He then became a strength and conditioning coach with the junior varsity baseball program and, by late 2017, his body was working again.
Besler, though, was driving himself so hard with school and volunteering that he got super sick (mono, tonsillitis, sinus infection) and was out for another six weeks.
Undeterred, when he was healthy again, he kept pushing himself to the limit through 2018 but ended up in hospital after an anxiety attack.
However, last spring, while training a group of elite Grade 11 and 12 players out at UBC, his batting practice caught the eye of people from UBC's junior varsity (JV) program.
Only then, as a player/coach for the JV team last fall and in his senior year, had Besler finally checked the second box on his bucket list.
"It was tough. But for me, having not played for the first few years (at UBC) and then getting to play at all was a great experience," Besler told the Richmond News.
"I took it as being one of my childhood dreams being accomplished. I was able to pitch, I was able to start a game. I even played some outfield and coached."
Besler puts a lot of his determination down to his parents, who've instilled a work ethic in him that he sometimes takes to the limit and beyond.
"I've had health issues with over-working. Mom always says I have to take care of myself," said Besler.
"But I try to life my life through the golden rule of treating others the way you wish to be treated. I think everyone needs to be treated really, really well. If I have skills to help achieve that, then that's good."
And when asked if he had any advice for younger athletes and students facing obstacles when trying to achieve goals, Besler steered them to the "David Goggins approach," referring to a navy seal-turned ultra-athlete.
"There are different ways to look at obstacles. You can look at it as something you have to overcome or as an opportunity for success," he said.
"Sometimes you have challenges and those can be opportunities to showcase your skills. Health challenges are obviously different. So it can be about finding the energy to get over it because of how challenging it is.
"You take all the potential negative energy and flip it around and fire it up into positive energy."
Ironically, the pandemic cut short Besler's twilight university baseball career but, true to form, he's got no less than four strength and/or conditioning coaching roles lined up for the fall at UBC as he gets set to study for his masters.
"This is a very natural next step (coaching)," said Besler, who will be researching visual anticipation in his masters, trying to help athletes' readiness skills, based on what their opponents do.
"The (visual anticipation) is an important skill to develop, especially now when we don't have access to game competition. Getting the reads on the play, for example.
"There is a little bit of research on this for court sports, such as volleyball and tennis. Baseball has some apps, but they haven't been validated."