A landmark Supreme Court of Canada ruling last November that ushered in a new collective agreement between teachers and the government, to restore smaller class sizes, could spare the Richmond School District from a potentially disastrous $10.5 million operating budget deficit next year.
The Richmond School District says it must cut $10 million worth of teaching positions (100-150) to balance its record deficit.
However, as a result of the new agreement between the Ministry of Education and the B.C. Teachers' Federation, those teachers — and then some — will be reinstated from what the government dubs the "Classroom Enhancement Fund," which is new money earmarked to hire new teachers, as effectively ordered by the court.
Secretary treasurer Mark de Mello wrote to the Board of Education this week that about $10 million worth of teachers' salaries is expendable. The cuts will form a new baseline for teacher positions in the district. 
But this baseline is to then be ultimately determined by what is required under the new agreement and, so, the cuts will be restored. Furthermore, it is expected the new agreement will significantly increase the number of teachers presently found across the district.
By cutting teachers and then having them be restored via the classroom enhancement fund, it has so far allowed the district to avoid recommending cuts to the likes of student supplies, school maintenance, support staff and administration — all peripheral items that have seen significant cuts in past years.
De Mello noted the district is to tentatively receive $11.7 million from the fund.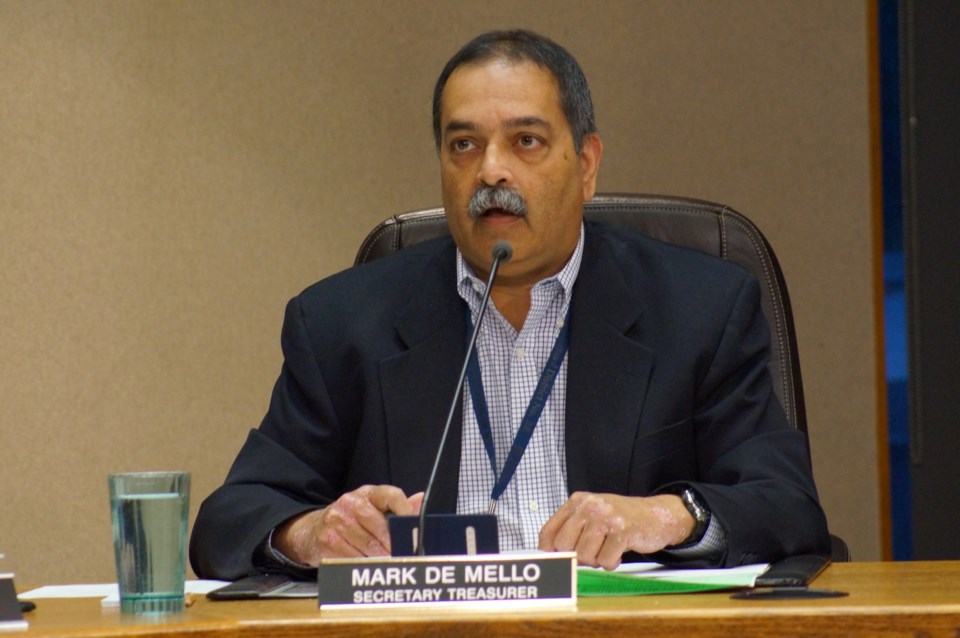 But Richmond Teachers' Association president Al Klassen said it is likely more money will be needed. 
"We don't believe that number is accurate," said Klassen.
He added the government has no option but to pony up.
"We will absolutely see more teachers in Richmond next year," said Klassen. "The collective agreement, as ordered by the Supreme Court, means the employer must meet the new standards," for class size and composition (fewer special needs students per teacher), said Klassen.
If for some reason the Ministry enforces cuts elsewhere, Klassen said "serious conversations" would need to be made and "all sorts of things could go by the wayside."
De Mello suggested cuts beyond what has been suggested would imperil the ability of the district to properly function.
Klassen said the district is facing such a huge deficit because it has made as many cuts as it can elsewhere and drained its reserves, in years prior. It is also facing declining enrolment (down 411 students this year, from 20,756 to 20,345), resulting in $3 million less in per student payments from the Ministry of Education.
The district also needs to make up for a $4 million gap in its capital reserves, which has been drained over the years to balance budgets.
The local capital reserve is a broad fund, intended to pay for items such as books, computer hardware and software, furniture, sports equipment, school repairs and vehicle replacements.
An additional $2 million is required, as that was covered last year by a supplement from the district's operating surplus, which can no longer serve such benefit, according to de Mello.
The district is also required to increase management salaries by $1.5 million, after several years of wage freezes. 
Even if the district is able to avoid slashing more peripheral items by shuffling the deck, the district will still be faced with more deficits in the coming years.
Board chair Debbie Tablotney said the district is estimating a combined $5 million and $3 million deficit in the following two years, respectively.
"The district anticipates that enrolment decline will continue through the 2018/19 and 2019/20 fiscal years, and so further reductions in the operating budgets will be required in those years, too," noted de Mello.
The cuts come at a time when the Ministry has been forced to reinstate funding that it refused during the past 15 years, after then Education Minister Christy Clark drafted unconstitutional legislation, in 2002, that took away the right for teachers to bargain class size and composition.