Discreetly parked about 40 yards away from one of Richmond's worst railway/road crossings, CN Police's Insp. Dan Ritchie had just started explaining why this particular spot was notorious for bad driving when he spotted his "first customer" of the day.
A white, Mitsubishi Lancer — ironically with a "baby in car" bumper sticker — sailed north through the rail crossing on No. 5 Road, a few hundred yards north of Bridgeport Road, without even a suggestion of the driver stopping, as per the warning signs.
Within a few seconds, Ritchie, with CN Police Sgt. Andrew Spanos riding shotgun and the Richmond News observing from the rear passenger seat, had shifted his unmarked SUV sharply from the stake-out position, out onto No. 5 Road before pulling the Lancer into a nearby commercial parking lot.
After issuing the driver a $109 ticket for failing to stop at a railway crossing, Spanos came back to the car.
"He was silent," Spanos said of the driver's reaction to what had just happened.
"Trains have the right of way," Ritchie chipped in.
"If they're not paying attention, people will drive right into the train; it's happened before.
"The train is usually travelling at around five kilometres per hour and sounding its horn, it's almost impossible not to see it; but they still run right into the side of it. It's incredible."
Last Wednesday, officers from the federally-run CN Police Service, including Ritchie and Spanos, teamed up for the first time with fellow law enforcement agencies to execute the inaugural Canada-USA Rail Crossing Enforcement Day.
Richmond was chosen, in part, as a focus for the day due to a recent rise in reports of near misses with trains from drivers and pedestrians failing to adhere to the safety warnings from signs, barriers and flashing lights.
And the reason the crossing on No. 5 Road near Vulcan Way was picked was obvious within 10 minutes of The News' ride-along with the CN officers.
Not 30 seconds after we had "hidden" ourselves back into our spot behind a dumpster, another offender, a green minivan sped south past us, again, apparently caring not a jot about the stop signs at the crossing.
Off we went again, hastily in "pursuit," before he was eventually pulled over a quarter a mile or so east on Vulcan Way.
The driver initially told Spanos that he "stopped and looked both ways."
Moments later, however, the man — a delivery driver — confessed to the The News that he "saw the stop sign, but I was in a rush."
Asked if he'd do the same thing again tomorrow, he laughed and said, "I won't do it again."
And no less than a minute after returning to the "hide-out," a man driving north on No. 5 Road in an older, BMW 3 Series whipped past us so fast that he achieved "flight" over the crossing.
After zipping, safely I should add, back out onto No. 5 Road, the "pilot" of the BMW was pulled over about a half kilometre away on River Road before Spanos was once more treated to the trite claim that he stopped and looked both ways.
Once told that he "got air" over the crossing, said driver then admitted he didn't stop because he was late for work.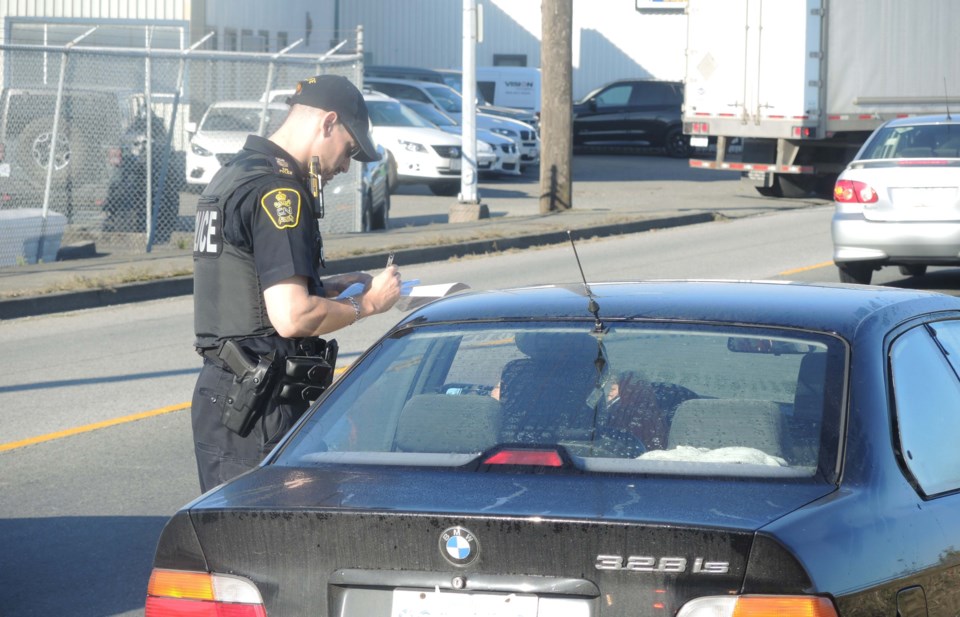 As his ticket was being written, a member of the public approached our vehicle to tell us he twice almost got rear-ended moments earlier by the BMW driver.
"Thanks for letting us know," Ritchie told the man. "We got him now, he won't be doing that again today."
It's difficult for officers such as Ritchie and Spanos — whose jurisdiction stretches to 500 metres from any crossing ­— to quantify how many lives they may have potentially saved by catching people, whether drivers or pedestrians, disregarding safety at rail crossings.
"It's hard to judge," said Ritchie, who's been doing the job for 40 years and is preparing to retire.
"We've stopped many people who were in a very emotional state and they don't even know they've went through a crossing.
"Who knows what could have happened to those people if we hadn't been there.
"What many people don't seem to realize is, as soon as the lights are active, you have to stop. I've seen some people actually driving around the gates, it's unbelievable."
In one day alone, the CN Police — which only boasts a complement of 95 officers operating across Canada and in 15 U.S. states — along with the Richmond RCMP caught and ticketed 78 violators in Richmond.
Across Canada and the U.S., a total of 288 violators were charged with various sections of provincial and state traffic laws.
In B.C. this year, more than 2,000 violation tickets have been issued, 600 of which were pedestrians.
Richmond, said Ritchie, is "one of our busiest for crossing-related incidents."
"Inattentive driving, I've lost count of the amount of people who've driven right into the signal masts and into trains," added Ritchie, noting that, thankfully, there hasn't been a fatality in Richmond for a "long, long time."
"Around here during the Friday evening night market is the worst; it's a nightmare.
"We keep track of every accident and incident and where they're sourced. That way, we're able to send our people to where the problems are.
"Richmond was a huge problem for many years, but then we saturated the city and, for a time, we didn't have a single incident."
A few months ago, however, Ritchie said another mini-surge was noticed in incidents in Richmond; stemming mainly from reports from the likes of train drivers and railway workers.
"We really need the help of our partner agencies (such as the RCMP), because we just can't cover all the ground; we really need them to be the first responders," added Spanos.
And if you thought for a second that CN officers such as Ritchie and Spanos are only looking out for drivers failing to stop at railway crossing, you'd be wrong.
Ritchie is a qualified drug recognition expert, while Spanos is a qualified impaired driving technician. Both, as with all their CN Police colleagues, are trained out of the Ontario Police College.
"We may be pulling people over for the stopping offence, but our job doesn't stop there, we have to be prepared to deal with whatever is presented to us," said Spanos.
"If it turns out to be a prohibited driver, we have to deal with that on the spot; we have a responsibility for public safety."