The City of Richmond has seen a 4.5 per cent decline in gaming revenue over last year, resulting in a $1.3 million loss to its capital projects budget.
In 2017, the city raked in $16.8 million from the casino after budgeting for $18.1 million. The 2017 paycheque from the British Columbia Lottery Corporation (BCLC) is the lowest in five years. In 2016 the city took in $17.6 million.
The funds are lower than the budgeted $18.1 million — deemed by the city as a conservative budget figure in 2015 after revenues peaked at $20.1 million in 2014 and have declined every year since. This year's consolidated financial statement for 2017 offered no explanation for the decline, although past declines had been attributed to less activity in high-limit Chinese baccarat.
The city's revenue from the casino goes to a number of reserve accounts. City council has used the money in various ways, although the majority of it is intended for one-time capital projects and expenditures, as to not impact the city's operating budget and thus property taxes.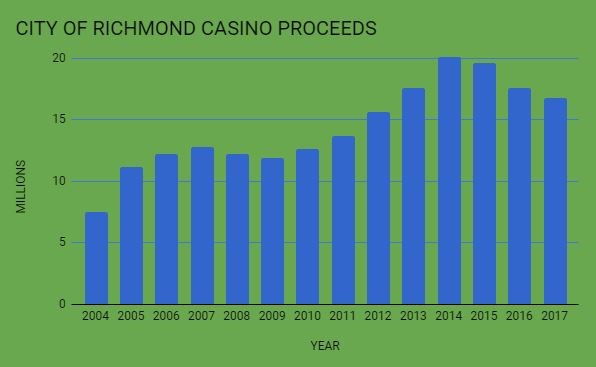 Hence, less money will be allocated to its "major capital community facility replacement" reserve account, where surplus money is typically pocketed.
2015 marked the first of 10 years whereby $5 million of gaming revenue would go toward paying off a loan for the new Minoru pool and seniors' centre, presently under construction.
As of 2016, the city has also diverted more money to community/social grants but has yet to actually increase those grants. As such a reserve ("grant provision") account was created.
Since 2004, the city has earned $202.2 million from the casino. The city spent $50 million of that to help build the Richmond Olympic Oval.
The city has recently objected to a new casino in Delta, citing crime and traffic concerns. In 2015, BCLC launched an anti-money laundering initiative that looked at B.C. casinos, including the River Rock. More recently, Attorney General David Eby, launched an independent investigation into what's been dubbed the  "Vancouver Model," whereby Chinese and Latin American drug money filters through B.C. casinos and into real estate and other local investments.