A couple of Richmond residents protested in front of the Chinese consulate in Vancouver last Saturday, asking the Chinese government to release two Canadians arrested in China.
Michael Kovrig, a former diplomat, and Michael Spavor, a businessman living near the North Korean border, were detained on suspicion of "engaging in activities that endanger the national security" of China.
Some saw this move as simply China's revenge for the arrest of the Huawei executive Wanzhou Meng in Vancouver on Dec. 1. China has rejected this connection.
"We feel very concerned about their situation," said Louis Huang, protest organizer and co-founder of the advocacy group Freedom and Democracy for China (formerly the Vancouver Chinese Human Rights Watch Group), to the Richmond News.
"It's all operated in the darkness by the Chinese government. What are the accusations against them? Where are they right now? How is their condition? It's not transparent at all."
Around 10 people attended the Saturday protest, about half of whom are Richmond residents, according to Huang.
The crowd held pictures of the two Canadians and shouted "Respect the Canadian legal system. Release Michael Kovrig. Release Michael Spavor" during the one-hour rally.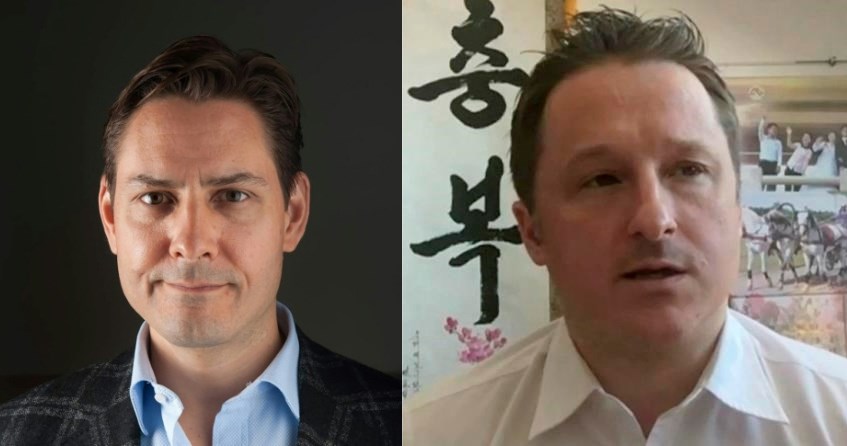 "The legal system in China is under the control of the Chinese government, who can decide who is a criminal and who is not. That's the problem," said Huang.
"We are here to protest the arrests of the two Canadians and we demand the Chinese government release them immediately," he said.
Last week during the bail hearing of Meng, a number of people from the Chinese Canadian community, including some from a Richmond organization, rallied outside of the B.C. Supreme Court and asked the court to release Meng.
However, Huang calls this type of behaviour "ridiculous."
"The Canadian legal system is independent of the government and it has been long proved to be just, fair and transparent. It is unreasonable for someone to question and even try to intervene in the legal process," said Huang.
He added that the arrest took place because of the extradition treaty with the U.S., and not because, "Canada can arrest her or release her whenever it wants.
"Meng's hearing was open to the public, she was granted the right of bail, and she has a team of lawyers to defend her. If she is innocent, she will receive justice," said Huang.
"How about the two Canadians arrested in China? Can they be granted bail? Can they defend themselves? Can their trial be transparent to the public? If that's the case, we won't say anything."
Huang said he also wants people to hear different voices from the local Chinese community, so they know that "Chinese Canadians are not only those who were asking for Meng to be freed outside of the court.
"Actually more people respect the legal system here and are confident in justice being served. And they are concerned about the situation of the two Canadians in China," he said.