A man who ingratiated himself within Richmond's inner most political and social circles has been found to have committed fraud by the B.C. Securities Commission (BCSC).
Entrepreneur and businessman Paul Oei is found to have illegally procured money from Chinese investors — while simultaneously offering them help to obtain Canadian citizenship under federal immigrant investor programs — to spend on himself.
The investment money, totalling just over $5 million, flowed through trust accounts of Steveston-Richmond East MP Joe Peschisolido's law firm, which is now being sued by some of the prospective investor-class immigrants in various civil suits before the Supreme Court of B.C.
There are numerous photos of Oei, and his wife and business partner Loretta Lai, on the Internet that show him appearing to live a well-connected, lavish lifestyle.
Oei not only appears to have had friendly relations with Peschisolido and Prime Minister Justin Trudeau, he has donated money to the BC Liberals and a number of Richmond city councillors and Mayor Malcolm Brodie.
Oei controlled three companies dating back to 2006: Canadian Manu Immigration and Financial Services Inc., 0863220 B.C. Ltd. and 0905701 B.C. Ltd.
The BCSC notes that beginning in 2009, Oei solicited investments for two start-up recycling companies (which were to operate a recycling plant in the Fraser Valley): Cascade Renewable Carbon Corp. and Cascade Renewable Organic Fertilizer Corp. (known collectively as Cascade), through an indirect investment structure.
Canadian Manu acquired securities from Cascade and then sold them to investors. In most cases, the BCSC said the investors' money went into the companies' trust accounts. The money was then dispersed into six bank accounts of Canadian Manu and Oei.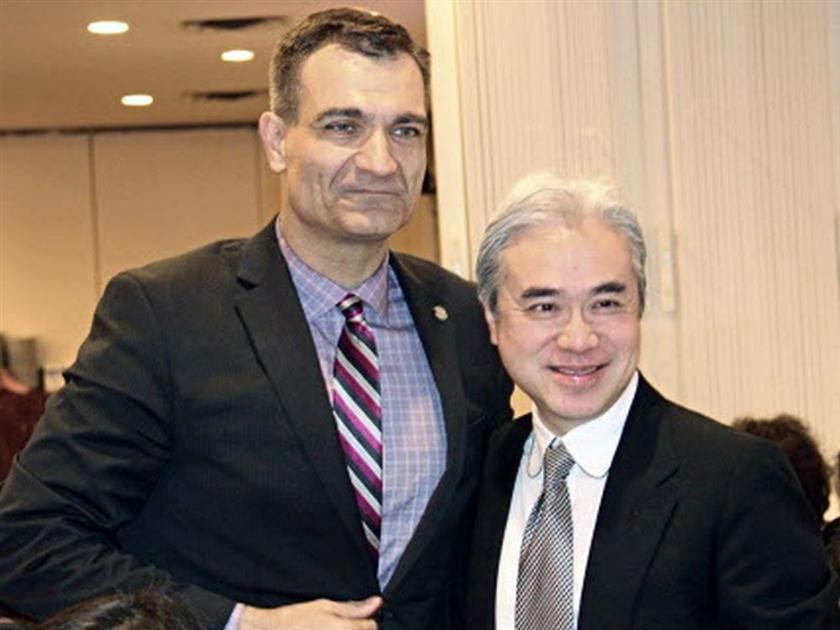 In its decision, the BCSC panel stated: "The respondents (Oei and his companies) misappropriated these funds and used them for their own purposes and not as the investors were told they would be used."
The BCSC describes, in its Dec. 12 judgement, how Oei operated outside of the law:
"Oei is a resident of the Lower Mainland, who was not registered under the Securities Act during the relevant period. Canadian Manu was incorporated in B.C. in 2006 and was registered by the Insurance Council of British Columbia during the relevant period, but was not registered under the Act.
"Oei was a director and officer of the two B.C. based numbered companies, 0863220 and 0905701, since their respective incorporations in 2009 and 2011. 0905701 was dissolved in August 2015. Neither company was registered under the Act during the relevant period."
The civil lawsuits claim Peschisolido, as a lawyer, is responsible for the lost investments because funds meant to be transferred from his firm's legal trust to recycling plant investments went to Oei's personal use instead.
A claim from a plaintiff named Bao Xi Yang alleges: "The scheme of Oei and Lai and acting through Canadian Manu Immigration and Cascade was fraudulent, and would not have succeeded but for the assistance they received from" Peschisolido and Co., which happens to specialize in corporate, commercial, real estate, and immigration law.
BCSC noted Oei had discussions with Cascade's president "about the ability of Chinese investors to use the investment in the Cascade projects under government-approved immigrant investor programs."
Peschisolido did not respond to questions from the Richmond News. In the past he's noted to media that the BCSC fraud hearings are separate from the civil suits.
The BCSC findings describe how Oei lured in his biggest investor, who was a witness in the hearing.
"Oei told Investor A that the money he invested would be used solely for building the [Cascade] plant. Oei did not tell Investor A that the money would be kept by Oei himself, or any of Oei's other companies, or for any purpose other than [Cascade] business.
"Investor A was told by Oei that an investment in Cascade might be used as the basis for an immigration application to Canada. Investor A was told that immigration assistance would be provided to him for free (i.e. not out of the proceeds of his investment). Investor A ultimately invested US $3.72 million in [Cascade], which was equivalent to CDN $4 million, as part of a group with six other investors."
Oei eventually bankrupted one of the companies.
According to BCSC Oei used his many political connections to paint a picture of a sound investment.
"Oei told (Investor C) that [Cascade] was developing an environmental project that was to turn waste into fertilizer and that the project had strong government support."
According to Elections BC, Lai, Oei's wife, donated $1,250 to the 2014 campaign for Brodie, who is chair of Metro Vancouver's Zero Waste Committee and a strong supporter of organic recycling.
Oei is also one of the biggest supporters of Richmond First councillors Bill McNulty, Linda McPhail and Derek Dang, having donated $3,000 to their 2014 campaign.
Elections BC also notes Oei contributed close to $55,000 to the BC Liberals since 2011.
Oei has until Feb. 2 to respond to the BCSC findings and pending sanctions. The BCSC does not process criminal charges.