According to multiple eyewitness accounts, a librarian was assaulted at a public open house for temporary, modular housing in Richmond Wednesday evening. 
On Thursday morning, police confirmed an investigation has opened into an "alleged assault" in the 7000 block of Minoru Gate. 
However, a video posted to YouTube explicitly shows an assault. (See video here)
Stan Lomas, a longtime Richmond resident, said he had arrived at the Richmond Public Library Brighouse Branch to use an animation program.
He was seated nearby a large crowd of people conversing in Chinese and as such didn't know what was going on initially.
"You could feel the energy," he said.
He said he then heard a commotion and "someone had gone over and up turned the table. 
"This place was packed. Then there was lots of yelling," he said.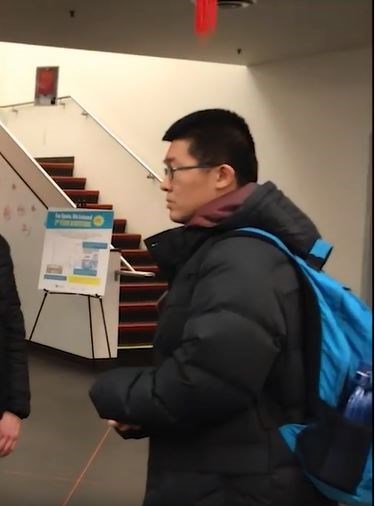 Between this time, Lomas said he figures the older librarian had approached the crowd to separate homeless advocates and the crowd. He said he believes the suspect was against the project that would see 40 units built at 7300 Elmbridge Way.
As Lomas was about to return to his animations, he said the suspect ran at the librarian and kicked her in the stomach.
The video shows the suspect to be standing and then lunging at the librarian.
"I was surprised she wasn't as injured as she looked because she was able to get up. I know that would have knocked me out," said Lomas, 67.
He said the suspect, described as an Asian man in his mid-20s, wearing a backpack, fled the scene.
The video shows an Asian man, about 6 feet tall, slim build, with a buzz cut and glasses, wearing a puffy black jacket and blue backpack.
Resident Kehui Au said she also witnessed the kick.
"The guy went to the librarian and kicked her. It looked like she was in a lot of pain," said Au.
Richmond RCMP spokesperson Cpl. Dennis Hwang said "it was alleged a female had been assaulted by a male.
"It is believed the alleged offender had kicked a female and proceeded to flee. If anyone has information on this event — I was informed there may have been a number of witnesses present at this function — to call Richmond RCMP at 604-278-1212 and quote case 2018-6424."
A library worker denied to comment on the incident.
Announced earlier this month, the project is an effort to combat the growth of homelessness in Richmond which has increased by 84 per cent since 2014, according to the Metro Vancouver homeless count. The homes will be operated by RainCity Housing, a non-profit housing organization and will offer support services for residents around-the-clock.
"The tenants will be selected in partnership with BC Housing and RainCity. Richmond residents will be given first priority," said the City of Richmond's affordable housing coordinator Joyce Rautenberg.
Currently, the province is contributing $5.9 million to construct the units while the city is contributing land at 7300 Elmbridge Way for the homes for up to five years.
"Looking at the city's inventory we looked at a few options," Rautenberg said about the property. "This site was determined to be the most suitable due to the close proximity to transit, Canada Line, buses and proximity to services and resources in the neighbourhood."
Following the five-year lease, BC Housing would return the site back to the city in its original condition, Rautenberg said. At that time, BC Housing and RainCity Housing would work to ensure the tenants are moved into appropriate housing.