Police have released sketches of two men suspected of taking part in a brazen, daytime heist at a jewelry store in a shopping mall
A trio of masked, hammer-wielding robbers raided a jewelry store in Aberdeen Centre on Tuesday, Sept. 13 around 4 p.m.
The suspects – who wore surgical masks, but appeared to be dressed as construction workers – burst into Lukfook Jewelry on the centre's second floor armed with hammers.
According to Richmond RCMP, several display cases were smashed and an undetermined amount of jewelry was taken.
However, during the heist, several of the mall's security personnel tackled the suspects and one of them managed to disarm a hammer from one of the thieves.
All three managed to escape and last week, Richmond RCMP released composite sketches of two of the suspects.
"The robbery was particularly brazen having occurred just after 4 pm in a busy shopping mall," said Richmond RCMP's Cpl. Dennis Hwang.
"These composite sketches are quite detailed. We are hopeful someone will be able to recognize them."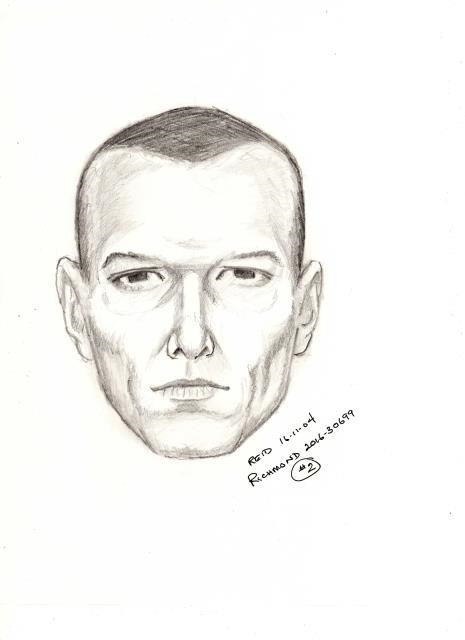 Anyone with information that can help us identify these individuals is asked to contact the Richmond RCMP at (604)278-1212, by email at Richmond_Tips@rcmp-grc.gc.ca or anonymously by contacting Crime Stoppers at 1-800-222-8477.
The first suspect is described as being male, Caucasian, five feet ten inches tall, short brown hair with a widow's peak hairline, green eyes and of medium build.
The second suspect is said to be male, light-skinned, five feet seven inches tall, very short (buzz-cut) black hair, dark eyes, hollow cheeks (one dimple on right side, two dimples on the other) and of thin build.
No injuries were reported after the robbery, but the store staff appeared visibly shaken, according to police.
The suspects reportedly fled in a gray GMC Sierra pickup truck.