Wading through city council minutes and understanding municipal jargon is currently the only way to check a Richmond councillor's voting record, but one individual is hoping to change that by creating an easy-to-access online voting record.
Earlier this month, Coun. Carol Day put forward a motion to look into an online voting record, allowing the public to easily track decisions made by councillors.
"It's really, really hard for people to know what people's patterns are when it comes to voting," Day told the Richmond News. "Every councillor has got a pattern and I think and I believe, having talked to many people over the election, people want to know about patterns.
"They want to know what councillors stand for. Ultimately, that's your report card."
Day explained she began tracking voting records during the 2018 election season. Over the months leading up to the election, transparency and conflict of interest became key issues discussed by slates and voters.
"Before the election I had a volunteer go through – and she spent weeks going through – minutes of all the meetings and picking out the more important votes," Day said. "It was ridiculous how long it took."
Day pointed out that Vancouver has this sort of system, with a chart that shows various agenda items and a symbol indicating how councillors voted on that issue. She said she hopes a Richmond model would look similar, including links to meeting minutes or video so the public can better understand the context around the votes.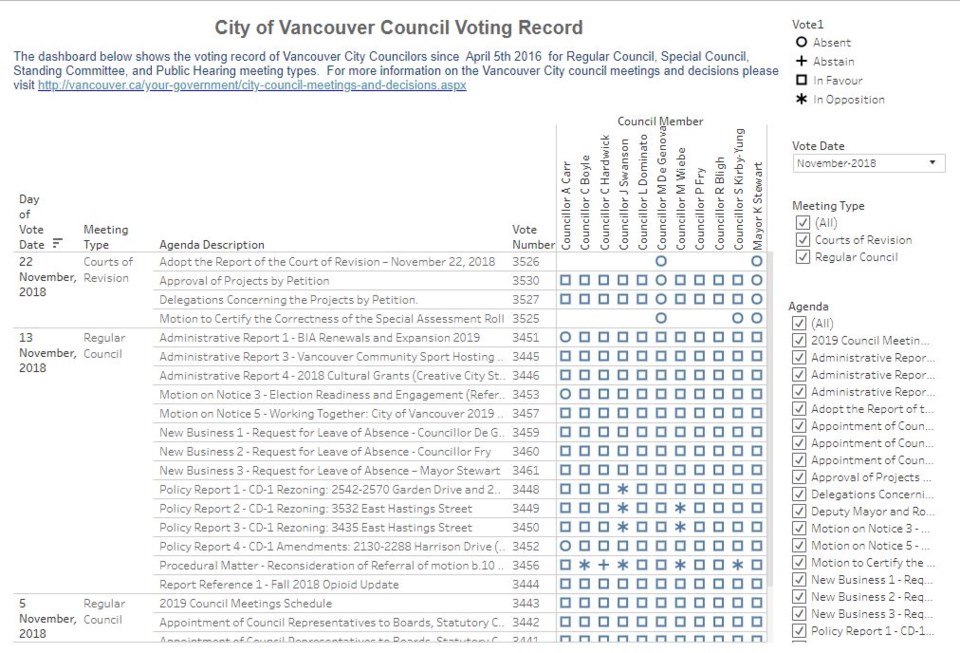 Day's motion passed unopposed at a Dec. 3 General Purposes Committee meeting, and now staff are looking into options for Richmond.
In the meantime, however, Coun. Kelly Greene has created her own voting record website.
"I believe in transparent and responsible government," Greene said on Twitter, while sharing a link to her voting record.
I believe in transparent and responsible government.

Councillor @CarolDayRmd made a motion, which I supported, to have an easy-to-access online voting record.

While staff are working on the options, I've created an online voting record: https://t.co/u0QvvhdX2T. #RichmondBC

— Kelly Greene - Rmd City Councillor (@kelly_bc_ca) December 13, 2018
Greene's record includes votes since the new council was sworn in on Nov. 5, with links to relevant council meeting minutes. As of publication, only votes until Nov. 26 were included.
"We shouldn't make it so difficult to find out what people's patterns are. We should make it easy," Day said. "I'm hoping we're going to make a more transparent, open council that engages all of Richmond."